Ski: 2023-2024 Nordica Unleashed 108 W, 180 cm
Test Location: Crested Butte Mountain Resort, CO
Days Skied: 5
Available Lengths: 162, 168, 174, 180 cm
Blister's Measured Tip-to-Tail Length (straight-tape pull): 178 cm
Blister's Measured Weight per Ski: 2035 & 2083 grams
Stated Dimensions: 140.5-108-129.5 mm
Blister's Measured Dimensions: 140.6-107.5-129.5 mm
Stated Sidecut Radius (180 cm): 19 meters
Measured Tip & Tail Splay (ski decambered): 73 mm / 56 mm
Measured Traditional Camber Underfoot: 3 mm
Core Materials: poplar/beech + partial titanal layer + carbon & fiberglass laminate
Base: sintered
Factory Recommended Mount Point: -7.5 cm from center; 81 cm from tail
Boots / Bindings: Fischer RC4 MV Buckle & BOA / Tyrolia Attack 14

Intro
Nordica released the Unleashed series at the start of the 22/23 season, which consisted of five models, including two women-specific models, the Unleashed 98 W and Unleashed 90 W. We have already spent a lot of time on and published full reviews of the Unleashed 98 W and the men's Unleashed 108, but for the 23/24 season, there are two new additions to the Unleashed series: the women's Unleashed 108 W and the Unleashed 114.
The 186 cm Unleashed 108 our other reviewers tested always seemed like a bit much in terms of length for me, but I had already been more than curious to try out the wider version of the Unleashed 98. After first skiing the 180 cm Unleashed 108 W at the 2023 Blister Summit, I continued to spend time on it throughout the rest of the season, and now it's time to dive into how it compares to the rest of the women's all-mountain category.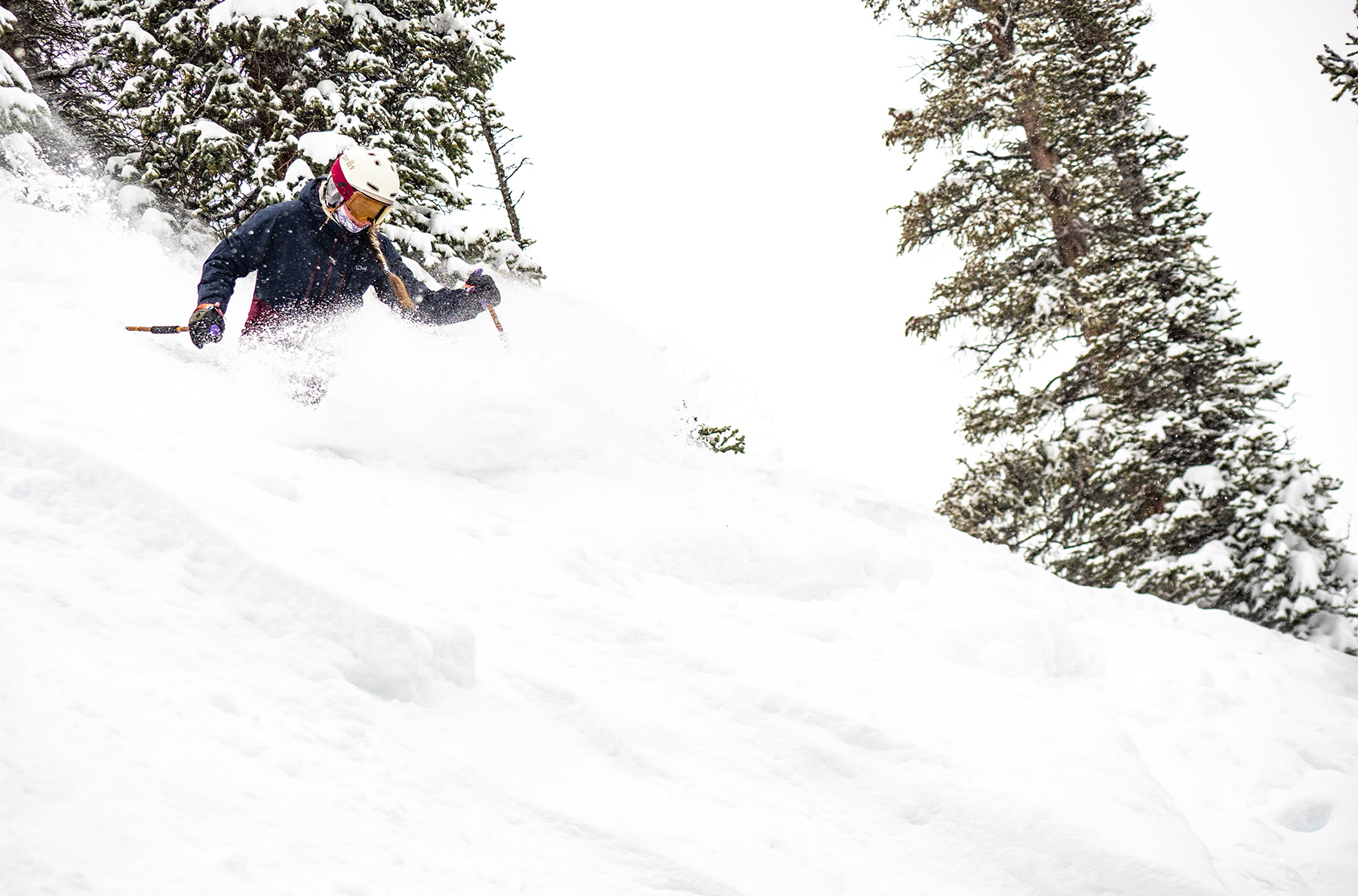 What Nordica says about the Unleashed 108 W
"The Unleashed 108 is for the modern skier who spends their days off trail in the woods, chasing pow, and getting creative. The Unleashed 108 loves deep days and big terrain. Yet this daily driver is also at home in the trees and bumps thanks to a steeper shovel for easy tip initiation and soft snow deflection, and a more turned up tail for swiveling and riding switch. To boost confidence further, they pair a carbon reinforced wood core with a sheet of Nordica's Terrain Specific Metal (TSM), a lightweight layer of metal tuned specifically for its 108mm waist. Its core construction, combined with Nordica's True Tip Technology, enhances edge hold and dampens vibrations for an especially smooth ride. With traditional camber underfoot, the Unleashed 108 is responsive and lots of pop. Playful and powerful, Nordica's Unleashed 108 transforms the entire mountain into a skiable canvas."
Women-Specific Aspects of the Unleashed 108 W
The only notable difference between the new Unleashed 108 W, relative to the men's version, is a slightly different composition of the wood core, which Nordica states offers a slightly softer flex pattern, as well as the addition of 162 cm and 168 cm length options.
Rather than calling the Unleashed 108 "W" a women's ski, Nordica has chosen to delineate last year's (men's / unisex) Unleashed 108 and the new, slightly softer version by the names of their graphics. So the version we are discussing in this review is called the "Unleashed 108 (Tree Graphic)," while the version available in longer lengths is labeled as "Unleashed 108 (Ice Graphic)." For the purpose of clarification, we will be referring to the "Tree" version as the Unleashed 108 W throughout this review. Aside from the slightly different flex pattern, graphic, and length options, the two versions of the Unleashed 108 are the same, with a poplar / beech wood core, partial titanal layer, and carbon / fiberglass laminate.
For those who want more information on the other version, you can read the Full Review here.
Flex Pattern
Here's how we'd characterize the flex pattern of the Unleashed 108 W:
Tips: 6.5-7
Shovels: 7-8.5
In Front of Toe Piece: 8.5-9.5
Underfoot: 9.5
Behind the Heel Piece: 9.5-9
Tails: 8.5-7.5
This flex pattern feels extremely similar to the 186 cm Unleashed 108. Overall, it's fairly soft at the rockered portions of the tips and tails, but is otherwise a strong ski, especially compared to the more playful category.
Sidecut Radius
The 180 cm Unleashed 108 W has a stated sidecut radius of 19 meters, which is fairly average for skis in its class, if not slightly on the shorter end.
Mount Point
At -7.5 cm from true center, the Unleashed 108 W's recommended mount point is neither super centered nor very rearward. It's only slightly more forward than the mount point of the Santa Ana 104 Free (-8.5 cm from center), despite the Unleashed 108 W being a less directional ski in regard to flex pattern, shape, and rocker profile.
Weight
Looking at the weights of the skis listed below, it would appear that the Unleashed 108 W is on the heavier side, but it's worth keeping in mind that it's one of the longer and wider skis we have tested on the women's side. While there are certainly some lighter options on the market, there are also several very comparable skis that are just a bit lighter or heavier.
For reference, here are a number of our measured weights (per ski in grams) for some notable skis. Keep in mind the length differences to try to keep things apples-to-apples.
1676 & 1700 Majesty Vadera Carbon, 176 cm (22/23–23/24)
1693 & 1710 Moment Sierra, 172 cm (21/22–23/24)
1709 & 1710 Blizzard Sheeva 10, 172 cm (17/18–22/23)
1735 & 1740 K2 Mindbender 106C, 175 cm (21/22–22/23)
1741 & 1747 Nordica Unleashed 98 W, 174 cm (22/23–23/24)
1752 & 1751 Blizzard Sheeva 9, 172 cm (23/24)
1761 & 1778 Zag Slap 104, 176 cm (21/22–23/24)
1787 & 1798 Faction Dancer 2X, 172 cm (22/23–23/24)
1792 & 1792 Nordica Santa Ana 104 Free, 172 cm (20/21–23/24)
1797 & 1839 Rossignol Rallybird 102, 170 cm (20/21–23/24)
1806 & 1821 Blizzard Sheeva 11, 172 cm (18/19)
1797 & 1839 Rossignol Rallybird 104 Ti, 171 cm (20/21–23/24)
1835 & 1820 Armada ARV 116 JJ UL, 185 cm (22/23)
1836 & 1838 Armada ARW 106 UL, 180 cm (21/22–23/24)
1847 & 1854 Wagner Summit 106, 172 cm (21/22–23/24)
1851 & 1856 Blizzard Sheeva 10, 180 cm (23/24)
1860 & 1862 Majesty Vadera Ti, 176 cm, (22/23–23/24)
1867 & 1890 K2 Mindbender 115C, 179 cm (21/22-22/23)
1878 & 1891 Salomon QST Stella 106, 173 cm (22/23–23/24)
1928 & 1945 K2 Mindbender 99Ti W, 172 cm (22/23–23/24)
1933 & 1975 Volkl Secret 96, 170 cm (21/22–23/24)
1955 & 1990 Coalition Snow SOS, 173 cm (19/20–20/21)
1958 & 1960 Faction Dancer 3X, 172 cm (22/23–23/24)
1969 & 1988 4FRNT MSP CC, 171 cm (20/21–22/23)
1959 & 1986 Blizzard Sheeva 11, 180 cm (23/24)
2011 & 2022 Blizzard Sheeva 10, 180 cm (19/20–22/23)
2035 & 2083 Nordica Unleashed 108 W, 180 cm (23/24)
2057 & 2061 Fischer Ranger 102, 176 cm (22/23-23/24)
2068 & 2178 Salomon QST 106, 181 cm (22/23–23/24)
2074 & 2088 Line Blade Optic 104, 178 cm (22/23–23/24)
2104 & 2115 Volkl Secret 102, 170 cm (19/20–22/23)
2178 & 2166 Coalition Snow Rafiki, 180 cm (23/23)
Now, onto how all of this translates on snow:
FULL REVIEW
Powder & Soft Chop
Kara Williard (5'9", 167 lbs / 175 cm, 75.7 kg): Most of my initial days on the Unleashed 108 W consisted of powder and soft chop. While it's not a powder-specific ski (it's quite a bit more versatile than that), I have been pleased by the flotation offered by the Unleashed 108 W, which is accented by a pretty loose, surfy feel in soft snow. Its wide, minimally tapered shovels easily plane atop deeper snow, and it feels consistently maneuverable and easy to pivot, regardless of snow density.
As the mountain got skied out, the Unleashed 108 W remains favorable due to its playfulness and maneuverability, and while it isn't the most stable or planted ski in this class, the Unleashed 108 W is predictable and smooth enough to not get knocked around too much in chop, so long as conditions stay fairly soft and consistent. It's neither the loosest / surfiest option in this class, nor the best for plowing through chop at high speeds, but it strikes a very versatile middle ground in terms of overall soft-snow performance.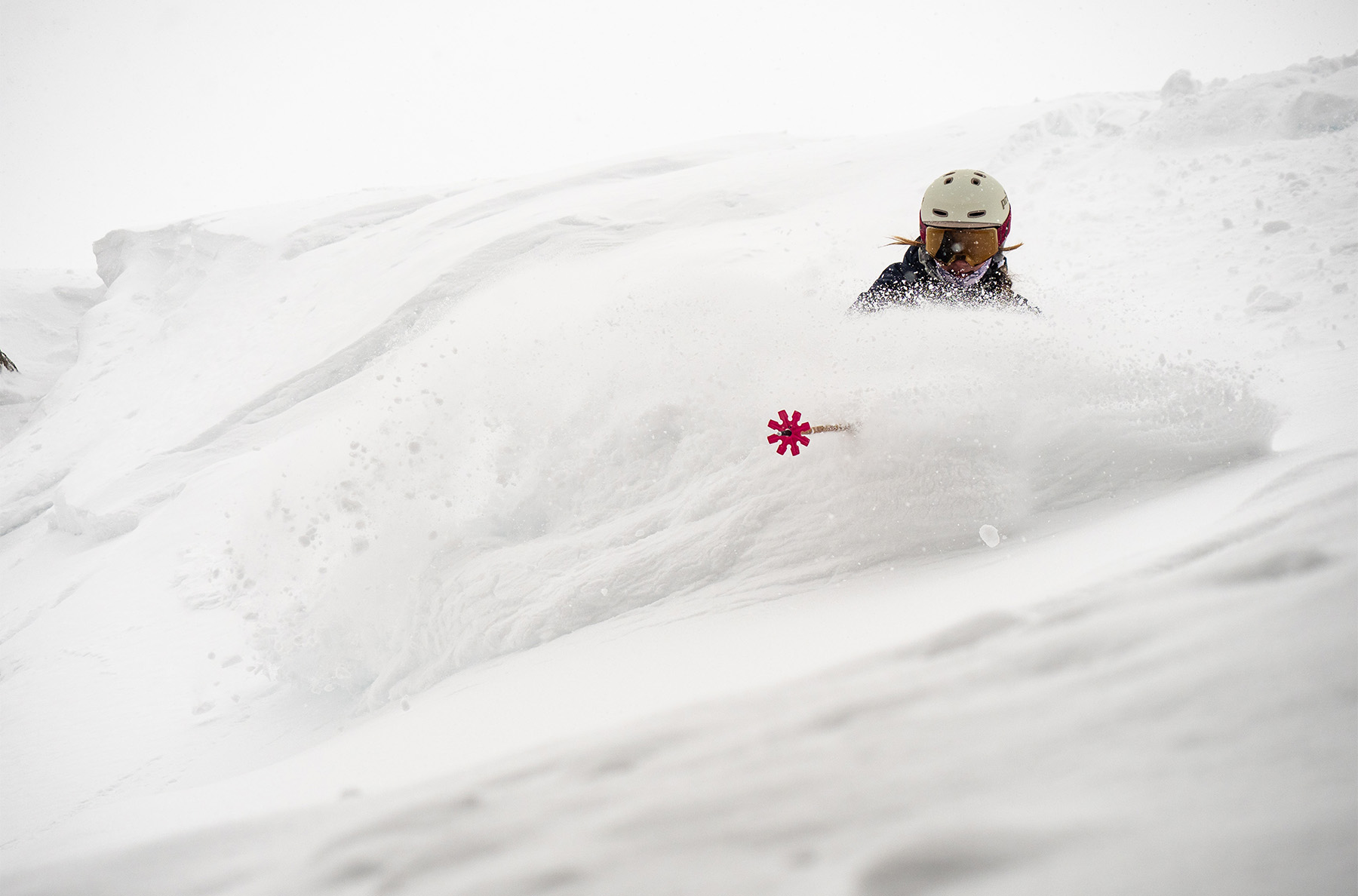 Firm Chop & Crud
The Unleashed 108 W is a lighter, more playful counterpart to its more directional siblings in the Santa Ana series, and this becomes most obvious as conditions shift to firmer chop and crud.
The biggest benefit to the Unleashed 108 W is that it's a pretty forgiving and maneuverable ski; I found it easy to make pretty tight, controlled turns on this ski while navigating through and around rougher snow. I found myself a lot less likely to just point it through the crud than I would on something like the Santa Ana 104 Free, but I was pretty impressed by the damping and composure offered by the Unleashed 108 W, particularly when I was focused on deliberate line choice — it's far from some super twitchy ski that can only handle slow speeds, it just requires a bit more finesse in rough snow than some heavier, stiffer, less rockered skis in its class. As someone who is less inclined to "point it" most of the time anyway, the Unleashed 108 W felt pretty smooth and predictable as I made my way through some less-than-ideal conditions.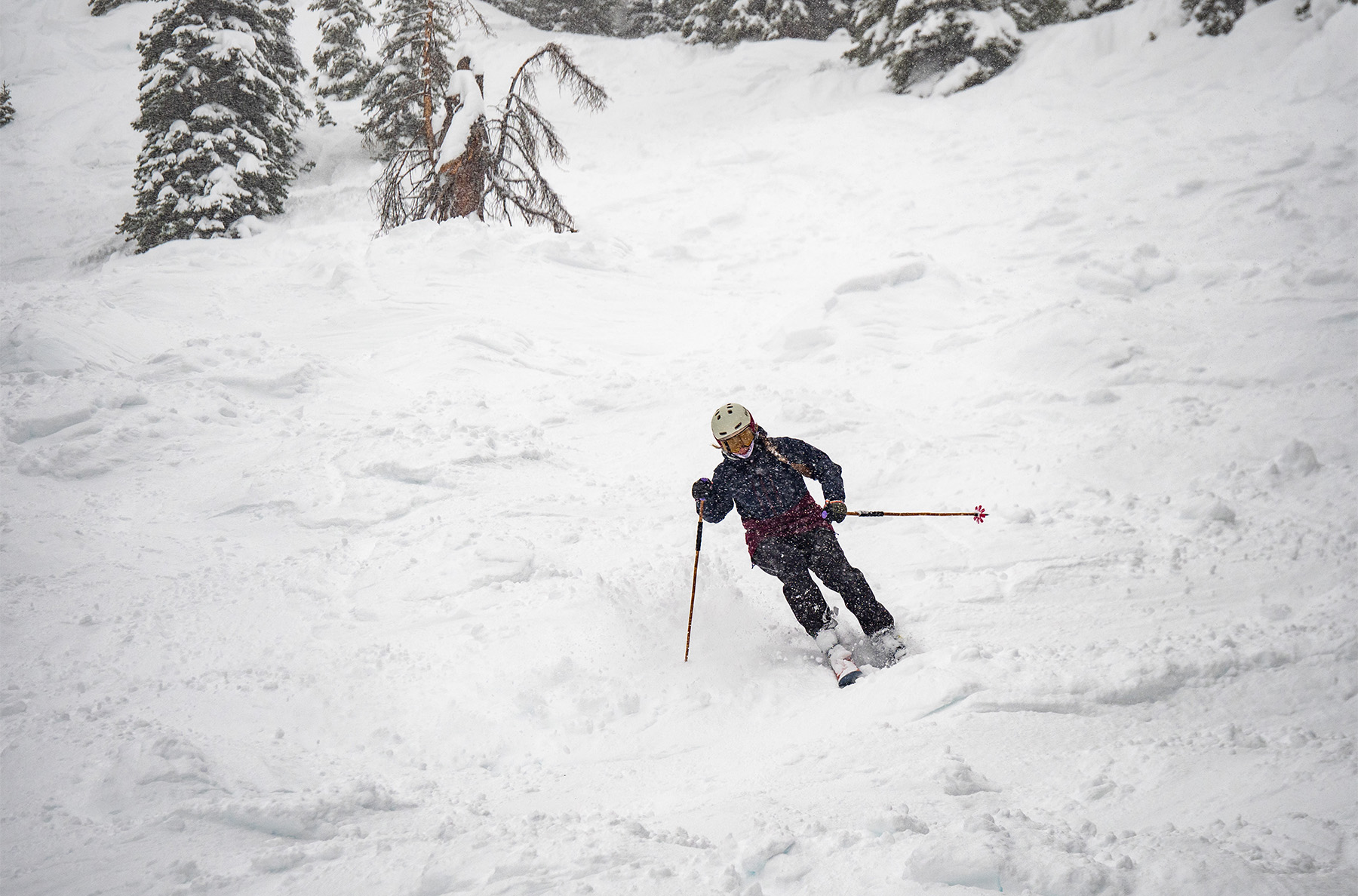 If stability and high-speed composure are your main priorities, the Unleashed 108 W is likely not your best choice, but if accessibility, liveliness, and maneuverability are the traits you enjoy, the Unleashed 108 W is a worthwhile option.
Moguls, Trees, & Tight Terrain
The Unleashed 108 W is very manageable in tight terrain, especially for its size. It's pretty easy to pivot and slarve, it doesn't demand a whole lot of power when navigating more technical zones, and I generally found it to be an easy and playful ski in tight terrain.
On the days when I planned to ski some of the more challenging (and scary) lines of my season, I chose to bring along the Unleashed 108 W, knowing that it would feel predictable and intuitive when needing to make precise maneuvers above exposure.
Between its pretty low swing weight, accessible flex pattern, and fairly loose ride, the Unleashed 108 W is a really fun ski in moguls. Overall, I prefer the narrower 174 cm Unleashed 98 W when moguls are firm or excessively large, since it is a little quicker (and shorter), but many of its enjoyable traits carry through to the Unleashed 108 W.
The Unleashed 108 W is also a fairly forgiving ski. As I found with the Unleashed 98 W, the Unleashed 108 W has a very smooth and intuitive flex pattern, with enough support for my preferences without feeling punishing when I make the occasional mistake / backseat turn.
Groomers
The Unleashed 108 was pleasantly surprising when it came to groomer performance, though I did have fairly high expectations, given that I enjoyed the Unleashed 98 W on groomers quite a bit. The Unleashed 108 W is not as quick as the Unleashed 98 W is on piste, but it still shares some of its enjoyable traits. Namely, it's energetic, easy to initiate, provides a lot of pop coming out of the turn, and feels pretty stable on edge.
There are few other skis around this width that I clearly prefer in terms of on-piste performance, so the Unleashed 108 is a standout here, which again adds to its pretty versatility beyond just soft-snow performance.
Playfulness & Mount Point
The Unleashed 108 W accomplishes what I imagine Nordica was trying to achieve when they set out to make a complementary series for their more directional Enforcer / Santa Ana series: a playful and lively ski that feels less directional and slightly more freestyle-oriented.
However, as I found with the Unleashed 98 W, you don't have to be a very playful skier to benefit from the lively and maneuverable nature of this ski. It's still a pretty intuitive ski for a directional skier. As someone who tends to be pretty forward over their skis, I still found the Unleashed 108 W to feel intuitive and pretty powerful, whether I was driving the shovels from a more directional stance or a more upright and centered one. On the other hand, for freestyle-oriented skiers, note that the Unleashed 108 is not the most playful ski in this class — there are others that are looser / surfier, easier to bend, lighter in the air, and/or more balanced. But as our other reviewers noted in our review of the longer Unleashed 108, it's still a ski that can suit a more playful skiing style (check out that review for more info on its freestyle performance).
The Unleashed 108's recommended mount point of -7.5 from center also felt intuitive to me, and there wasn't any obvious feedback that made me feel inclined to adjust the mount point rearward (or forward).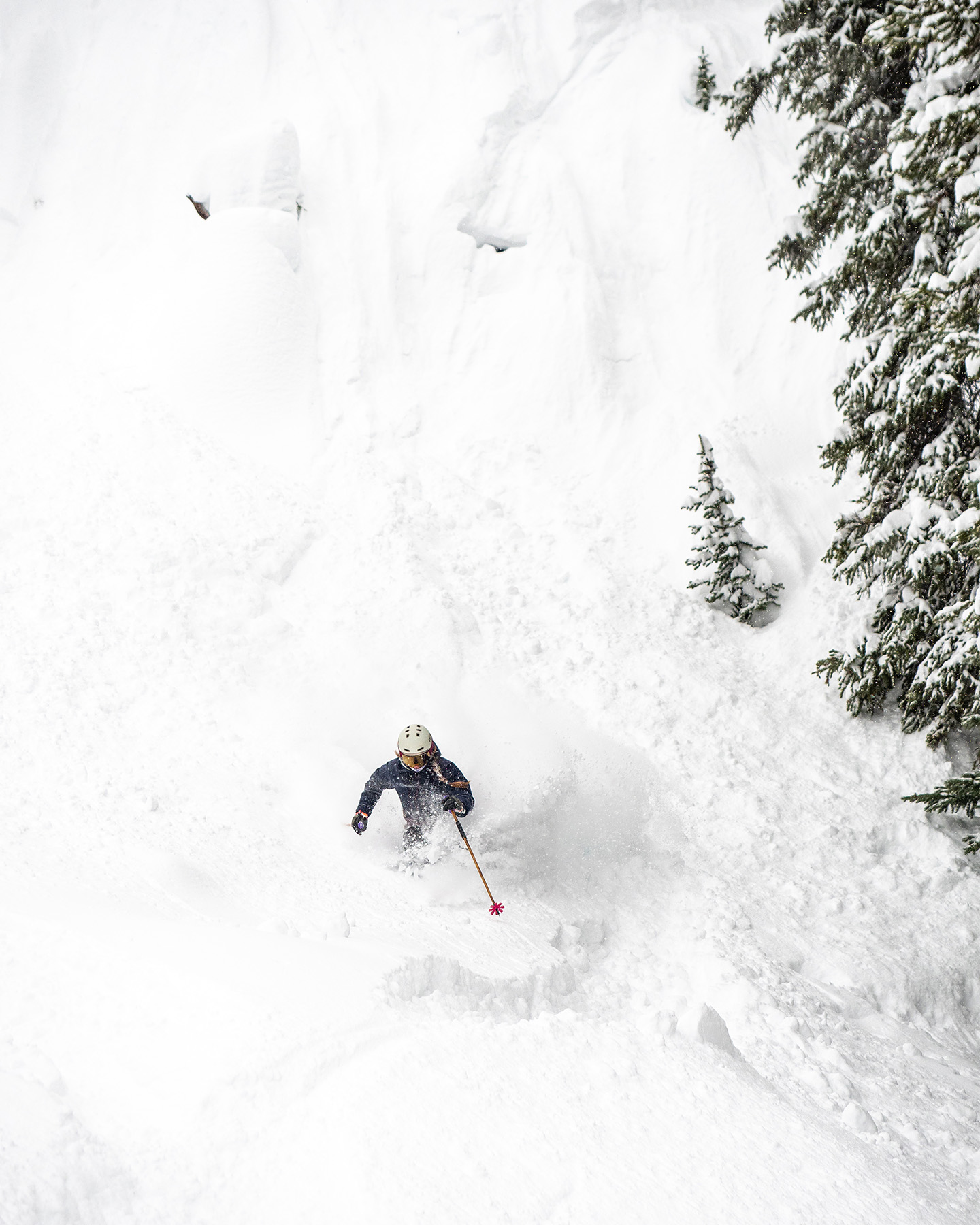 Who's It For?
The Unleashed 108 W is a very versatile ski for its width, and also in terms of how it can be skied. As a result, there are several types of skiers who could get along with the Unleashed 108 W.
It could serve as a wider all-mountain ski to use in a wide variety of conditions, or as a highly versatile powder ski, especially if you prioritize playfulness and liveliness over maximum stability and suspension. It can be skied quite hard, especially for those who ski with more finesse than outright power and aggression, yet it's also quite maneuverable and pretty forgiving. And for those who like to get in the air and/or throw tricks, it's a solid choice, especially if you prefer something a bit more precise and strong, relative to other freestyle-oriented models.
In particular, the Unleashed 108 W is a good alternative for those who found the Santa Ana skis to feel a bit too demanding, sluggish, and/or not maneuverable enough, but who still value a ski that's pretty fun on piste and that can handle fairly high speeds. I.e., the Unleashed 108 fills the void between the most forgiving, maneuverable skis in its class and the most stable, demanding ones.
Bottom Line
The Nordica Unleashed 108 doesn't provide the same precise, planted ride as the brand's Santa Ana series, but the Unleashed 108 does maintain much of those skis' overall versatility, while offering it in a more maneuverable, energetic, and playful package.
Deep Dive Comparisons
Become a Blister Member to check out our Deep Dive comparisons of the Unleashed 108 to see how it compares to the Unleashed 98 W, Blizzard Sheeva 10, Blizzard Sheeva 11, Nordica Santa Ana 104 Free, Coalition Snow Rafiki, Salomon QST Stella 106, Armada ARW 106 UL, Faction Dancer 3X, Fischer Ranger 102, K2 Mindbender 106C, & Majesty Vadera Ti.
Rocker Profile - Decambered
Tail Profile - Decambered