Ski: 2023-2024 Blizzard Sheeva 9, 174 cm
Test Location: Crested Butte Mountain Resort, Colorado
Days Skied: 5
Available Lengths: 150, 156, 162, 168, 174 cm
Blister's Measured Tip-to-Tail Length (straight-tape pull): 172 cm
Stated Weight per Ski: 1735 grams
Blister's Measured Weight per Ski: 1752 & 1751 grams
Stated Dimensions: 129-96-118.5 mm
Blister's Measured Dimensions: 129-96-118 mm
Stated Sidecut Radius (174 cm): 16 meters
Measured Tip & Tail Splay (ski decambered): 79 mm / 41 mm
Measured Traditional Camber Underfoot: 4 mm
Core Materials: poplar, paulownia, and beech core + titanal + fiberglass laminate
Base: sintered
Factory Recommended Mount Point: -7.7 cm from center; 78 cm from tail
Boots / Bindings: Tecnica Cochise Pro W, Fischer RC4 MV Buckle & BOA / Tyrolia Attack 14

Intro
The Blizzard Sheeva series has been a staple in Blizzard's ski lineup for quite a while now, and in that time, we have seen (and skied) a few iterations. Blizzard announced their new 23/24 Rustler and Sheeva series earlier this year, with updates including the addition of their fine-tuned Trueblend Woodcore, a different implementation of the piece(s) of metal that overlay the wood, and a slight difference in the sidecut and rocker profiles of the skis.
Of the three skis within the Sheeva series, the Sheeva 9 was the most unfamiliar to me, but from the brief time I had spent on it in the past, I remembered it as a pretty forgiving and accessible ski.
After spending a bunch of time on the 23/24 Sheeva 10 (read the full review here) and Sheeva 11 (full review to come), I was interested to revisit the Sheeva 9 and see how it compared, and if my memories of the original version were still accurate with the new model.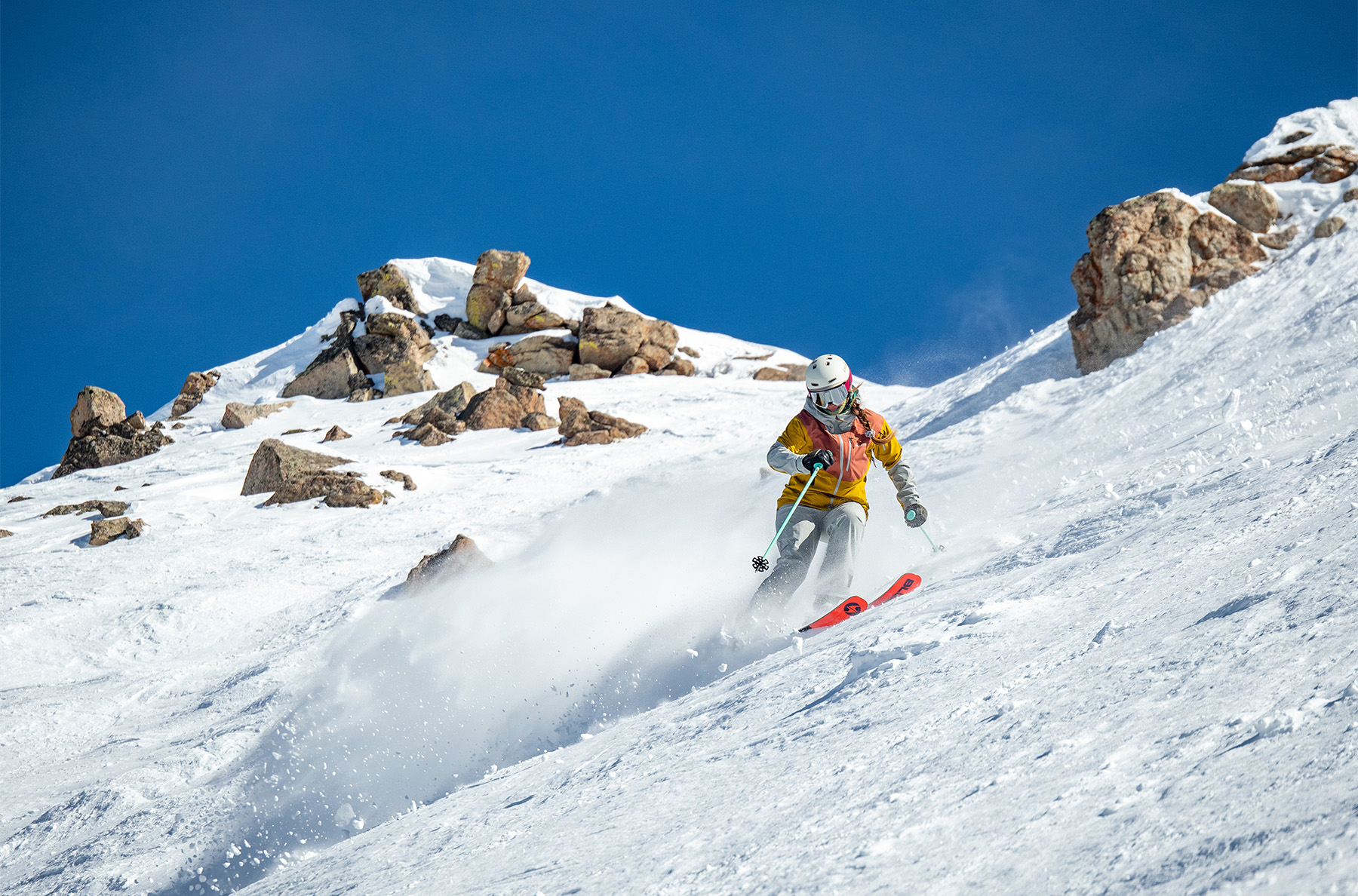 Women-Specific Aspects of the Sheeva Series
Blizzard takes a more concerted "women-specific" approach to ski design than many brands, in the form of their Women2Women project. Here's a bit more info from Leslie Baker-Brown, Blizzard-Tecnica's Women2Women Project Lead:
"We worked with our female ambassador and athlete groups throughout the development process to ensure that we were making a collection of freeride skis that would work for all levels of women. Because the skis are specifically engineered at each length and we've shortened the length increments, we really are able to reach a broader range of skiers."
In addition to a design and prototyping process that works closely with their Women2Women team, the new Sheeva skis are slightly different in their construction, relative to the Rustlers, mostly in that the Sheevas have a piece of fiberglass that overlays the binding area of the ski, rather than the additional piece of titanal metal that the Rustlers have in that spot.
What Blizzard says about the Sheeva Series
"She Wolves lead the pack, moving quietly between the lines. They're fierce, confident, independent, and quite simply – badass. But She Wolves are stronger in a pack, and you know a wolf pack when you see one. They're the ones having the most fun, tearing up the mountain with a "go ahead and watch me do it" attitude, leaving behind only fresh tracks, breathless belly laughs, and inspiration for other women to join. We've completely redesigned the Sheeva with these ladies in mind, engineered specifically to the wants and needs of the She Wolves: Confidence, control, power, and above all, fun. So get out there, find your pack, and Press Send."
Construction
The new Sheeva and Rustler series feature Blizzard's "Trueblend Freeride Woodcore," which consists of a variety of precisely placed stringers of poplar, paulownia, and beech woods. The goal is to put denser, stiffer materials (i.e., the beech) where you need them, while placing lighter, softer materials (paulownia and poplar) where stiffness is less of a priority and you're instead looking to minimize swing weight. While many skis' wood cores contain a variety of stringers of different types of wood, Blizzard's Trueblend construction seems to be notably more complex and allows for finer-tuning of core characteristics.
The Sheeva series is built with Blizzard's "FluxForm W.S.D" (Women-Specific Design). FluxForm utilizes two separate pieces of titanal over the edges of the skies from tip to tail, and these titanal pieces taper as they get closer to the tip and tail (this is true of both the Rustler and Sheeva). But, in the Sheeva series, there is a piece of fiberglass that overlays the binding area, rather than an additional piece of titanal as with the Rustler series. The narrowest Sheeva 9 features the most metal over its edges, while the widest Sheeva 11 features the least, and the middle-child Sheeva 10 falls somewhere in between.
Shape / Rocker Profile
Overall, the shape and rocker profile differences between the 23/24 Sheeva 9 are somewhat subtle. The most notable difference in regard to shape is the slightly squared-off shape of the shovel, similar to what we noted in our review of the Sheeva 10.
The new Sheeva 9 has slightly shallower rocker lines than the previous version, in an effort to improve firm-snow performance, but overall the difference isn't major; it still has pretty deep tip and tail rocker lines for a ~95mm-wide ski.
Flex Pattern
Here's how we'd characterize the flex pattern of the Sheeva 9:
Tips: 7-7.5
Shovels: 7.5-8
In Front of Toe Piece: 8.5-9.5
Underfoot: 10
Behind Heel Piece: 9.5-8
Tails: 8-7.5
The Sheeva 9 has a fairly accessible flex pattern, in that it's fairly soft through its rockered portions, but it's not wildly soft overall by any means.
Dimensions / Sidecut Radius
The new Sheeva 9 is offered in slightly different lengths and dimensions than its predecessor. The longest length that used to be available was 172 cm, with a stated sidecut radius of 15.5 meters. The 23/24 Sheeva 9 series is offered up to a 174 cm length, which has a stated sidecut radius of 16 meters. This difference in radius is more or less consistent across the updated size run; all the new lengths are 1-2 cm longer than the previous size run offered, which also translates to smaller gaps between lengths.
The new Sheeva 9 also features a tweak to its dimensions. The previous 172 cm Sheeva 9 had stated dimensions of 124.5-92-114.5 mm, whereas the new 174 cm Sheeva 9 is coming in at 129-96-118 mm, which is several millimeters wider throughout.
Mount Point
The Sheeva 9 has a recommended mount point of about -7.5 cm from true center, which is slightly closer to center than some directional all-mountain skis, but not as centered as most freestyle-oriented models.
Weight
The Sheeva 9 is situated on the slightly lighter side of ~95mm-wide all-mountain skis, though several of the lighter skis listed below are both narrower and shorter than the Sheeva 9. The Sheeva 9 is quite a bit lighter than the Blizzard Black Pearl 97.
For reference, here are a number of our measured weights (per ski in grams) for some notable skis. Keep in mind the length differences to try to keep things apples-to-apples.
1566 & 1576 Renoun Earhart 88, 163 cm (22/23)
1584 & 1629 Elan Ripstick 94 W, 170 cm (22/23)
1622 & 1638 Blizzard Black Pearl 88, 165 cm (21/22)
1638 & 1639 Atomic Maven 93 C, 172 cm (22/23)
1693 & 1710 Moment Sierra, 172 cm (21/22–23/24)
1697 & 1742 Salomon Stance 88 W, 174 cm (22/23)
1703 & 1714 Nordica Santa Ana 88, 172 cm (22/23)
1709 & 1710 Blizzard Sheeva 10, 172 cm (17/18–22/23)
1713 & 1710 Armada Reliance 92 Ti, 172 cm (22/23)
1741 & 1747 Nordica Unleashed 98 W, 174 cm (22/23–23/24)
1752 & 1751 Blizzard Sheeva 9, 174 cm (23/24)
1764 & 1794 Fischer Ranger 90, 170 cm (22/23-23/24)
1787 & 1798 Faction Dancer 2X, 172 cm (22/23–23/24)
1792 & 1792 Nordica Santa Ana 104 Free, 172 cm (20/21–23/24)
1797 & 1839 Rossignol Rallybird 102, 170 cm (20/21–23/24)
1806 & 1821 Blizzard Sheeva 11, 172 cm (18/19)
1812 & 1817 Salomon Stance 94 W, 174 cm (22/23)
1851 & 1856 Blizzard Sheeva 10, 180 cm (23/24)
1881 & 1895 Salomon QST Lumen 99, 174 cm (19/20–21/22)
1903 & 1917 Nordica Santa Ana 93, 172 cm (22/23)
1917 & 1935 Nordica Santa Ana 98, 172 cm (20/21–23/24)
1928 & 1945 K2 Mindbender 99Ti W, 172 cm (22/23–23/24)
1930 (stated weight) Blizzard Black Pearl 97, 171 cm (22/23-23/24)
1933 & 1975 Volkl Secret 96, 170 cm (21/22–23/24)
1958 & 1960 Faction Dancer 3X, 172 cm (22/23–23/24)
1969 & 1988 4FRNT MSP CC, 171 cm (20/21–22/23)
1959 & 1986 Blizzard Sheeva 11, 180 cm (23/24)
2011 & 2022 Blizzard Sheeva 10, 180 cm (19/20–22/23)
2104 & 2115 Volkl Secret 102, 170 cm (19/20–22/23)
Now, onto how all of this translates on snow:
FULL REVIEW
Groomers
Kara Williard (5'9", 167 lbs / 175 cm, 75.7 kg): Considering how much I like the Sheeva 10 on groomers, I was pretty interested to see how the Sheeva 9 compared, with the expectation that it would perform a bit better on-piste than its wider sibling.
This expectation has mostly reigned true. The Sheeva 9 is more precise than the Sheeva 10 and feels more stable on piste.
I find the Sheeva 9 to feel the most confidence-inspiring on groomers that are on the grippier side of things, and of lower-angle to moderate pitch, though it can handle steeper, faster lines. Compared to heavier, less rockered skis in the category, it isn't quite as stable or locked in on scraped-off groomers; e.g., it doesn't feel quite as damp or stable at high speeds as the Volkl Secret 96, Blizzard Black Pearl 97, or K2 Mindbender 99Ti.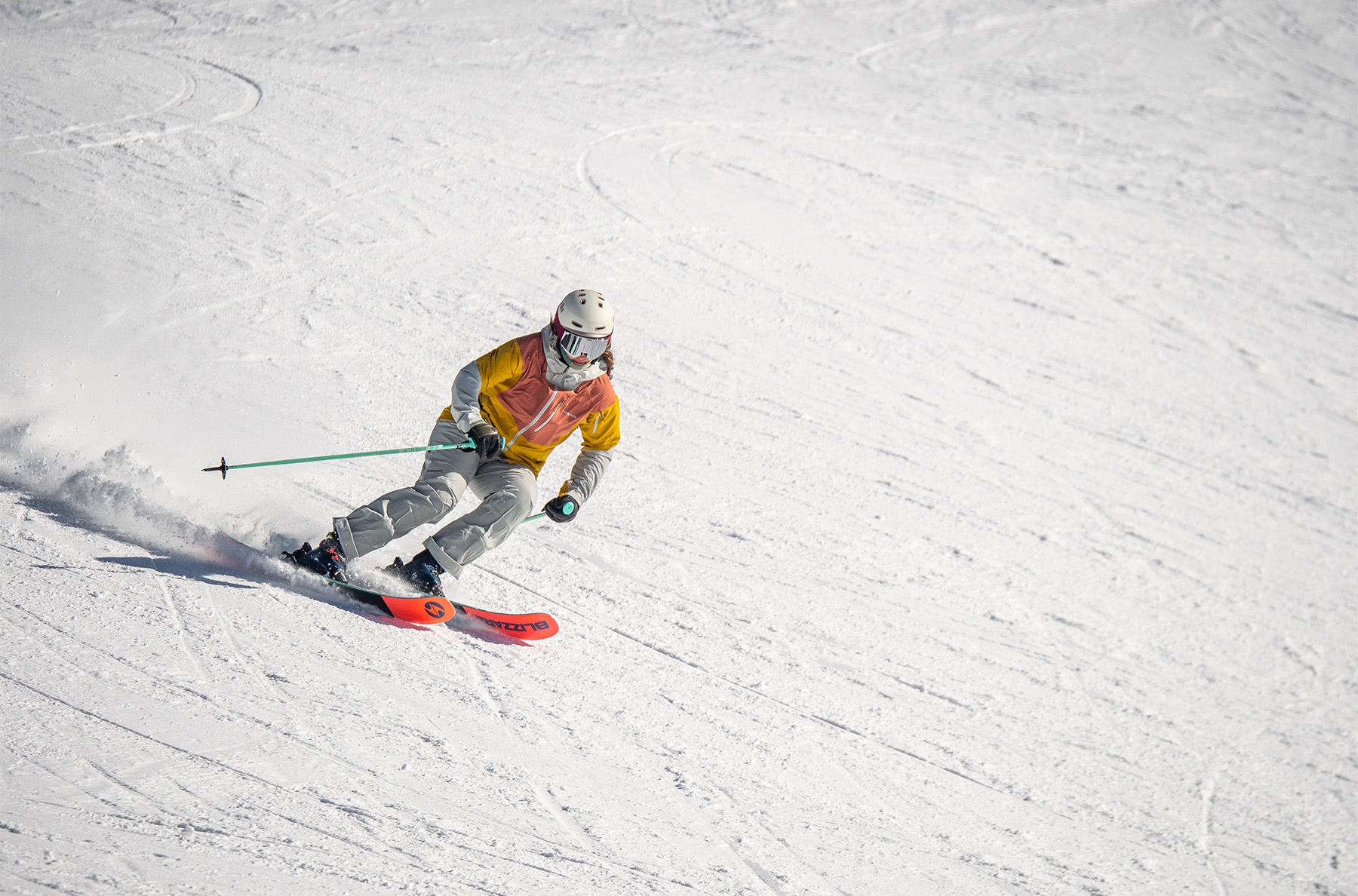 However, the Sheeva 9 is a little more forgiving and slightly easier to initiate than some of those other skis and provides a nice platform for building comfort and technique on groomers when it comes to carving. The Sheeva 9 doesn't demand to be on edge and is pretty easy to both initiate and release from turns.
What stood out to me most with the Sheeva 9 was how stable it felt on groomers, relative to how generally easy it felt, which is why I think there are quite a few different types of skiers who would enjoy the Sheva 9 on groomers.
Moguls, Trees, & Tight Terrain
In tighter terrain, the Sheeva 9 offers some pretty enjoyable traits. It's more nimble than the Sheeva 10 in terms of swing weight, and this is especially obvious in moguls. And despite the 174 cm Sheeva 9 being quite a bit lighter than the 180 cm Sheeva 10, the Sheeva 9 feels a bit more stable and precise on edge.
However, the Sheeva 10 offers better, smoother, more plush suspension than the Sheeva 9, especially on rougher snow that is more on the cruddy end of the spectrum. The Sheeva 10 is also slightly more forgiving through the tail and feels a little easier to pivot, slash, and slide around in bumps and other tight terrain. Keeping in mind the length differences between the skis, the Sheeva 9 feels more precise through the tail in that it's not as inclined to release and skid around, but it also doesn't feel overly demanding or unforgiving.
The Sheeva 9 allows for some flexibility when it comes to skier stance and doesn't require a ton of driving pressure through the shovels in order to benefit from its quickness and maneuverability. Overall, the Sheeva 9 is quick and accessible, especially in really tight terrain. While it's not an extremely loose or playful ski, nor an extremely stable and damp ski, it provides a nice mixture of quickness and predictability, making it a pretty accessible option for exploring tight terrain, whether you're an experienced skier looking for something nimble, or a progressing skier looking to spend more time in this sort of terrain.
Soft Chop & Powder
As I expected, the Sheeva 9 is more ideal than the Sheeva 10 when conditions are on the firmer side, whereas the Sheeva 10 is quite a bit more fun in softer conditions. That said, the Sheeva 9 still provided some unexpected versatility in soft chop. There are plenty of wider and more planted, stable skis that I would gravitate toward on days when I am expecting to ski a lot of chop, but the Sheeva 9 can certainly handle some of it, especially if your preferred approach in these conditions is to make more frequent, more controlled turns, rather than big, fast arcs straight down the fall line.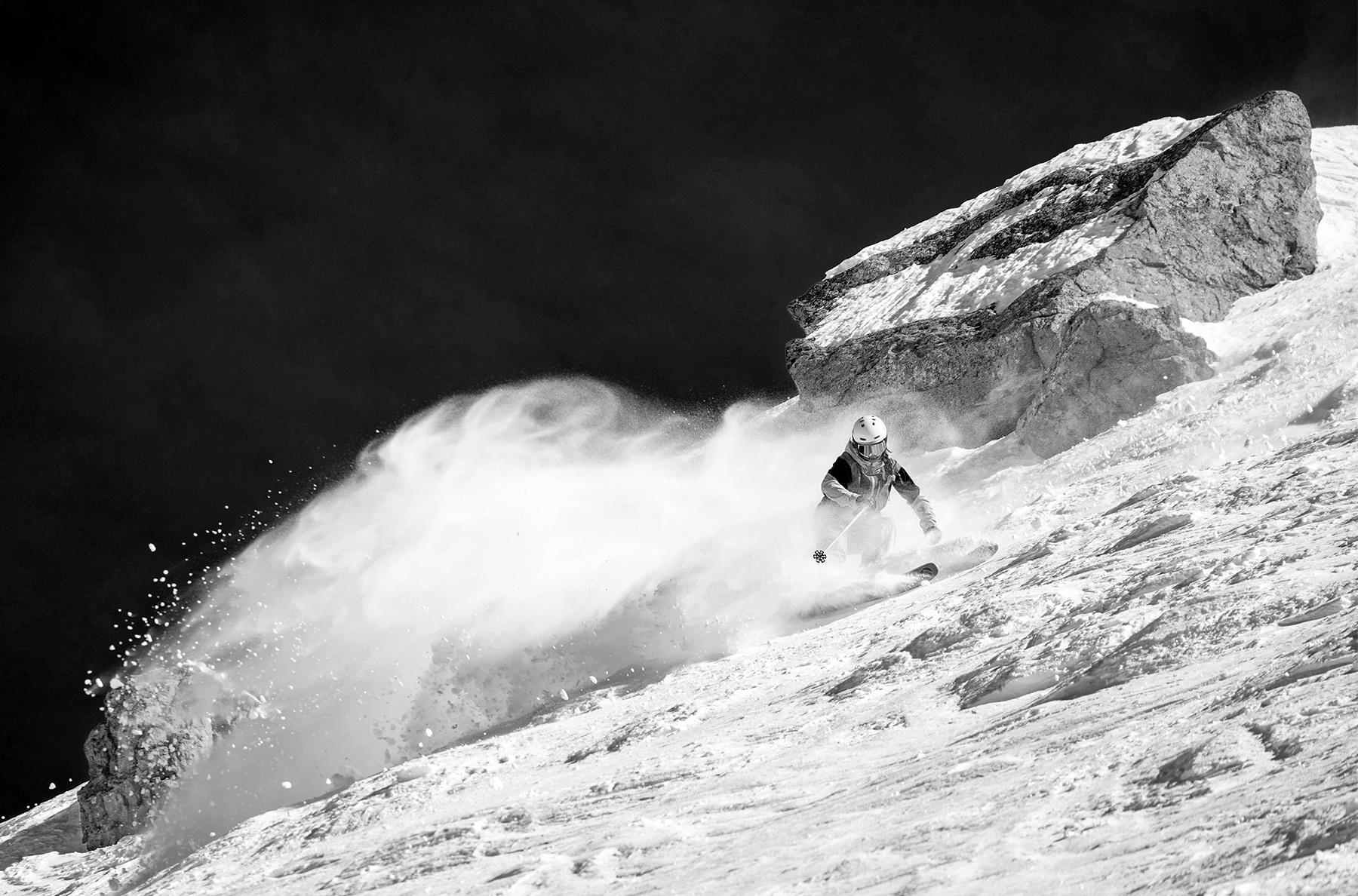 I can think of several skis that offer better suspension and high-speed composure than the Sheeva 9 in chop, such as the K2 Mindbender 99Ti, Volkl Secret 96, and Nordica Santa Ana 93, but all are a bit more demanding and require more input from the skier to feel in control and to be able to benefit from their stability. On the flip side, the Sheeva 9 can be skied with a slightly more relaxed, less refined style and still feels maneuverable and predictable. It certainly doesn't float as well as the Sheeva 10, and the Sheeva 10 feels a bit smoother when moving fast through choppy conditions.
If you are trying to prioritize performance in softer conditions, I would opt for a wider option, but the Sheeva 9 is a ski that excels on firmer snow and offers respectable versatility in soft snow, relative to its width.
Firm Chop / Crud
The Sheeva 9 is not a particularly damp or stable ski, but in firm chop and crud, its maneuverability and accessibility can be a benefit, making it easy to execute tight, controlled turns.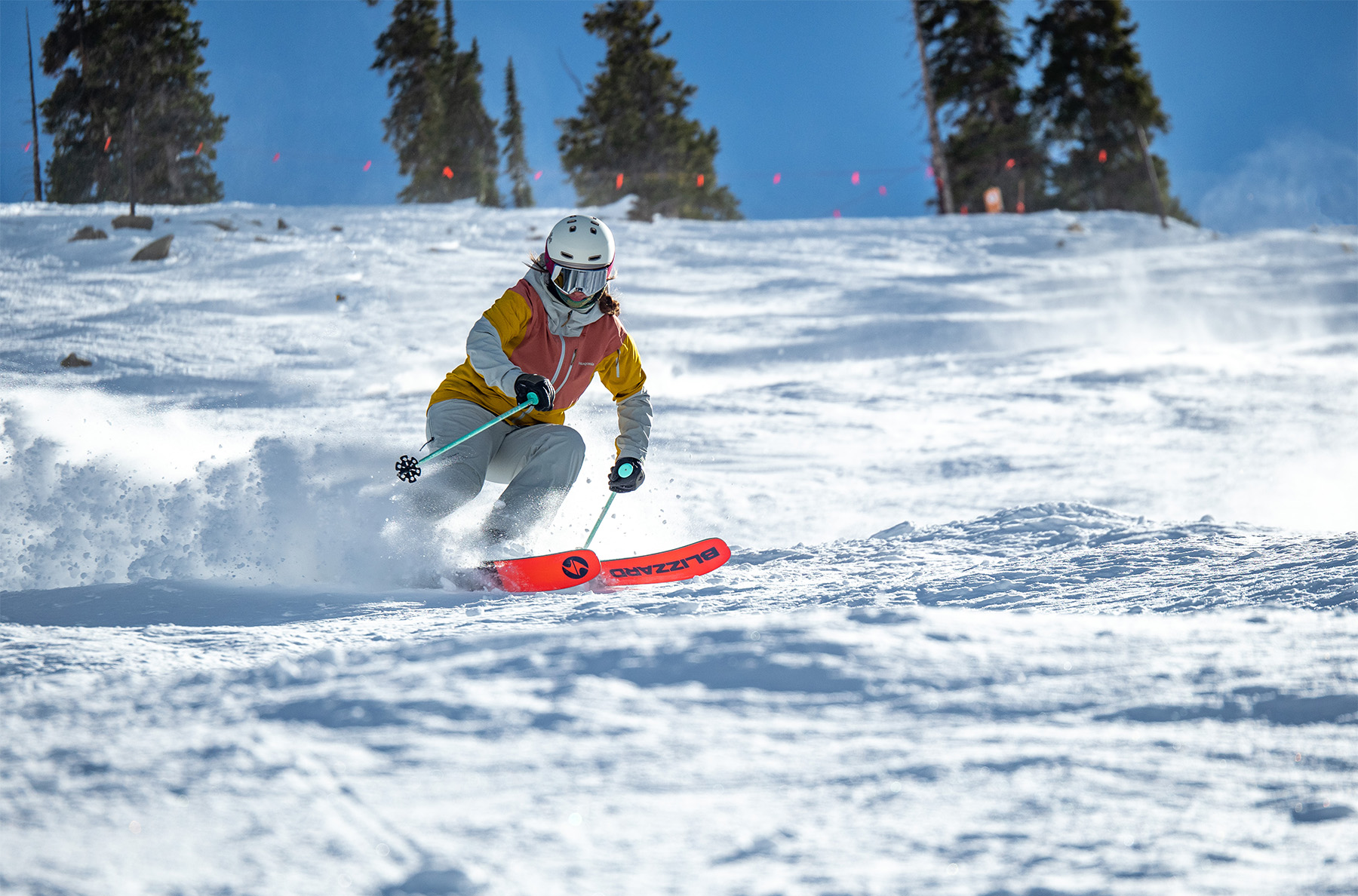 The Sheeva 9 isn't the best choice for someone who is reliant on a very smooth ride in rough conditions, but the Sheeva 9 is pretty forgiving and better suited to someone who likes to take a conservative and controlled approach when encountering rougher, cruddier conditions. The Sheeva 9 responds better to a bit of finesse, rather than all power and speed, so I found it to feel the most predictable when focusing on tighter, slower turns, rather than full-boar charging.
Length
The length of the Sheeva 9 deviates a bit from how I think of sizing the Sheeva 10 and Sheeva 11 (which I have been skiing in 180 cm). With slightly shallower rocker lines, particularly through the tail, and a bit more metal over the edges, the Sheeva 9 feels like a slightly more directional all-mountain ski, which holds true to how I think of other skis in its class, where the mid-170 cm range tends to feel best for me (for reference, I tend to ski lengths between 170-185 cm, depending on the ski).
The wider Sheeva's are notably looser through the tail, and given the typically softer conditions I use them in, the longer lengths make sense. But for the 174 cm Sheeva 9, I was surprised by just how stable this length felt on piste, while also being reasonable in other terrain and conditions. I might recommend people who feel caught between sizes on the Sheeva 10 or 11 to opt for the longer length, but this doesn't necessarily hold true for the Sheeva 9, unless stability is paramount for you (even still, I don't think bumping up a length will equate to a drastically more stable ski, based on what our reviewers have said about the men's 180 cm Rustler 9).
Overall, the 174 cm Sheeva 9 felt reasonable everywhere to me, and I appreciate how this length excentuated its already quick and nimble nature when it came to tight terrain and moguls.
Mount Point
The recommended mount point of the Sheeva 9, -7.7 cm from true center, felt quite intuitive to me. While I think the Sheeva 9 behaves more like a directional ski (where I am used to mount points closer to -10 cm) than a more playful, freestyle-oriented ski, the Sheeva 9 responds well to a pretty relaxed and upright skiing style and does not require a very aggressive forward / directional stance in order to tap into its maneuverability or overall agile nature.
That said, when I did find myself really forward, working to drive the shovels of the ski, I was surprised to find that it did feel supportive and precise. While there are skis that feel more locked in, damp, and stable when driving them with a forward stance (thinking of the Blizzard Black Pearl 97, for example), the Sheeva 9 is relatively adaptable when it comes to stance.
Who's It For?
The Sheeva 9 surprised me in two ways. First, its higher-speed composure on piste was much more impressive than I originally expected it to be. There are other skis that are much more damp and stable in a wider range of conditions (particularly chop and crud), but the Sheeva 9 was impressive when it came to how hard I could push it on firm, smooth snow, while also never feeling overtly demanding or unforgiving.
All of this makes the Sheeva 9 particularly appealing for skiers who are still working on their carving technique, but who also want to start venturing off piste.
At the same time, the Sheeva 9 could work well for a pretty aggressive skier who is already confident in their skills but doesn't want a very demanding ski that requires a ton of work, and instead wants something that's a bit easier when navigating consequential or tight terrain. The Sheeva 9 is a bit quicker and more forgiving than most of the more stable alternatives in its class, but it can still be skied hard, provided your preferred approach to chop and crud is to make more frequent, smaller turns, rather than bigger, faster ones.
The Sheeva 10 is a better choice if you'll be skiing everything from deep powder to firm groomers and bumps, but the Sheeva 9 works a bit better for the firmer days. So depending on where you live or the gap in your quiver that you are looking to fill, one or the other might make more sense for you.
Bottom Line
As the narrowest ski in Blizzard's Sheeva lineup, it makes sense that the Sheeva 9 feels the most precise and firm-snow-oriented of the bunch, but it still brings a level of versatility that makes it a viable all-mountain tool for a wide range of skiers who prefer a quicker, more maneuverable, and more forgiving ski.
Deep Dive Comparisons
Become a Blister Member to check out our Deep Dive Comparisons of the latest Sheeva 9 to see how it compares to the Fischer Ranger 90, Blizzard Sheeva 10, Nordica Santa Ana 93, Atomic Maven 93 C, Faction Dancer 2X, Volkl Secret 96, Salomon Stance 94 W, Blizzard Black Pearl 97, K2 Mindbender 99Ti W, & 4FRNT MSP CC.
Rocker Profile - Decambered
Tail Profile - Decambered