2022 Rossignol Mandate
Wheel Size: 27.5'' (Sizes XS and Small); 29'' (Sizes Medium through XL)
Travel: 140 mm rear / 140 mm front
Material: Aluminum
Price: Complete bikes $2,400 to $4,400
Blister's Measured Weight (size Large, XT build): 33.37 lbs / 15.14 kg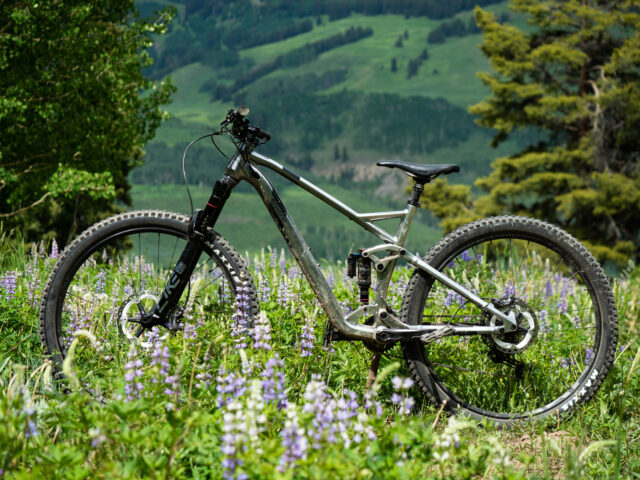 Intro
Rossignol (yep, that Rossignol) launched a completely new line of mountain bikes for 2022, which they are selling consumer-direct with US-based customer support for that market. The bike line consists of the Mandate Trail bike and Heretic Enduro bike; a pair of e-bikes; and a couple of kids models round out the range. Here we're looking at the Mandate, their 140mm-travel all-rounder, and it seems like a compelling no-nonsense option with really good parts for the money. We've got one in for long-term testing, but in the meantime, let's dive into the details of the bike:
The Frame
The Mandate is only offered with an aluminum frame and uses a Horst-link layout with a vertically-oriented shock to get its 140 mm of rear-wheel travel. That's paired with a matching 140mm-travel fork, and there aren't any flip chips, geometry adjustments, or wheel size options (for a given frame size — more on that in a minute). Cable routing is internal through the front triangle, and the Mandate pairs that with a threaded bottom bracket shell, plus a Boost 148×12 mm rear end with a SRAM UDH derailleur hanger. There's also room inside the front triangle for a water bottle cage on all sizes, plus a second set of accessory mounts underneath the top tube — i.e., pretty much all the details you'd come to expect from a modern Trail bike.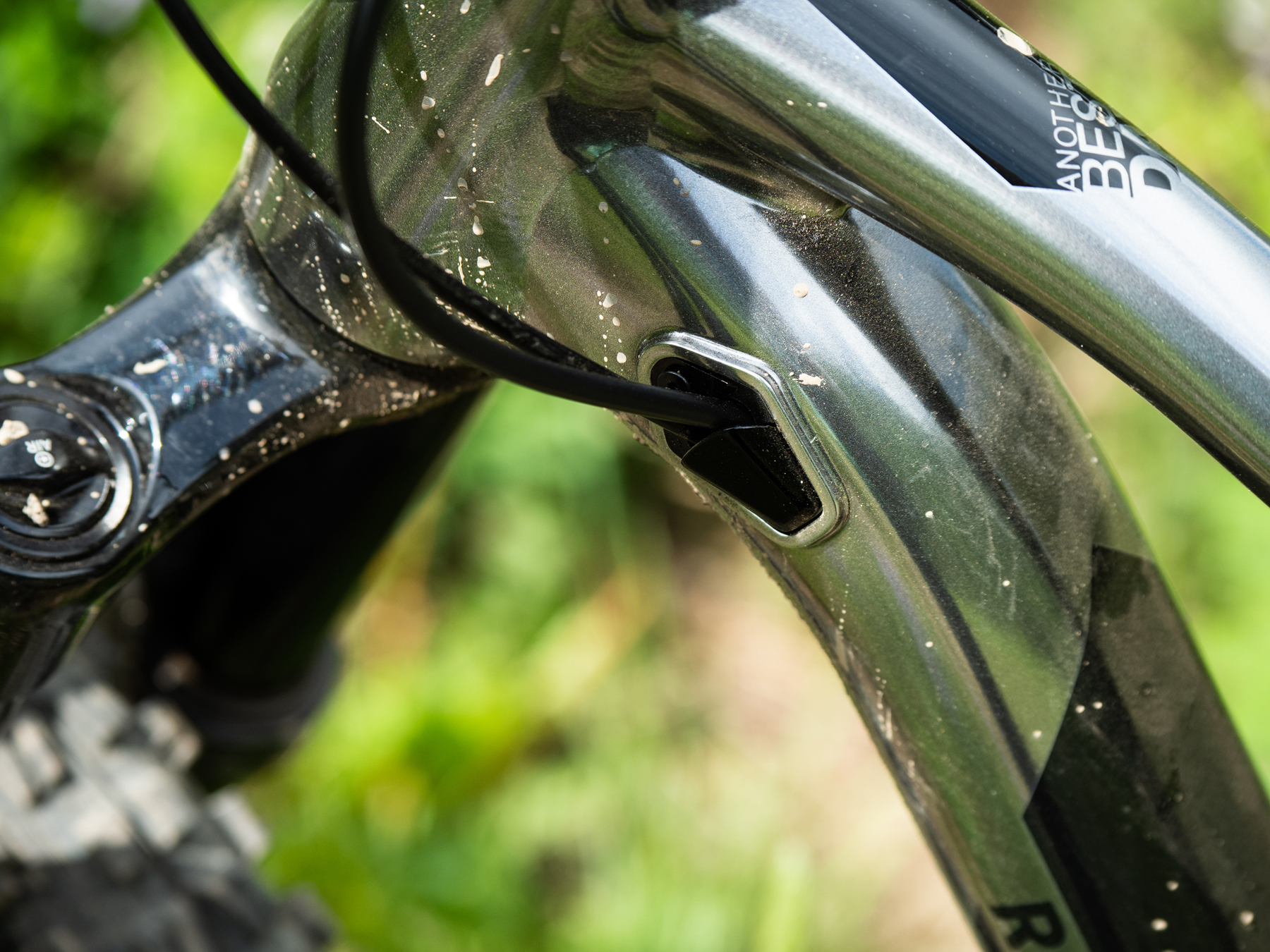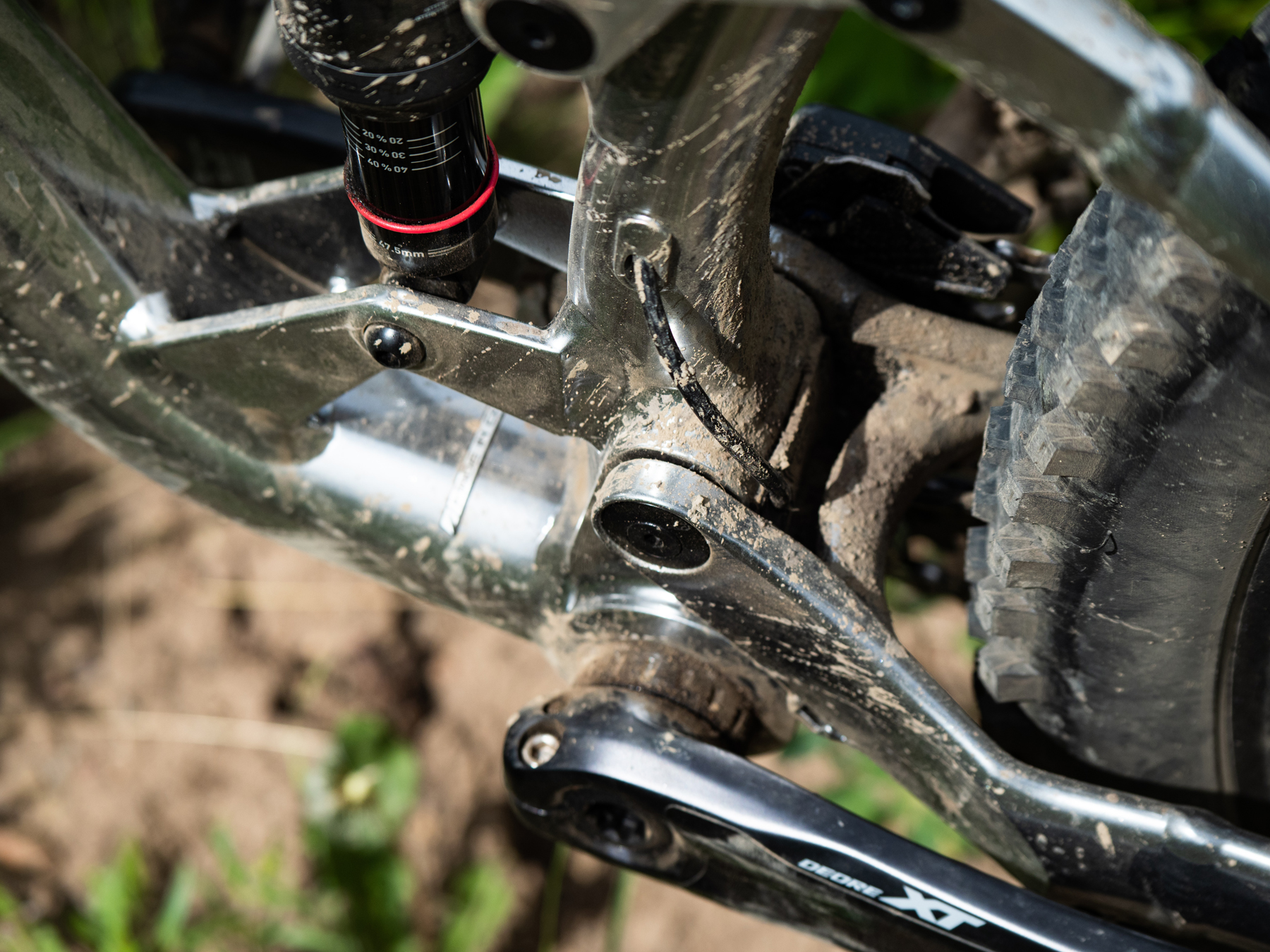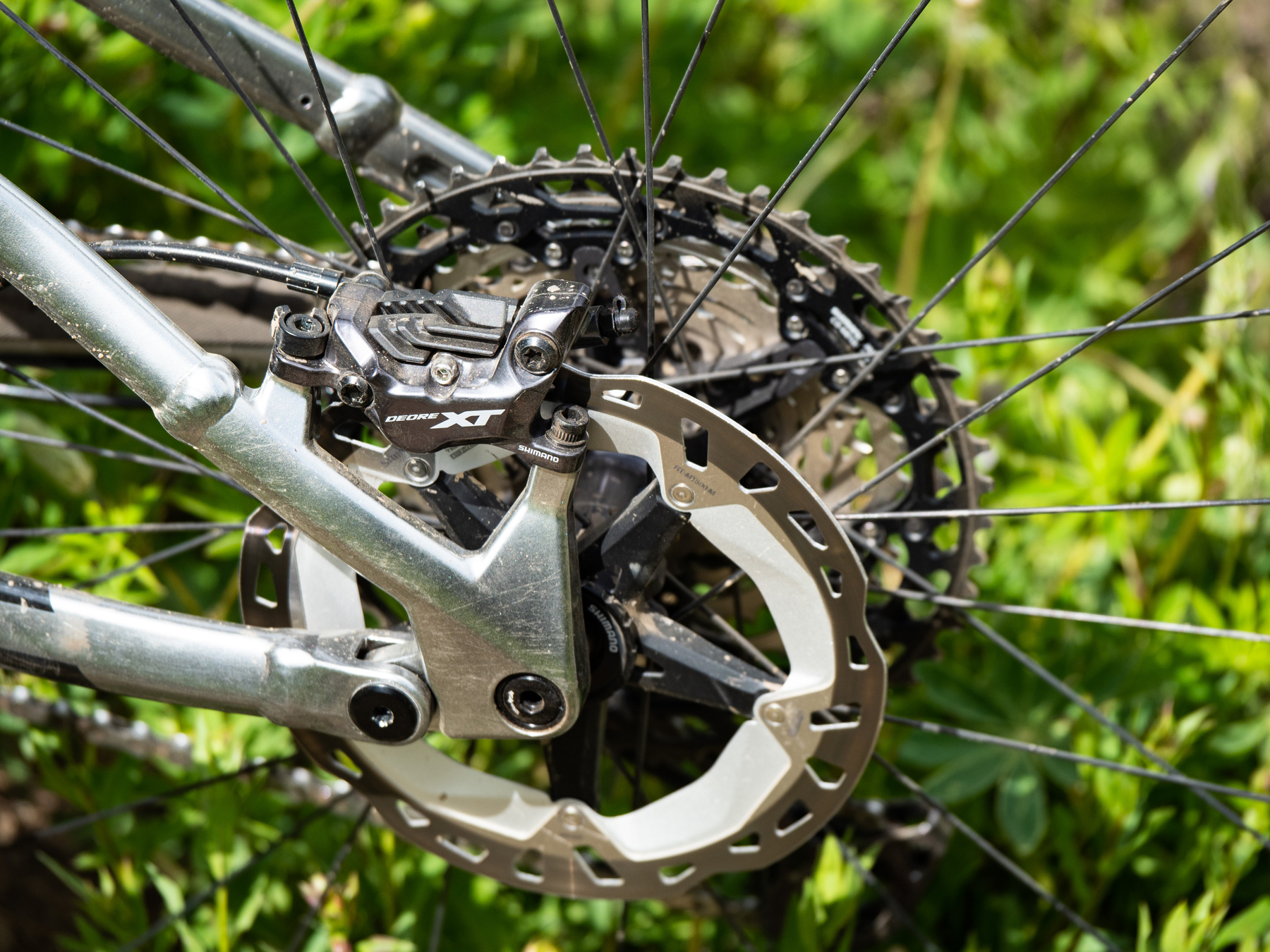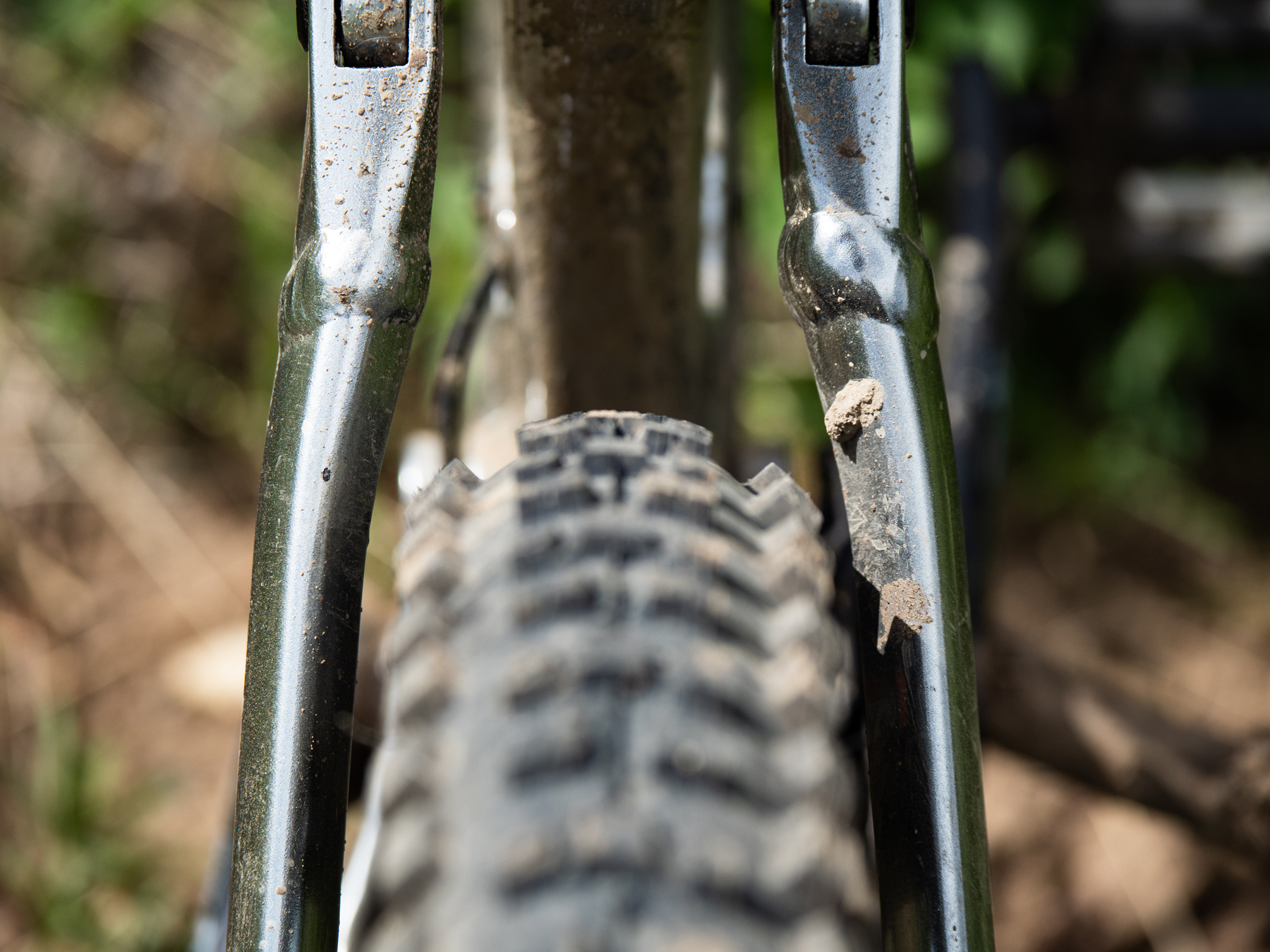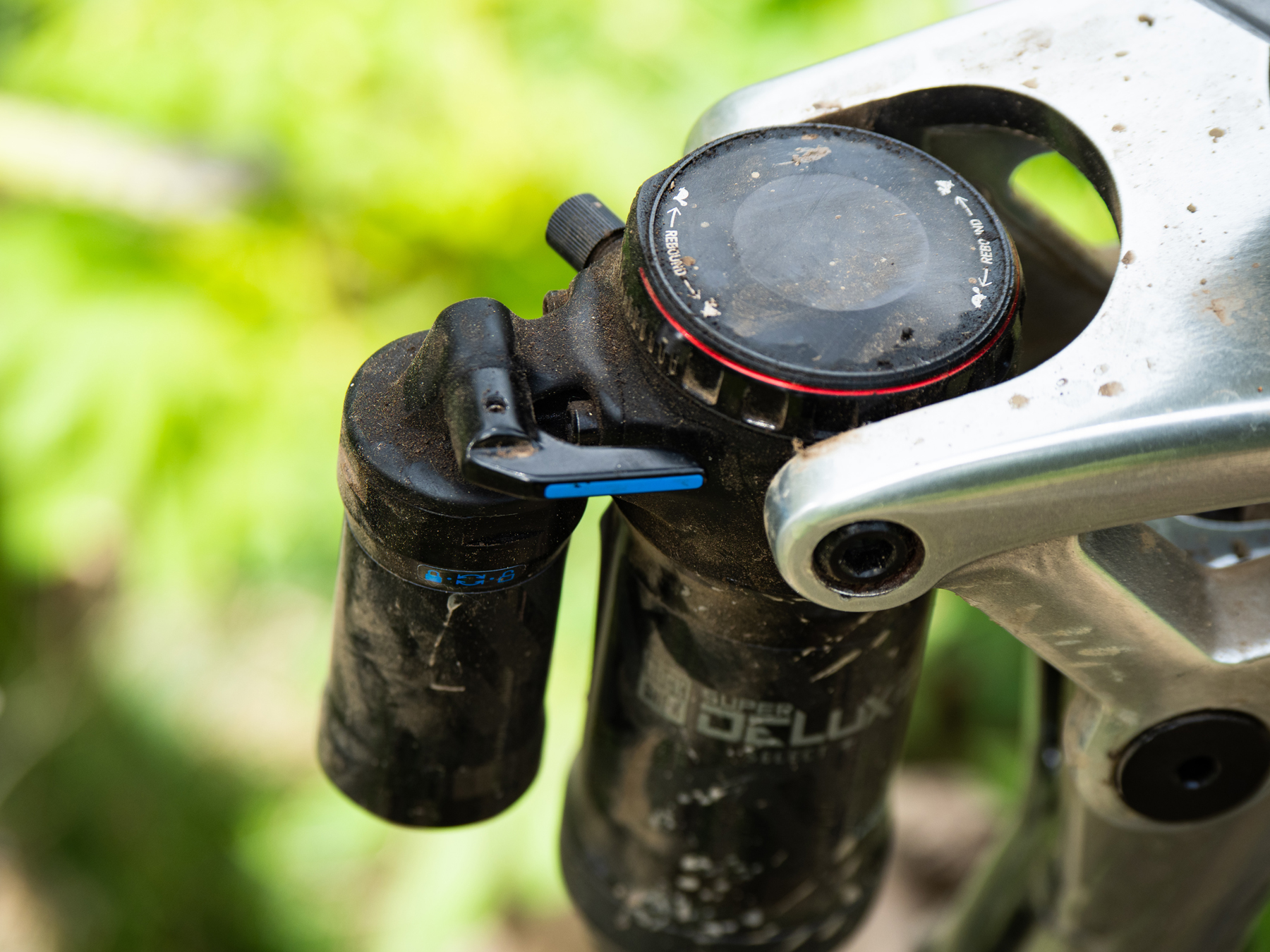 Fit & Geometry
Rossignol offers the Mandate in five sizes, XS through XL, which they say cover riders from 4'1'' to 6'7'' (150 to 200 cm). The smallest two sizes get 27.5'' wheels, while the Medium and up are 29ers. We've seen a few other brands taking a similar approach with certain models — perhaps most notably Rocky Mountain — and the idea is to give shorter riders a bike that's a little easier to muscle around, affords more tire-to-butt clearance, and has a more manageable bar height due to the smaller wheels (and shorter fork needed to clear the front one).
All sizes of the Mandate get a 66° headtube angle and 77.5° effective seat tube angle; reach ranges from 430 mm on the XS to 500 on the XL. The XS and Small frames have 425 mm chainstays, whereas the 29er sizes bump up to 430 mm. Those numbers aren't wildly aggressive — there are certainly longer, slacker ~140 mm travel bikes out there — but they're plenty modern (note the longish reach and steep seat tube) and seem like they should make for a fairly nimble, quick-handling bike.
The Builds
Rossignol offers the Mandate in three builds, all with Shimano drivetrains and RockShox suspension, and they're really good values for money. If anything, the $3,400 SLX build might be the most impressive — you get a full Shimano SLX groupset including 4-piston brakes, good RockShox suspension, and serviceable wheels for less than a lot of carbon frames run these days.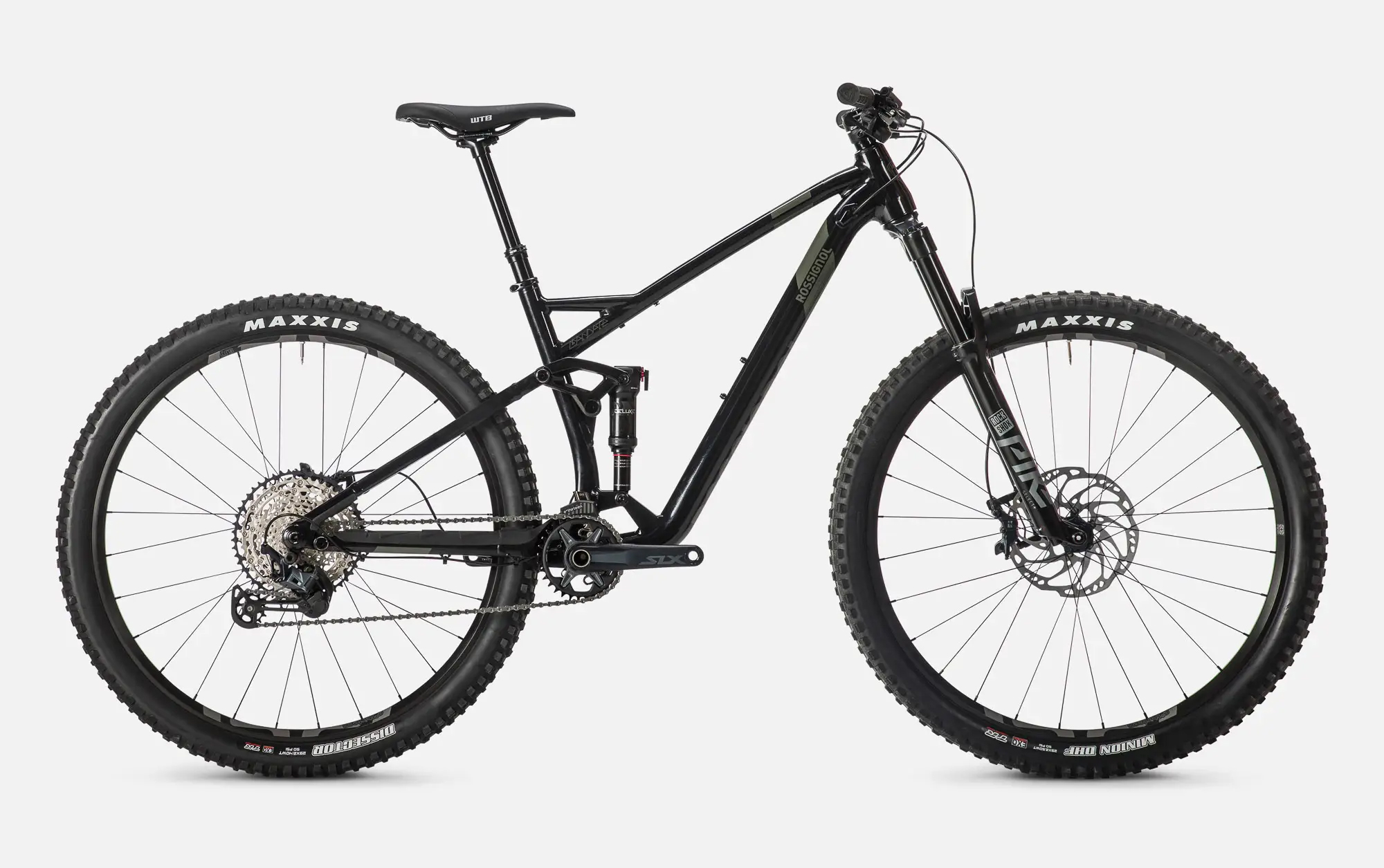 Fork: RockShox 35 Silver
Shock: RockShox Deluxe Select
Drivetrain: Shimano Deore 11 speed
Brakes: Shimano M4100 2-piston w/ 203 mm front / 180 mm rear rotors
Wheels: WTB ST i30 rims w/ Shimano M400 hubs
Dropper Post: KS Edge I
Fork: RockShox Pike Select+
Shock: RockShox Deluxe Select+
Drivetrain: Shimano SLX
Brakes: Shimano SLX 4-piston w/ 203 mm front / 180 mm rear rotors
Wheels: e*thirteen TRS Base Trail rims w/ Shimano SLX hubs
Dropper Post: KS Edge I
Fork: RockShox Pike Ultimate
Shock: RockShox Super Deluxe Select+
Drivetrain: Shimano XT
Brakes: Shimano XT 4-piston w/ 203 mm front / 180 mm rear rotors
Wheels: e*thirteen TRS Plus Trail rims w/ Shimano XT hubs
Dropper Post: KS LEV Integra
All three builds get a Maxxis Minion DHF 2.5'' front / Dissector 2.4'' rear tire combo, but the Mandate XT upgrades both to Exo+ casings and 3C MaxxTerrra rubber, whereas the other two builds get Exo casings and Dual rubber formulations.
Some Questions / Things We're Curious About
(1) The Mandate is a seriously impressive value for money in terms of parts spec, but is the frame up to snuff?
(2) And how does the Mandate stack up against a lot of the other mid-travel Trail bikes out there? Its geometry looks a little more conservative and biased towards quicker handling over stability than most, but is that borne out on trail?
Flash Review
Blister Members can read our Flash Review of the Rossignol Mandate for our initial on-trail impressions. Become a Blister Member now to check out this and all of our Flash Reviews, plus get exclusive deals and discounts on gear, and personalized gear recommendations from us.
Bottom Line (For Now)
The new Rossignol Mandate looks like a fairly quick-handling mid-travel Trail bike on paper, and it comes with an especially nice parts spec for the money. But has Rossignol, a brand far better known for making skis than bikes, put together a quality frame to hang those parts on? We've got a Mandate XT in for testing, so stay tuned for a full review soon.