When considering a new mountain bike, there are so many similar-looking bikes on the market being made by so many different companies, it is virtually impossible to (1) know where to begin; (2) quickly figure out which one or two products from a given brand might work well for you; and (3) determine what products from other brands might be the most similar and also worth considering.
So in our new "Blister Brand Guide" series, we provide an overview of the entire product lineup of a brand; highlight how each product stands out from the rest of that brand's lineup; and help you figure out quickly and easily which bike might work best for you.
In our individual product reviews, we go very deep into the details of particular products. With these Brand Guides, the goal is not Depth, but Breadth. Our Brand Guides and full reviews are designed to complement each other — provide a broad overview of entire company lineups, and then also very detailed reviews of individual products.
Our mountain bike Brand Guides are presented by CBGTrails. Learn more and start planning your trip today at cbgtrails.com, then download the CBG Trails app for info on the 750+ miles of singletrack and 150+ trails in Crested Butte and the Gunnison Valley, Colorado.
Transition was founded in 2001. They were started on the idea of a rider based company that is approachable and open to all sorts of mountain bikers. For the last few years, they have been making their bikes with progressive geometry that is just now becoming widely adopted (i.e., they were ahead of the geometry trends in some cases). They make both alloy and carbon bicycles, and their bikes are all intended for off-road mountain use.
Transition calls their approach to bike geometry "Speed Balanced Geometry" (SBG). On their site, they say, "SBG ensures the bike maintains low speed agility, front wheel traction, and proper rider weight balance while actually increasing confidence in steep terrain and at high speeds." What this translates to is that, for the most part, their bikes tend to have slack head tube angles, long reach numbers, and reduced fork offsets.
Transition is, well, "transitioning" away from the model-year format of presenting and labeling their bicycle lineup. So while our other brand guides are separated by model year, expect this particular guide to simply have the most up-to-date bikes from Transition.
Transition is currently based in Bellingham, Washington, USA.
Current Warranty (for the original owner)
Frames released from February 2020 going forward have a lifetime warranty

3-year warranty for all other 2018-2020 frames

"Crash Replacement Policy" (discounted frame parts for non-warranty situations)

For more information, visit Transition.
Transition's Suspension Design: GiddyUp and GiddyUp 2.0HH (derived from the classic Horst-Link / four-bar suspension design)
(For more on different suspension designs, see our Suspension 101 article)
Before we get into their specific models and build options, here are some things to keep in mind when deciding on which build level to go with, and why.
First, when looking at complete bikes, suspension and wheels are going to make the biggest difference in how a bike really rides. Spend money on those before other things like higher-end drivetrain parts, cockpit parts (e.g., stem, handlebars, etc.), cranks, etc.
Tires make an enormous difference in performance, but are cheaper and easier to upgrade, especially since they tend to wear down quicker than other components. Upgrading a lower-end front tire to something better — and saving the original for rear-tire use — can be a good way to improve a bike while still making use of the originals, since front tires are generally a lot more important than rear tires when it comes to traction.
Drivetrain parts can be upgraded piecemeal as they wear out, or if you just want to upgrade down the line. Higher-end cassettes are mostly just lighter, while higher-end shifters and derailleurs get lighter, smoother, and sometimes last a bit longer as you go up in price.
We'll outline here the different models in Transition's MTB lineup, organized from most cross-country-oriented (XC) to downhill-oriented (DH). In other words, the bikes at the top of the list are optimized to pedal and climb uphill very well, while the bikes at the bottom are optimized to handle very rough, steep, and challenging descents very well.
We've included some notable information for each model:
Available build kits & their MSRP
Best Budget Build

: These are the build kits that we think make the most sense for people trying to spend the least amount without ending up with a build that's going to immediately break or need to be upgraded.

Most Performance for the Price

: These are the build kits that we think make the most sense for people seeking the best balance of performance and cost. I.e., if you don't need to get the cheapest bike, but you also don't need the absolute lightest bike

or all the newest bling,

this is the build we think makes sense for you.
Suspension travel (e.g., 100 mm of travel, 130 mm of travel, etc.)

Wheel size (e.g., 27.5", 27.5+, 29")

Frame material options (e.g., alloy vs. carbon)

A brief description of what the bike was designed for and any notable design details.

Some of the bike's most direct competitors from other brands

Which Transition bike it's most similar to

Reasons why you should buy it

Reasons why you should

not

buy it
Transition Mountain Bikes
(Most Cross-Country-Oriented to Most Downhill-Oriented)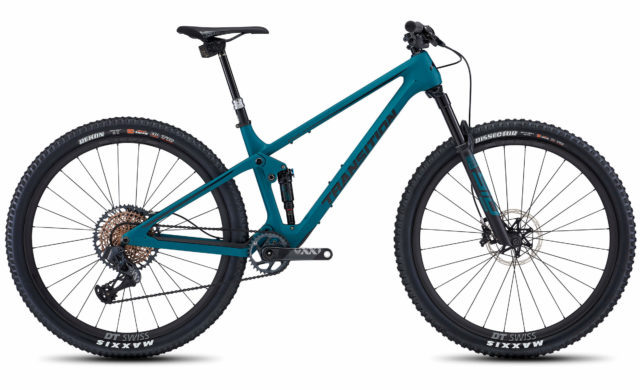 Transition's shortest-travel, lightest adult bike, the Spur is designed with uphill efficiency in mind while still being able to handle a bit of everything. Released June 2020, the Spur effectively replaces the 2019 Smuggler. The Spur can be converted to run a short-stroke shock, reducing the rear travel to 100 mm. (Check out our First Look of the Spur)
GX: $4,999 – Best Budget Build

XO1: $5,999 – Most Performance for the Price

XX1: $8,999

Frameset: $2,999
Santa Cruz Tallboy / Juliana Joplin

Trek Fuel EX

Giant Trance 29

Kona Process 134 29

Nukeproof Reactor 290

Ibis Ripley

YT Izzo

Devinci Django 29

Evil The Following MB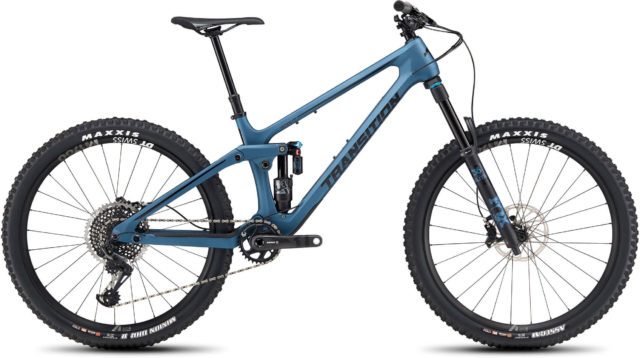 Transition's best Quiver Killer. Updated in February 2020, this bike was designed to be the "most fun" bike in Transition's lineup. Compared to many 140mm-travel bikes, the Scout has very progressive geometry (slack head tube angle, steep seat tube angle, long reach). This bike can accept a longer-stroke shock to bump up the rear travel to 150 mm. (Check out our First Look of the Scout)
More like the Sentinel than the Smuggler.
NX: $4,499 – Best Budget Build

GX: $5,499

XO1: $6,599 – Most Performance for the Price

Frameset: $3,199
Specialized Stumpjumper EVO 27.5"

Santa Cruz Bronson / Juliana Roubion

Yeti SB140

Intense Primer 27.5

Norco Sight 27.5"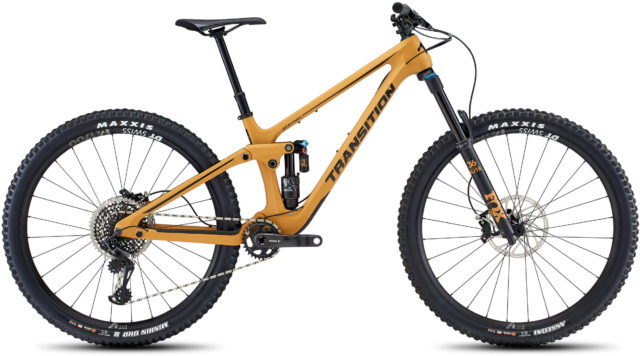 Released in late April 2020, the new Sentinel has slightly more travel than the first iteration along with other small changes vs. the previous version. This bike could be converted to 140 mm of rear travel by using a shock with reduced stroke length.
More like the Scout than the Patrol.
NX: $4,499 – Best Budget Build

GX: $5,499

XO1: $6,599 – Most Performance for the Price

Frameset: $3,199
Santa Cruz Megatower

Yeti SB150

Giant Reign 29

Ibis Ripmo

Norco Sight 29"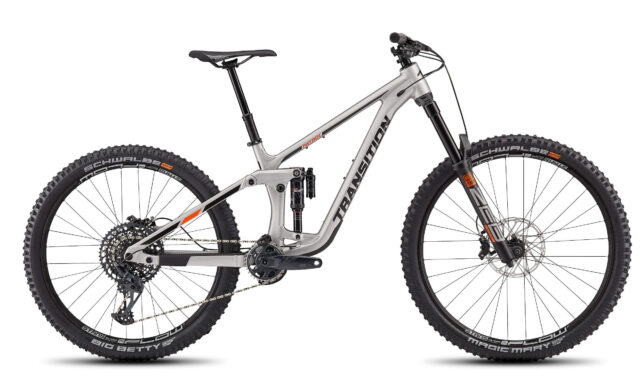 The Patrol is one of the longest standing bikes in Transition's lineup, and for summer 2021, it gets a pretty significant update. The Patrol now comes stock in a mixed-wheel configuration with a 29″ front wheel and 27.5″ rear wheel. It also has updated geometry to accommodate for a mixed wheel setup, as well as the pretty typical slacker/longer/lower treatment. It also features size-dependent chain stay lengths as well as a more progressive rear suspension leverage curve. (Check out our First Look of the Patrol)
More like the Spire than the Sentinel.
Shimano Deore: $3,799 – Best Budget Build

SRAM GX: $4,899

Shimano XT: $5,599 – Most Performance for the Price

Alloy Frameset: $2,299
Mullet Cycles The Peacemaker
Due to the unique nature of this out-of-the-box mixed-wheel bike, there aren't many very similar bikes.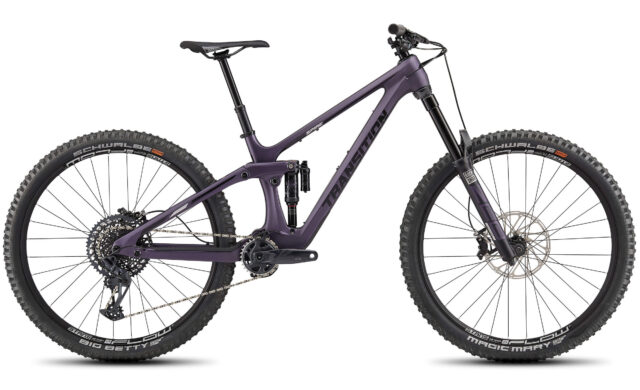 New as of June 2021, the Spire is Transition's most capable bike still designed to be pedaled uphill. This bike has seriously long, slack, and low geometry, with both low and high geo settings. XL/XXL sizes have a longer chain stay than the smaller sizes. The Spire is compatible with dual-crown forks, can be run as a mixed-wheel setup with a 27.5″ wheel in the rear in the high geometry setting, and can also run a shorter-stroke rear shock for only 160 mm of travel. (Check out our First Look of the Spire)
More like the Patrol than the TR11.
Shimano Deore Alloy: $3,799 – Best Budget Build

SRAM GX Alloy: $4,899

Shimano XT Alloy: $5,599 – Most Performance for the Price
SRAM GX Carbon: $5,999
Shimano XT Carbon: $6,699

Alloy Frameset: $2,299
Specialized Enduro
Yeti SB150
Nicolai G1
Propain Spindrift
Intense Carbine
Evil The Reckoning LB
YT Capra 29
Devinci Spartan 29
Scott Ransom
Canyon Strive 29
Ibis Ripmo
Giant Reign 29
Mondraker Superfoxy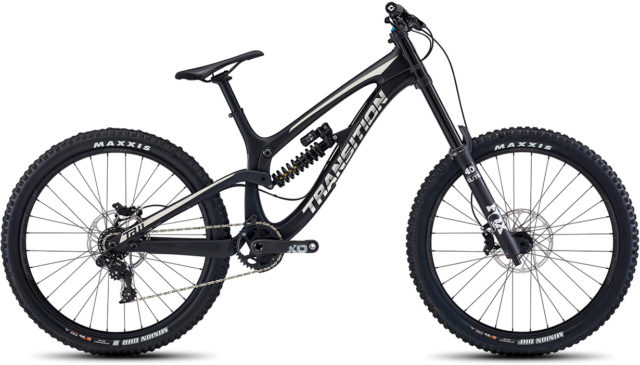 Transition's DH bike, designed for lapping the bike park and racing DH. This bike features Transition's proprietary reach adjust headset, which allows riders to fine-tune the TR11's reach length by +/- 5 mm.
GX: $5,299 – Best Budget Build

XO1: $7,299 – Most Performance for the Price

Frameset: $3,299
Specialized Demo 8

Santa Cruz V10 27.5"

Pivot Phoenix

Trek Session 27.5

Commencal Furious

Kona Operator 27.5"

Intense M16

Nukeproof Dissent 275

YT Tues 27

Norco Aurum

Devinci Wilson 27

Mondraker Summum