Revel RW30 Gen 2 Wheels
Internal Width: 30 mm
Sizes Available: 29''
Material: Carbon Fiber ("FusionFiber" thermoplastic)
Stated weight:
RW30 rim: 485 g
RW30 wheelset: 1,850 g
MSRP:
Complete wheelset (with Industry Nine Hydra hubs): $2,199
Rim only: $799
Intro
Revel released their FusionFiber thermoset carbon rims back in 2020, and we've enjoyed riding several pairs of them due to their damped feel and precise steering. And now Revel has released their second version of these carbon wheels, claiming increased strength on top of other improvements. But three years later, with a mountain bike wheelset market that is more full of thermoplastic carbon fiber options, how do the RW30 rims stand out?
Design
As with the first version, Revel's RW30 rims are made of "FusionFiber" thermoplastic carbon fiber, which is produced by CSS Composites in Utah. CSS recently launched their own brand, Forge+Bond, earlier this spring, but they have been manufacturing rims for a few other companies (including Revel) for a few years.
Increasing durability seems to be the main goal for Revel with the second generation of the RW30 rims. They claim to have concentrated more material around the spoke holes and used less in between each spoke, and they've also increased the width of the bead wall (hook) on each rim to increase strength, as this part of the rim is most susceptible to hard impacts on trail obstacles. As a result of these tweaks, Revel is claiming a 23% increase in impact resistance over the original RW30 rims, all while reportedly having gained a negligible 5 grams per rim.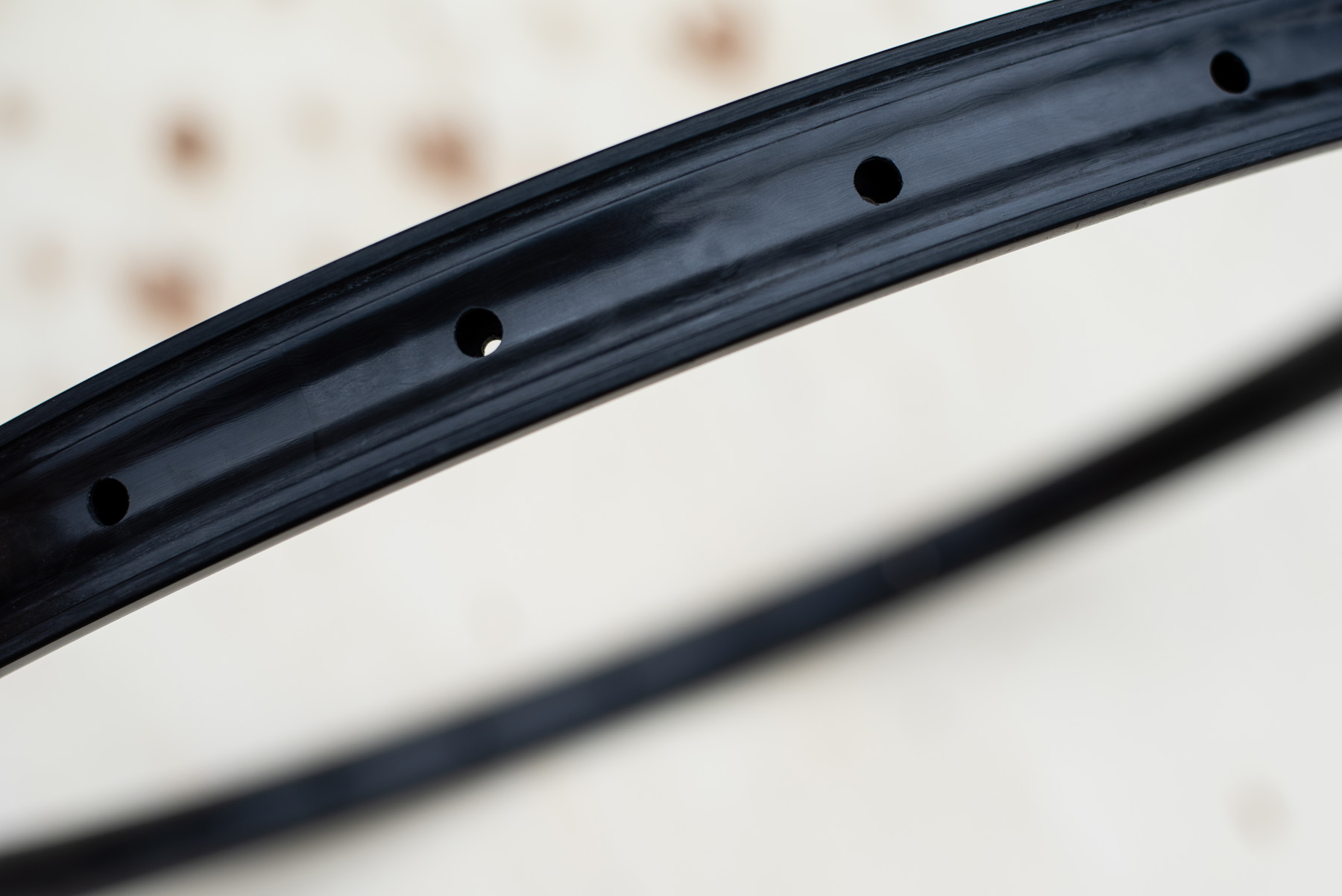 Similar to other versions of rims made by CSS, the RW30 rims are made of thermoplastic carbon fiber, rather than the more common thermoset construction used by other carbon rim manufacturers. Since David Golay recently summarized the differences between the two types of carbon fiber construction in our First Look of the Forge+Bond 30 EM wheels, I will just quote him here:
"In short, carbon fiber parts of either sort are comprised of two main components: the carbon fibers themselves and some form of "matrix" that holds them together, makes them rigid, and gives the part structure. Thermoset parts use epoxy for the matrix and undergo a chemical reaction in the curing process, whereby the epoxy solidifies; thermoplastic parts use a matrix that can be melted and re-solidified — theoretically infinitely — which, among other things, means that thermoplastic parts can be recycled."
There are some limitations to the recyclability of thermoplastic composites, as it requires grinding up the used parts and re-molding them into something new. This leads to some degradation of the fibers and a loss of control over fiber orientation in the recycled product. But that's still a massive improvement over what is currently possible with thermoset composites, which can't readily be recycled. Revel also claims that their thermoplastic construction makes for a quieter and more dampened ride than thermoset composites can achieve.
The RW30 wheels are optimized for 28-hole drilling, in 29'' diameter only (unlike the prior-generation RW30, which was available in a 27.5'' diameter as well). As the name suggests, these rims are 30 mm wide internally, with a 38 mm external width. It's worth noting that the second-gen RW30 has a thicker 4 mm bead wall with the goal of increasing durability. Revel says these rims suit tires from 2.3'' to 2.6'' wide, and are meant for use on Trail and Enduro bikes with 130–160 mm of travel.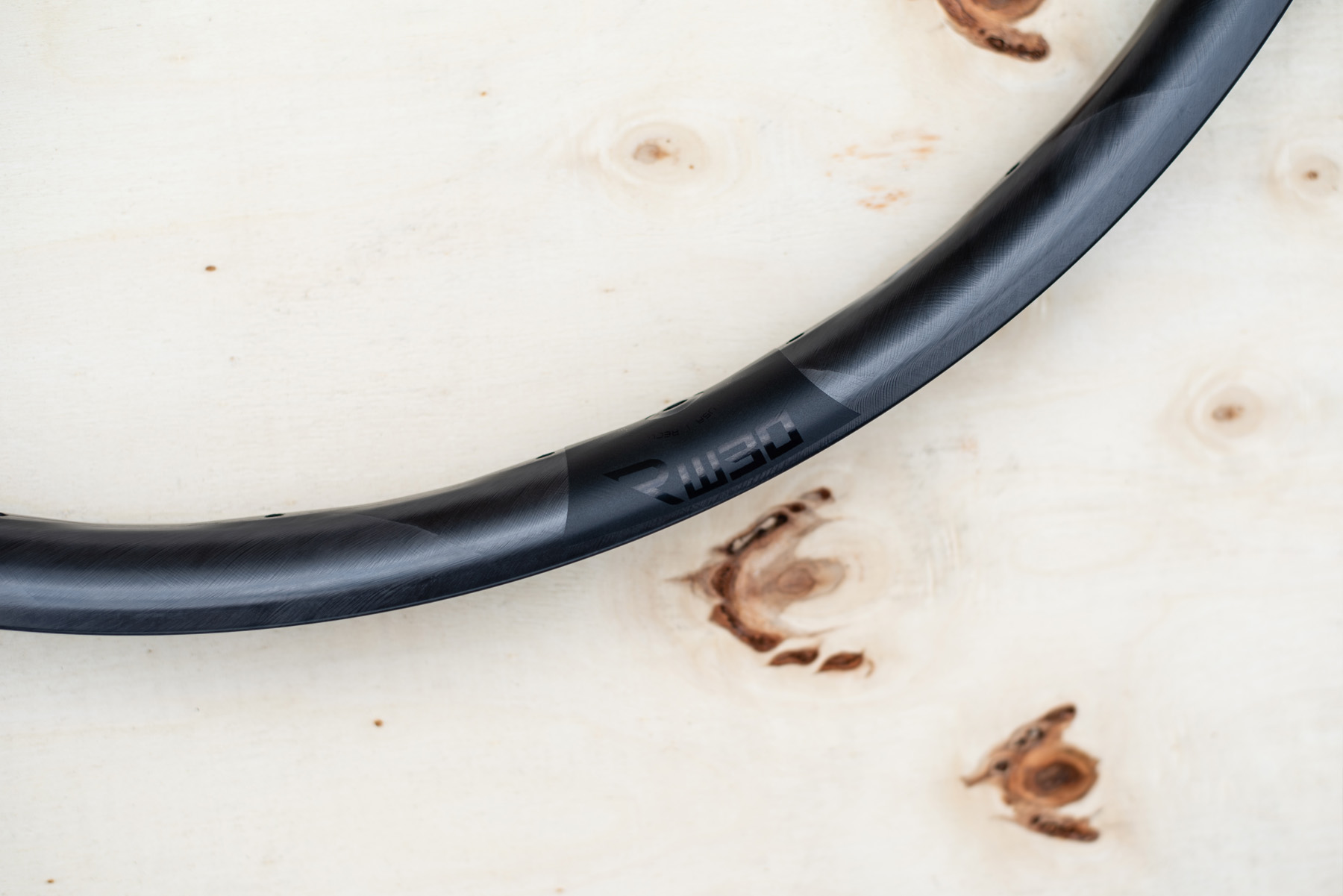 The RW30 rims are offered as either a rim only or a complete wheelset exclusively paired with Industry Nine's Hydra hubs. The RW30 rims only come in a stealthy black color, which Revel touts as another benefit to using thermoplastic carbon — the rim comes out of the (very short) curing process without the need for sanding or the application of a coat of finish or paint.
Revel offers a lifetime warranty on the RW30 wheels for the original buyer, as well as a crash replacement program for non-warranty incidents.
Weight (and Comparisons)
At a stated weight of 485 g per rim (in a 29'' diameter), the RW30 rims are quite average for Trail/Enduro carbon rims. Below are the listed weights for a variety of rims in both the lightweight Trail and burlier Enduro categories, as well as complete wheelset weights for reference; the wheelset weights are all as measured by Blister unless otherwise noted.
Wheelsets:
1,571 g NOBL TR35 + DT Swiss 240 EXP (carbon, measured)
1,576 g Reynolds Blacklabel 329 Trail Pro (carbon, measured)
1,639 g DT Swiss XMC 1501 (carbon, stated)
1,648 g Enve M630 + Industry Nine 1/1 (carbon, stated)
1,702 g Forge+Bond 30 AM + DT Swiss 240 (carbon, stated)
1,718 g Reserve 30|SL + Industry Nine 1/1 (carbon , measured)
1,740 g We Are One Faction + Industry Nine 1/1 (carbon, stated)
1,758 g Revel RW27 + Industry Nine 1/1 (carbon, stated)
1,803 g Chris King MTN30 (carbon, measured)
1,840 g Revel RW30 Gen 1+ Industry Nine Hydra (carbon, measured)
1,840 g Reserve 30|SL AL (aluminum, stated)
1,848 g DT Swiss XM 1700 (aluminum, stated)
1,849 g Reserve 30|HD + Industry Nine Hydra (carbon, measured)
1,850 g Revel RW30 Gen 2 + Industry Nine Hydra (carbon, stated)
1,864 g Forge+Bond 30 EM 28h + Industry Nine Hydra (carbon, measured)
1,877 g We Are One Union + Industry Nine Hydra (carbon, 27.5'' diameter, measured)
1,985 g DT Swiss EX 1700 (aluminum, stated)
2,069 g Enve M730 / Chris King (carbon, measured)
2,104 g Reserve 30|HD AL (aluminum, measured)
Some Questions / Things We're Curious About
(1) Having not experienced any durability issues with several pairs of the original RW30 rims ourselves, will these updates be very noticeable in terms of ride feel out on the trail, or is this an update that will be most prevalent in breaking-point instances?
(2)Will a thicker bead wall create a more harsh feel, or will the generation 2 RW30 rims ride as smoothly as the original iteration?
(3) And how do the new RW30s differ from the (on paper very similar) 30 AM wheels that Forge+Bond just launched?
Bottom Line
With the second generation of the RW30 rim, Revel has made increasing durability a priority, all while maintaining much of the same philosophy that went into the original RW30 wheels that we have been big fans of. We're curious to see how pronounced these changes are out in the real world, and we've got a pair on the way to test. In the meantime, let us know if you have any questions in the comments.