Ride Concepts Hellion Clip Shoe
Test Location: Gunnison & Crested Butte, Colorado
Test Duration: 3 months
Reviewer: 5'10.5", 155 lb / 179 cm, 70 kg
Size Tested: US Men's 9.5
Blister's Measured Weight per shoe: 457 g and 469 g (size 9.5)
Upper: Microfiber synthetic material with antibacterial mesh liner
Closure: Laces + hook-and-loop strap
CLIP GRIP rubber outsole

42mm wide cleat box with index markings for cleat placement and extended cleat pocket runway

RC PowerDrive nylon shank drives power and maintains lateral stiffness

EVA midsole provides support and shock absorption

Dual-density EVA insole provides additional support and cushion

Microfiber synthetic upper is abrasion and weather-resistant

Anti-bacterial mesh lining controls odor

Fully gusseted tongue prohibits the intake of dirt and debris

Hook and loop strap for additional foot retention

Elastic lace tuck to keep laces secure

Abrasion-resistant TPU toe and heel with internal toe protection
Colors: Khaki/Black (tested), Black/Charcoal
Pedals used: Shimano PD-M8120 XT SPD Trail
MSRP: $150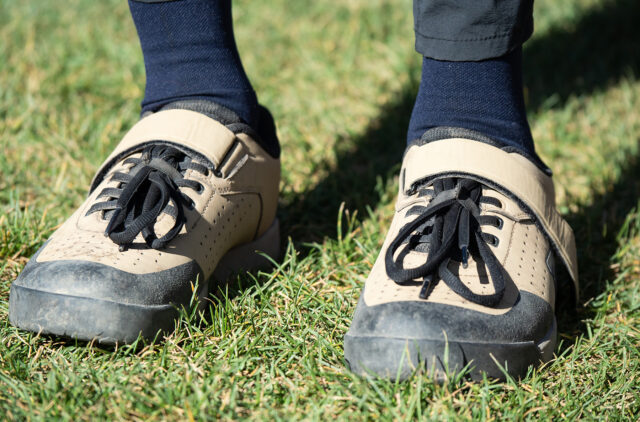 Intro
Ride Concepts is a well-established player in the mountain bike shoe market, with tons of flat and clipless options for a variety of riding styles, though they mostly skew toward the Trail, Enduro, and Gravity sections of the market. We've been big fans of several of their models, and I personally really like their Transition Clip shoe, which remains in my quiver of bike shoes.
Based on their successful Hellion flat-pedal shoe, the Hellion Clip is a relatively low-profile clipless offering designed mostly with Enduro, Trail, and Gravity riding in mind. Introduced in the spring of 2022, the Hellion Clip has been on the market for a little bit now, and this summer we spent a lot of miles in it to see how it compares to the competition.
Features and Construction
The Hellion Clip uses a lightweight, perforated, synthetic upper with an antibacterial mesh lining on the inside. It also features a TPU-coated toe and heel for abrasion resistance, as well as reinforced toe protection on the inside of the shoe. As far as closures go, the Hellion Clip is available exclusively with laces plus a hook-and-loop (Velcro) strap over the instep. This shoe also features an elastic lace tuck to keep its long laces out of the way.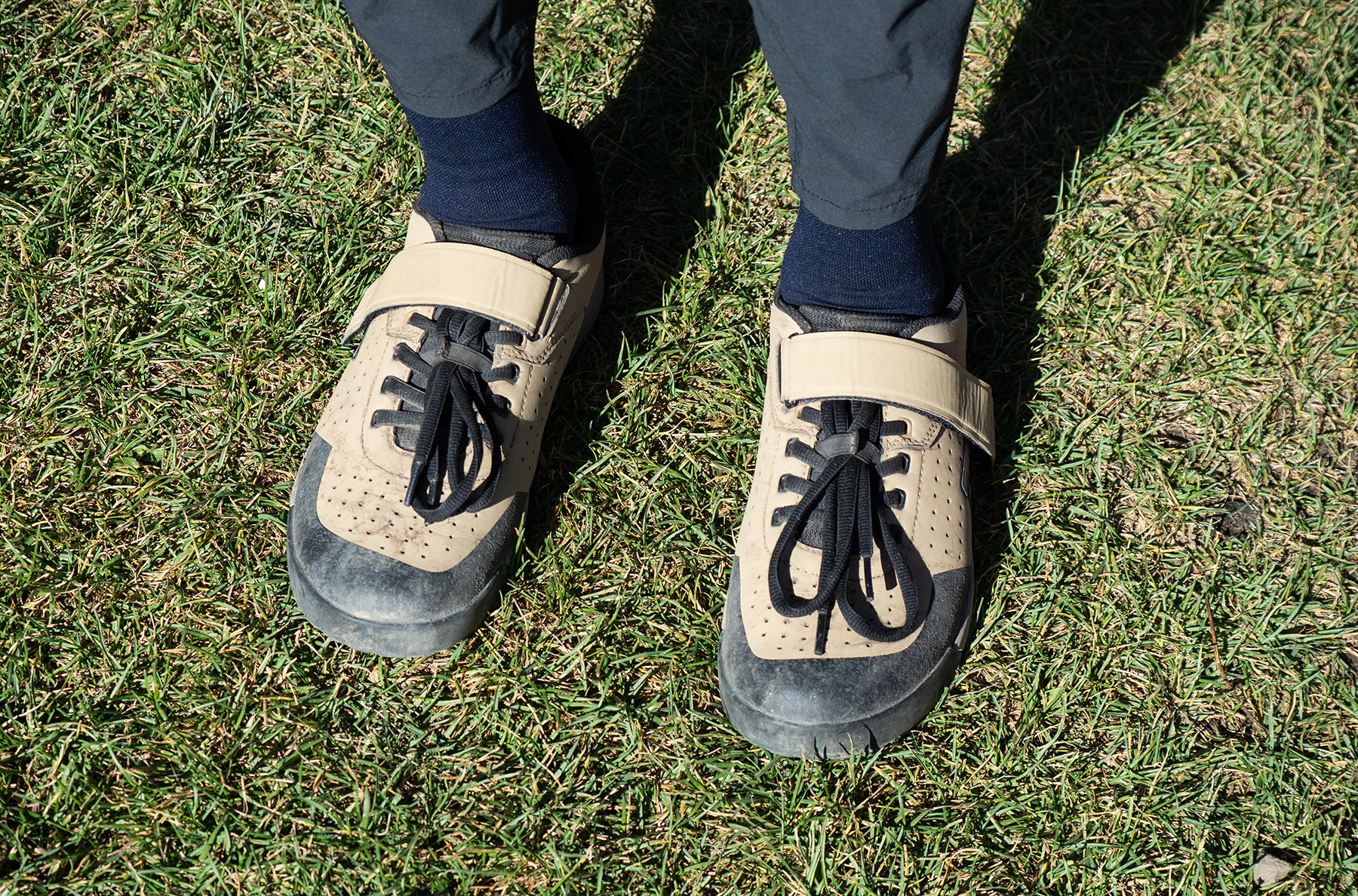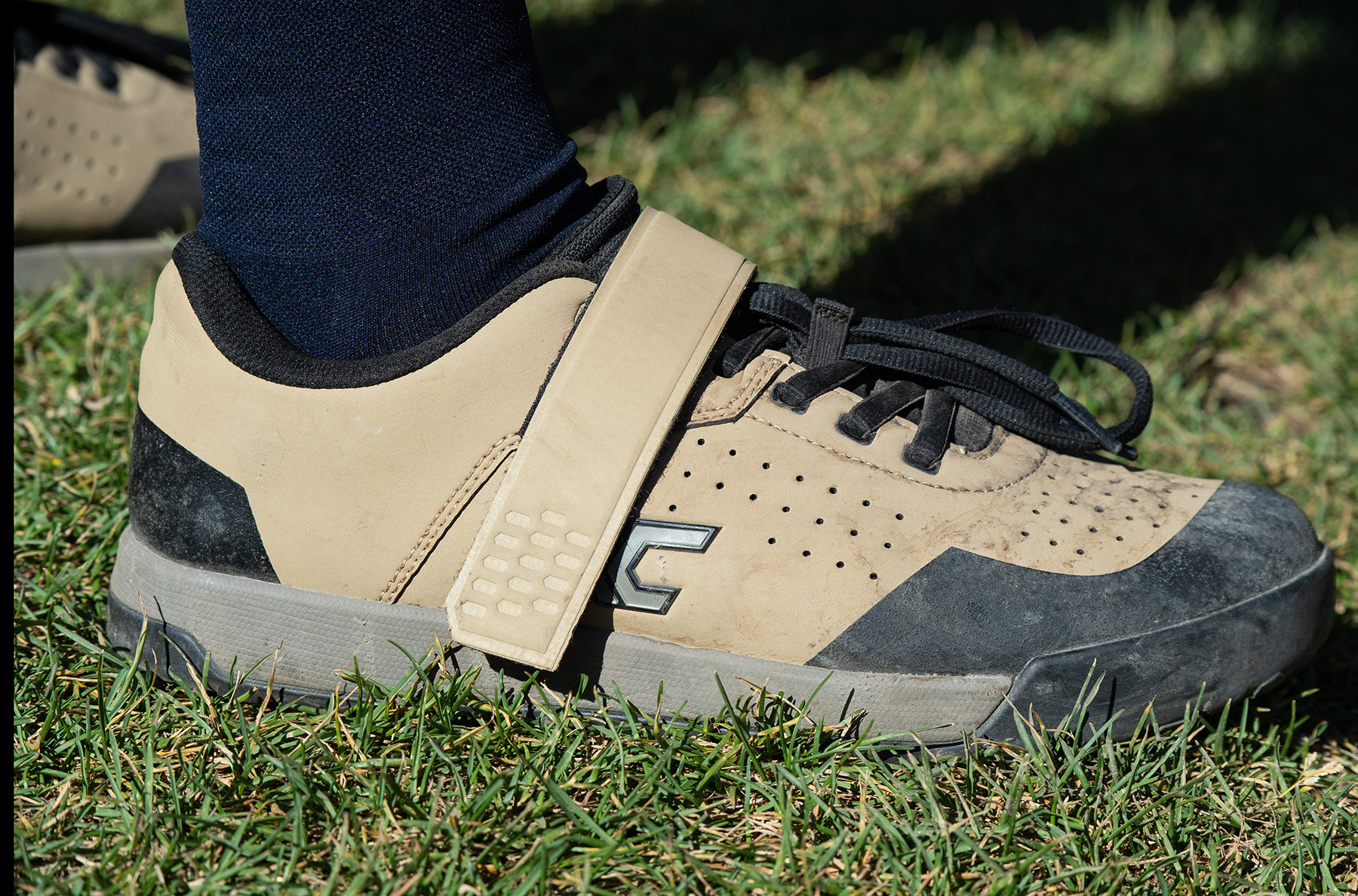 Moving to the base of the shoe, the Hellion Clip features an EVA midsole for support and cushioning, as well as a nylon shank for better transfer power to the pedals and improved lateral stability in the shoe. The Hellion Clip has a 40mm-long cleat window that extends far back on the shoe, well behind the ball of the foot. It's also 42 mm wide, creating plenty of room for the cleat to fit in the shoe. Additionally, the recessed area in front of and behind the cleat is very long, extending for more than half the length of the entire shoe, and is meant to help you clip back in without interference from the sole. Ride Concepts's signature hexagonal patterned outsole adorns the rest of the outsole, and the Hellion Clip uses their "Clip Grip" rubber compound, which is firmer and less tacky than the rubber used on their flat pedals, but still designed to offer enough grip for off-the-bike situations.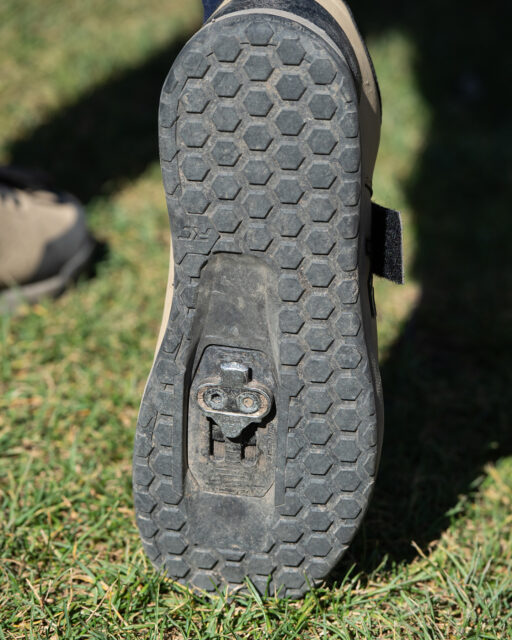 Weight
The Hellion Clip strikes a versatile middle ground between efficiency-focused XC shoes and more burly, Gravity-focused options, tipping the scales at an average of 463 grams per shoe for the US Men's size 9.5 I've been wearing. It's perhaps a bit lighter than other Enduro-oriented shoes, but not by a ton. Below is how its weight compares to several other options we've tested; keep in mind size differences to keep everything apples-to-apples.
Fit
My 26.5 cm-long feet fit well in a US Men's size 9.5 for Ride Concepts shoes, and the same goes for the Hellion Clip. Ride Concepts claims a low-volume fit for this shoe, and I would say they do fit my low-volume feet quite well, with a snug and uniform feel with no particular problem areas. This shoe can be tightened down quite effectively with the use of the laces, though I will say that they do need to be loosened quite a bit to get the shoe on and off my feet; I don't think that's a problem, given how secure they feel when they're on.
Additionally, tightening the velcro strap over my instep is very effective in locking my heels down without creating any numbness or discomfort over the top of my foot, even if I do crank down the strap as hard as I can. Overall, the Hellion Clip provides a comfortable and practical fit for my low-volume feet, and folks with low- to medium-volume feet should certainly try it on to see if it works for you.
On the Bike
Given my XC upbringing in the mountain bike world, I've tended to like shoes that are on the stiffer side (at least for on-the-bike use). The Hellion Clip isn't the stiffest option on the market, but especially as a model in the "generalist" category, it does a very good job of blending efficiency and comfort.
When putting the power down on the pedals, it feels like almost the entirety of my effort is going into my cranks, with very little energy lost to the flex of the shoe. It isn't as stiff and XC-friendly as the now-discontinued Five Ten Kestrel Pro BOA, which feels legitimately unbendable, but the Hellion Clip has a more supple and compliant feel that, for me, results in less foot fatigue and discomfort over the course of long, rough descents. It's quite similar to the Ride Concepts Transition Clip in this regard, which I also found impressive in terms of its balance of power transfer and shock absorption.
It's worth noting that Ride Concepts seems to have chosen breathability over water resistance when designing the Hellion Clip. Personally, I have no complaints, given that their Transition Clip trends in the opposite direction (it's not fully waterproof by any stretch — just very splash-resistant and not super breathable). I appreciate how the Hellion Clip breathes on hot, dry summer rides, and while my feet (unsurprisingly) still sweat in them, they also remain cool.
The Hellion Clip handles light drizzle just fine, but when it really starts to downpour or I'm constantly hitting wet trailside vegetation, it doesn't take long for water to end up in this shoe. When going fast through shallow creek crossings, my feet stay mostly dry; during deep, slow ones where your feet are going underwater, this shoe can get soaked quite easily. That is the case with the vast majority of mountain bike shoes on the market, excluding ones that sacrifice much more breathability for waterproofness.
Off the Bike
We've got quite a few steep, technical, and loose climbs in Gunnison and Crested Butte, which also means a good amount of getting off the bike and pushing it. The Hellion Clip effectively bends and grips dirt and rock, providing a surefooted feel for a clipless shoe. This shoe also gives me quite a bit of confidence when getting off the bike to scout steep lines and granite slabs, providing a secure contact patch with its grippy rubber. I do have to crank down the velcro strap over my instep to prevent heel lift on very steep, sustained hike-a-bike sections, though I have found this to be quite normal for me, and the velcro strap does a good job of keeping my heels in place once adequately tightened.
When driving home or grabbing a post-ride snack or drink, the Hellion Clip continues to feel very comfortable and practical, and I very rarely find myself wanting to take them off until I get home. I also think they look pretty good both on and off the bike and don't catch a lot of questioning stares out in public when you're far from your bike.
Durability
Ride Concepts has done a good job of putting the TPU coating where it needs to be on this shoe because, after more than 500 miles in them, they still look and function very well, with most of the wear being in places where Ride Concepts has anticipated and therefore added reinforcements. I have put a few scuffs in the uncoated synthetic upper, but they are only superficial, barely noticeable, and don't affect the integrity of the shoe at all.
The outsoles of this shoe are also in really good shape, despite a lot of pushing my bike up hills and scouting new rock slabs. I can tell that the area under my forefoot has worn more than the front and back of the shoe, but the channels between the hexagons are still quite deep and show a lot of promise for the miles ahead, and I can't say I've noticed any lack of grip now compared to when these shoes were new.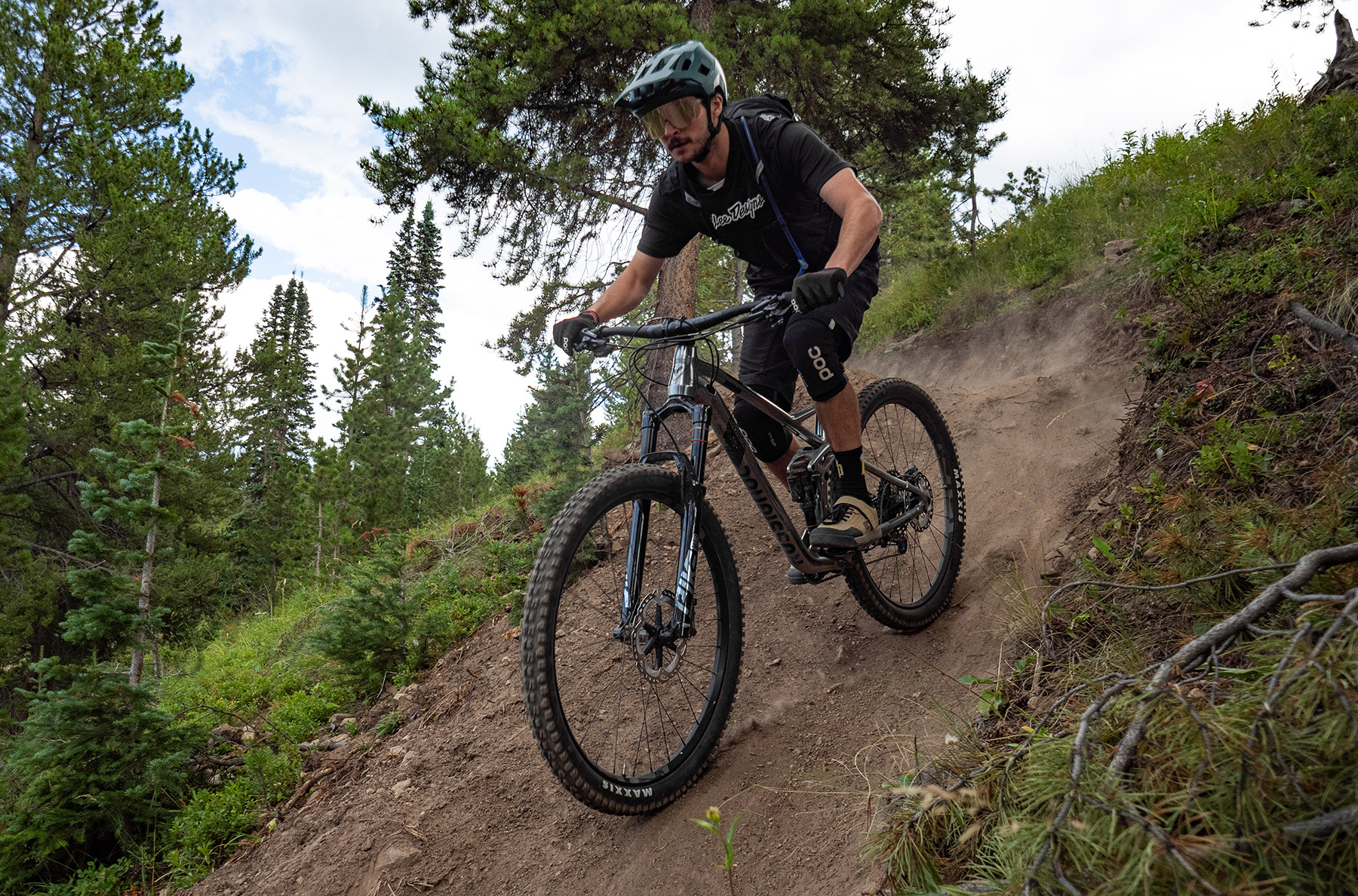 Bottom Line
The Hellion Clip is another great offering in Ride Concepts's expansive lineup. It does a particularly good job of balancing on- and off-the-bike performance for Enduro-oriented riders and mixes efficiency with comfort and compliance very effectively. Folks who often ride in wet conditions might find themself wishing for a more water-resistant shoe, but on the contrary, riders who spend a lot of time in hot and dry conditions will appreciate the Hellion Clip's breathability.