Kavenz VHP 16
Wheel Size: 29'' or MX
Travel: 160 mm rear / 160–180 mm front
Material: Aluminum
Price: Frames starting from €2,645 ($2,790 at time of publishing)
Blister's Measured Weight:
Frame only: 3,357 g
EXT Stora w/ 375 lb spring: 680 g
Complete bike, as-built (see below for details): 35.8 lb / 16.2 kg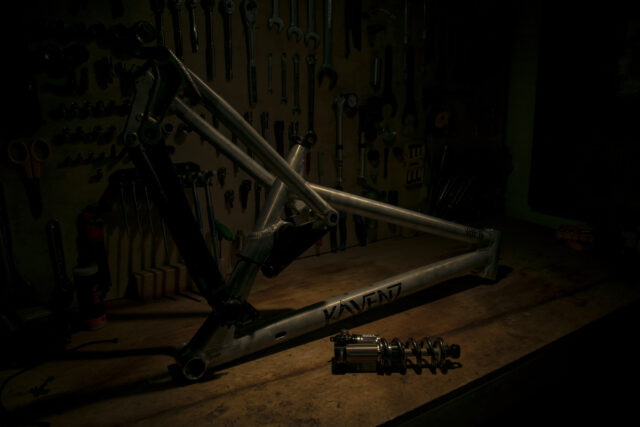 Intro
High-pivot Enduro bikes are all over the place now, but Kavenz was one of the early adopters, and unlike a lot of the other options in that category, their VHP 16 is meant to be a more versatile, more efficient option that isn't just focused on downhill performance, and maintains some playfulness along the way. We spoke with Kavenz founder Giacomo Großehagenbrock in Episode 117 of Bikes & Big Ideas about the thinking behind the bike, the overall company ethos, and a whole lot more, which you should check out for a whole lot more info on the story behind the VHP 16.
The Frame
The VHP 16 frame is offered in aluminum only, and in a relatively rare move, is made in Germany. It's what Kavenz refers to as a "virtual high pivot" with 160 mm of rear-wheel travel (hence "VHP 16") from a Horst-link layout with an idler pulley mounted concentric to the main pivot to keep chain growth and pedal kickback in check. But unlike a lot of other high-pivot bikes, including the Forbidden Dreadnought and Norco Range, the VHP 16's axle path is only rearward for about the first 100 mm of travel, before coming back forward a bit. That adds up to about 15 mm of total rearward travel before the axle starts to move back forward. The idea is to get a bunch of the benefits of a high-pivot layout when it comes to bump absorption, with more modest swings in chainstay length than you often get from a bike with more rearward travel.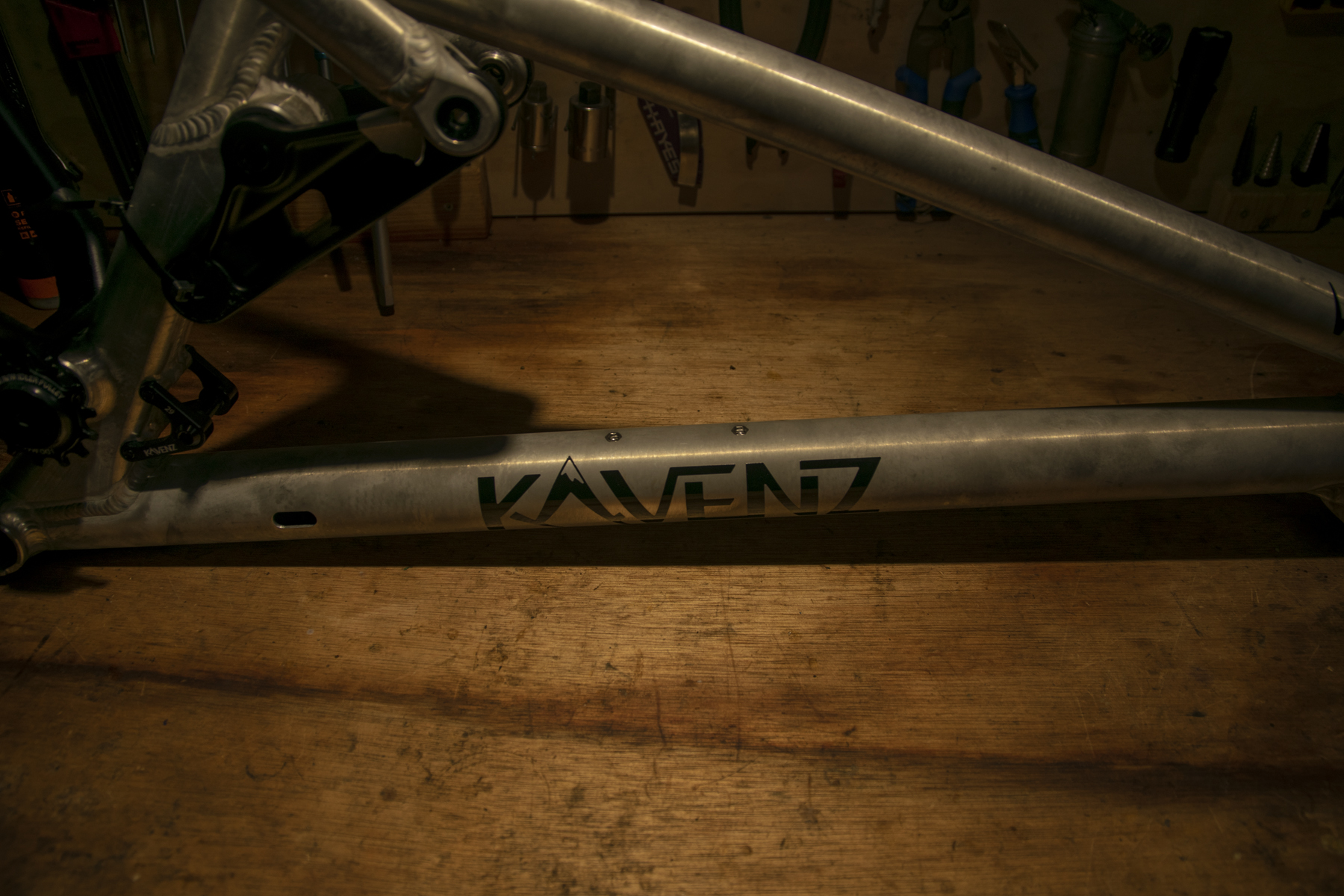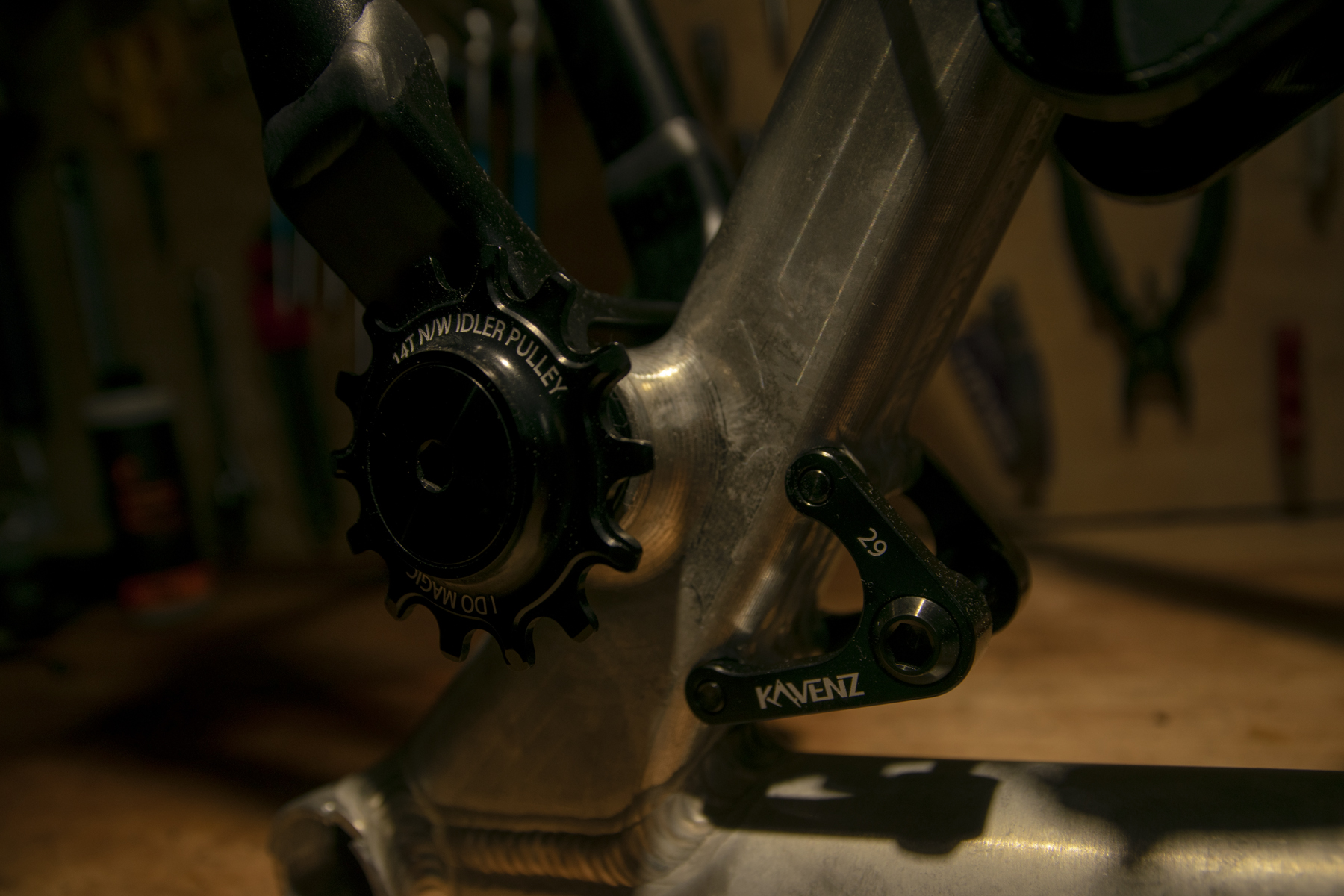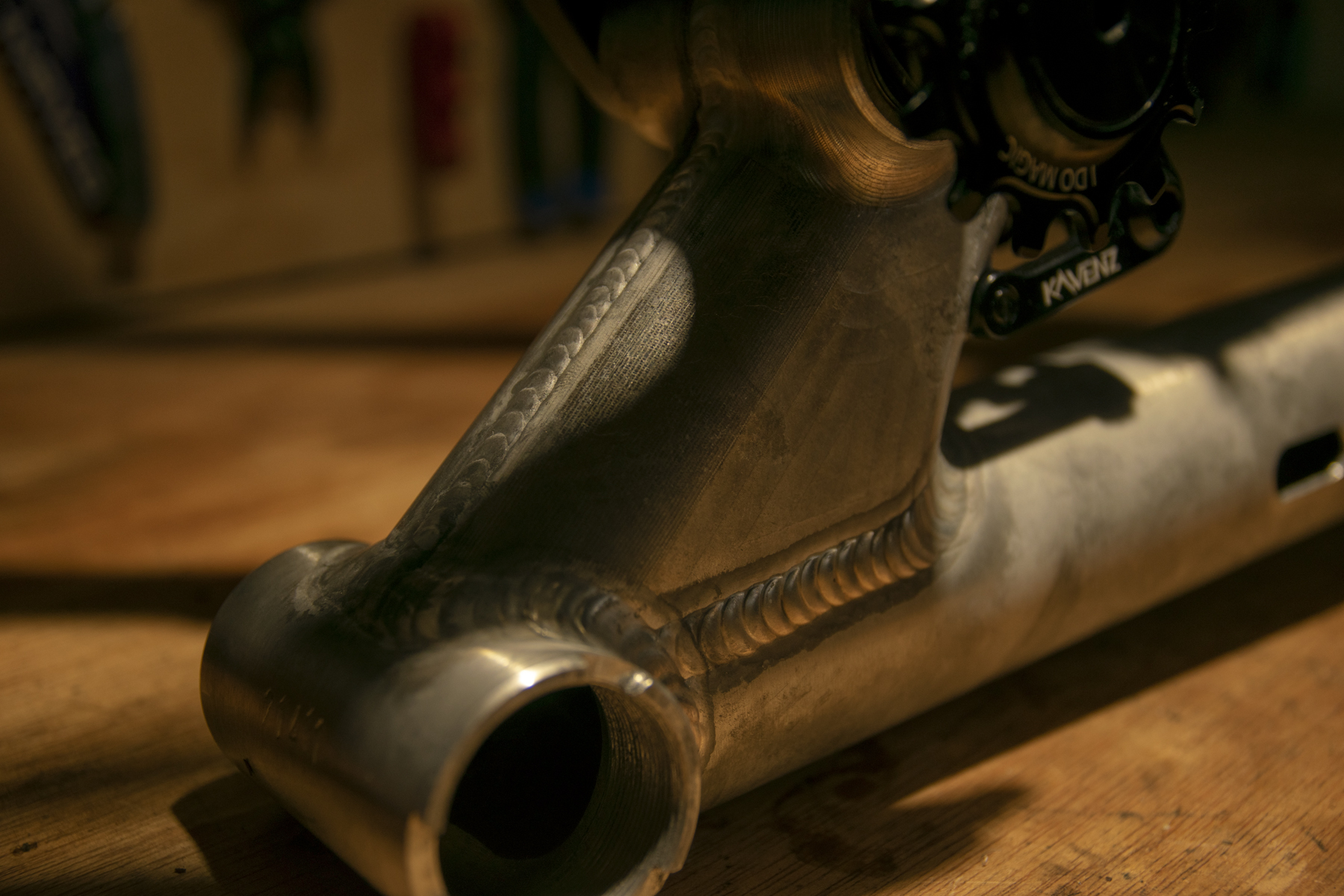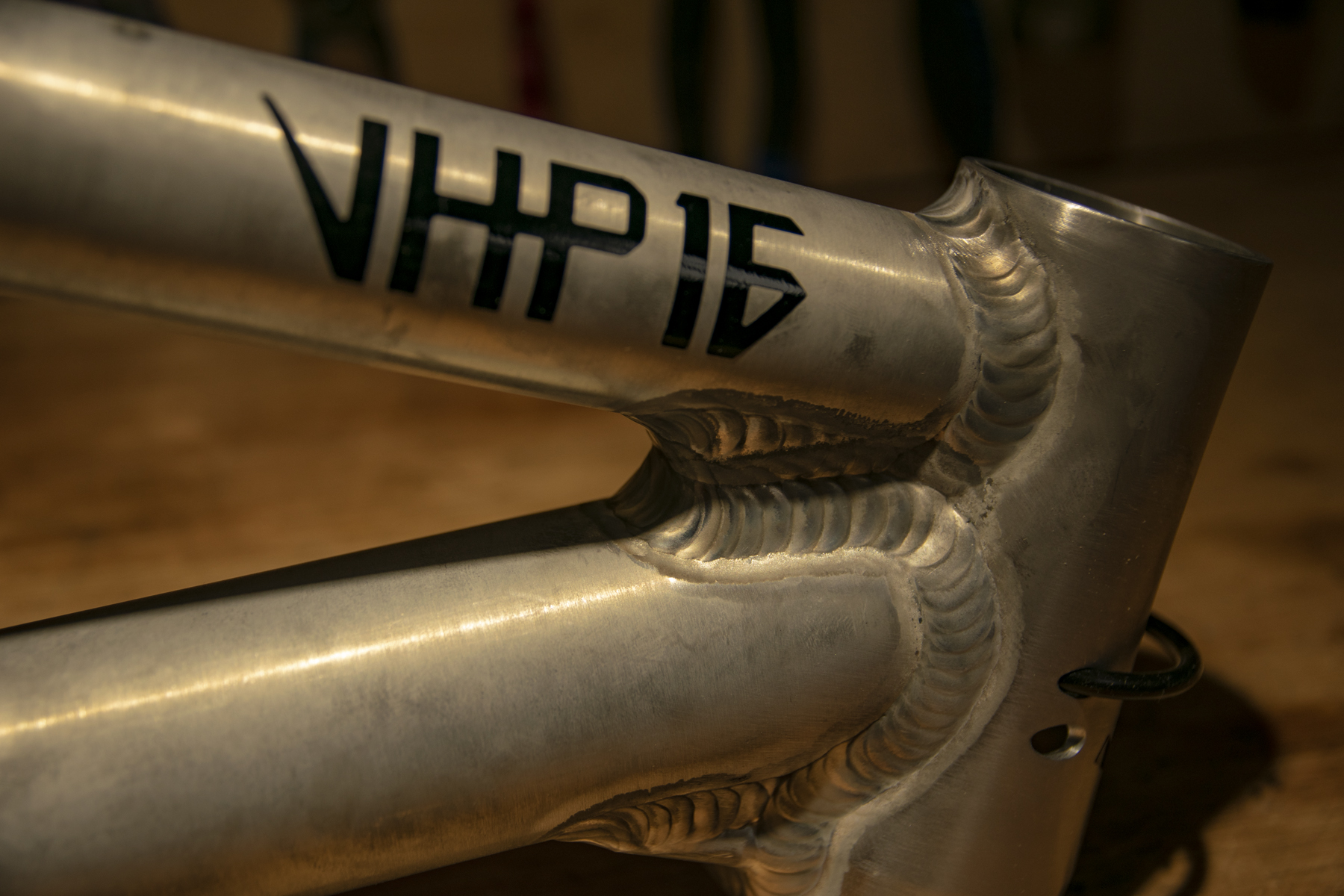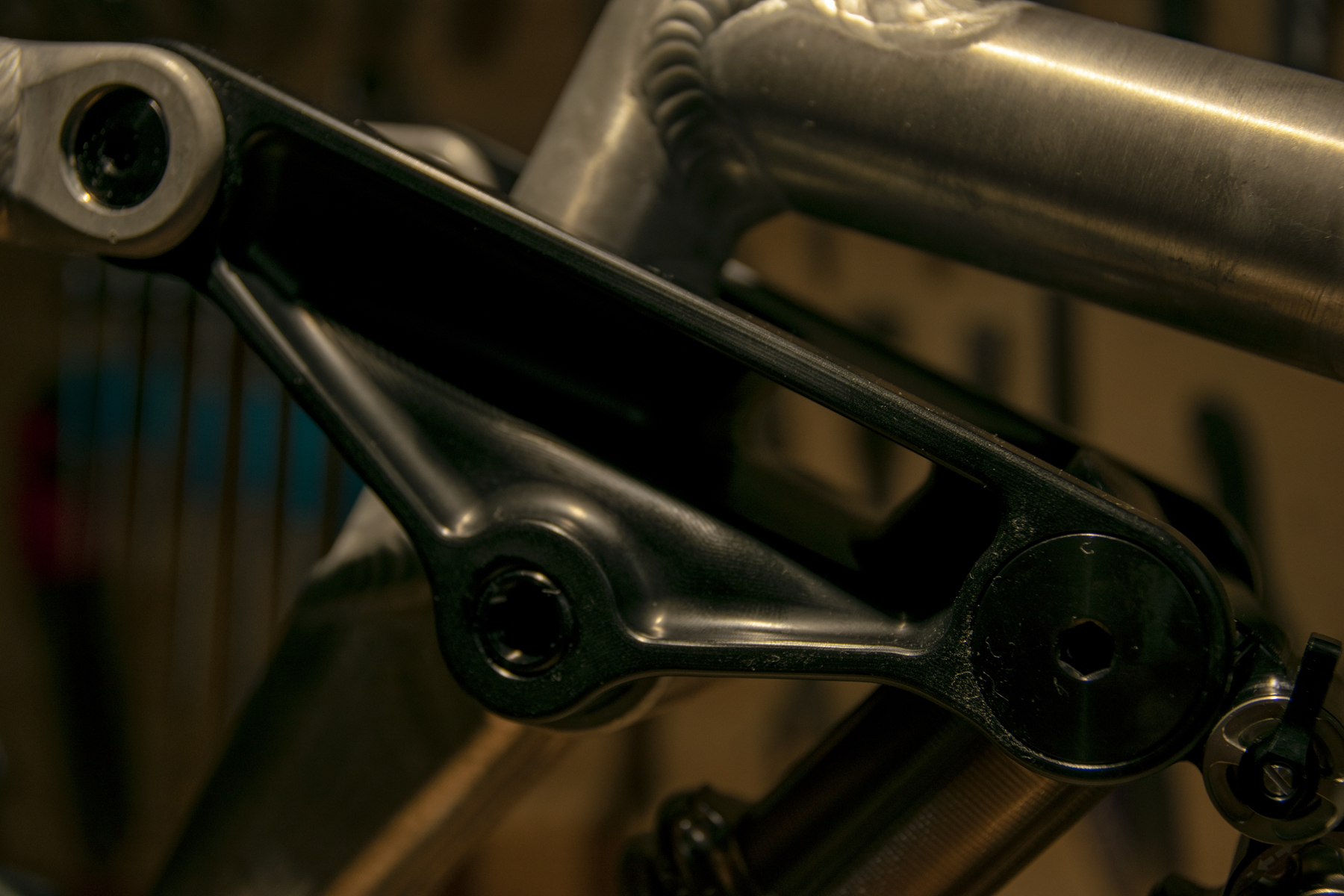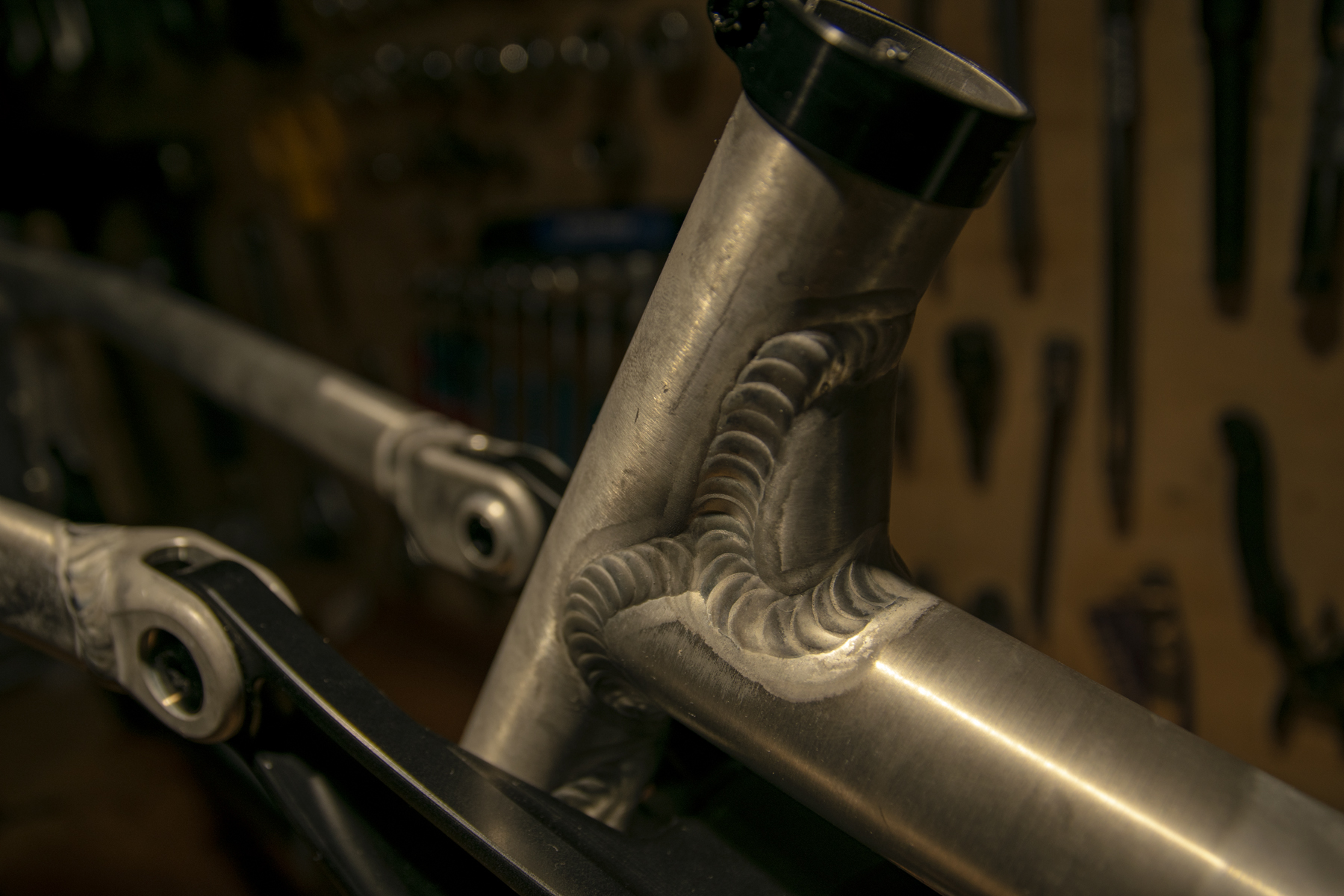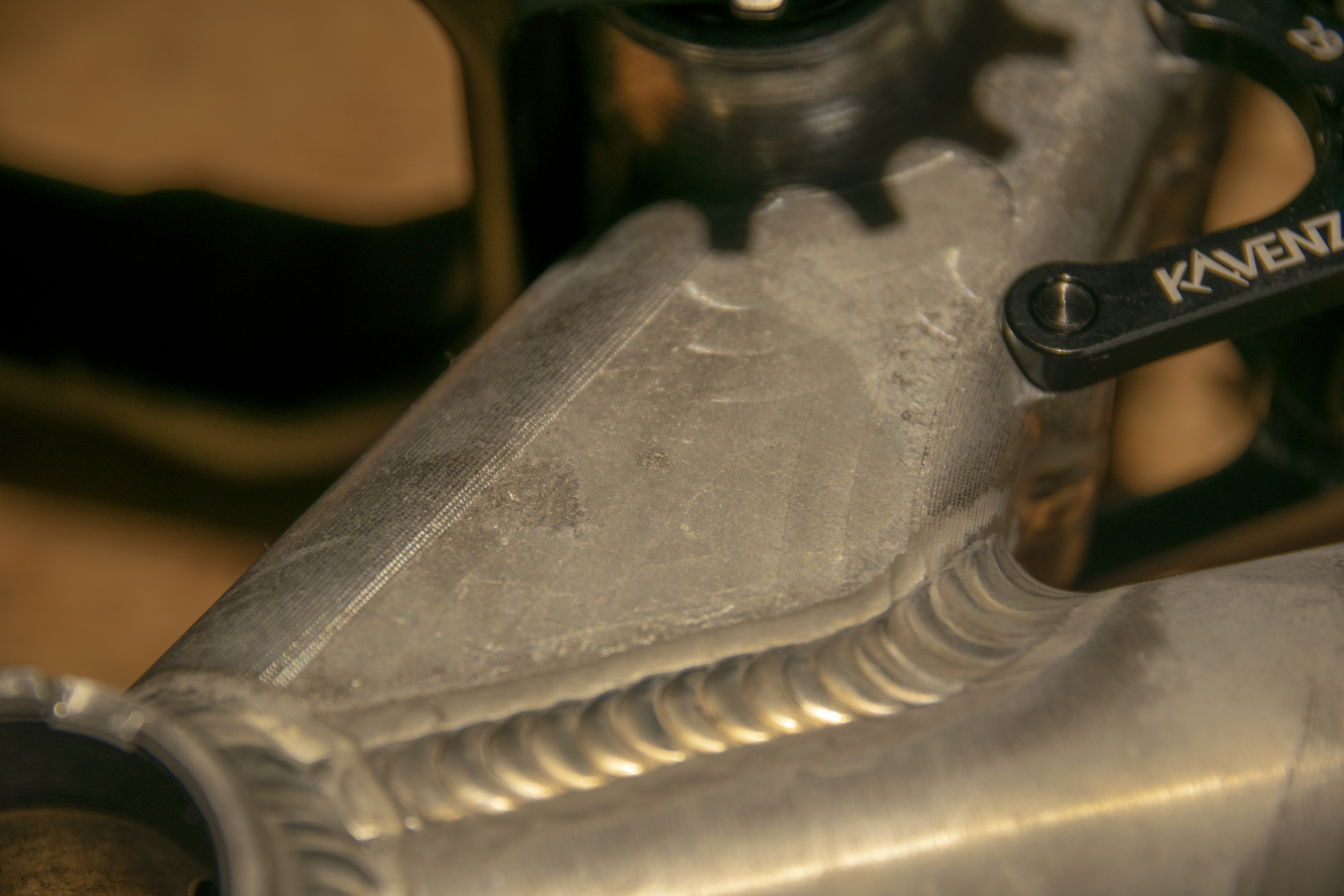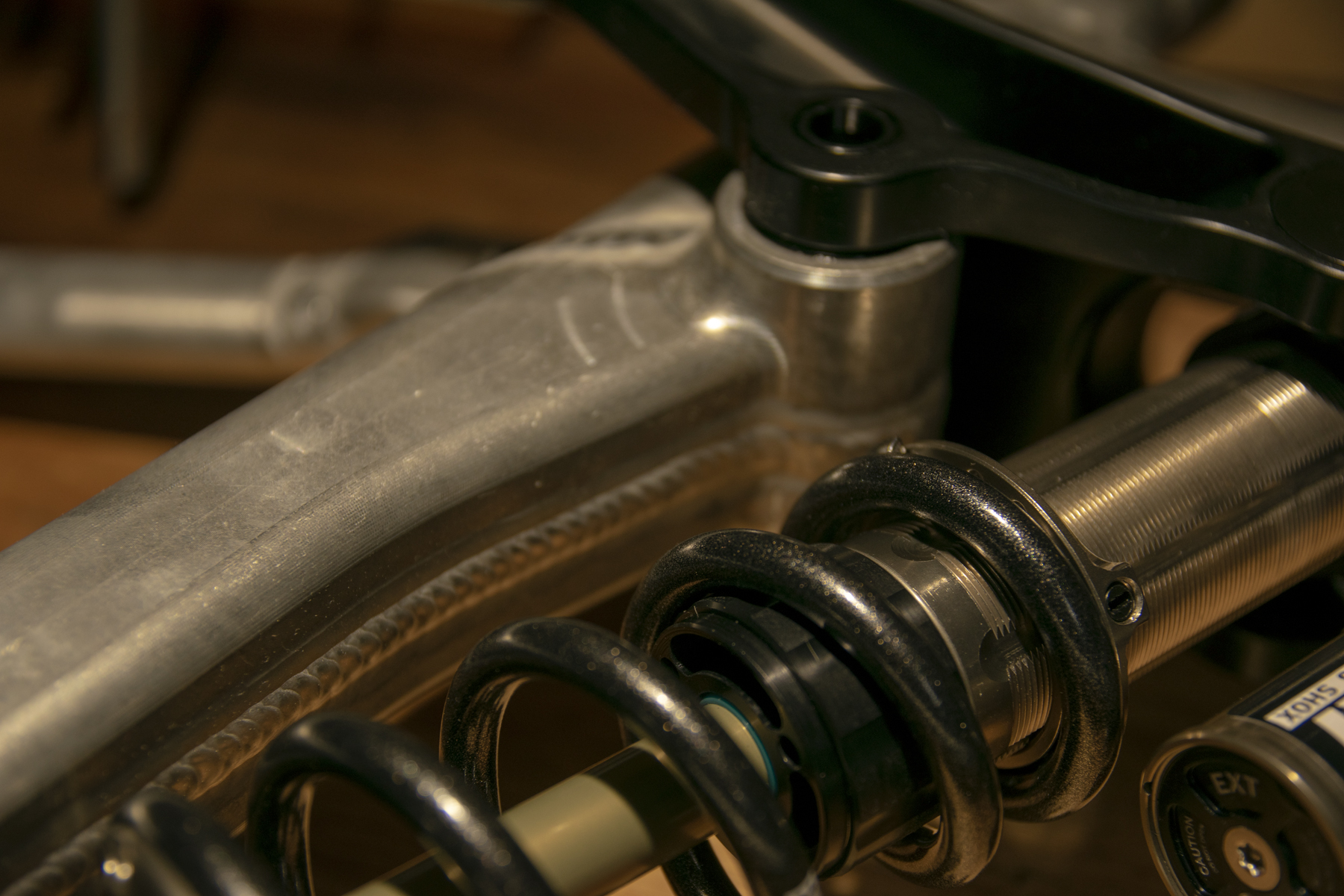 One of the primary design goals of the VHP 16 was to make a high-pivot bike that combines the more rearward axle path and improved bump absorption such a design offers, but with much less anti-rise than you get out of a high-single-pivot layout. In short, bikes with a ton of anti-rise tend to settle deeper into their travel when you're on the rear brake, both causing the rear suspension to firm up and lose effectiveness and the back of the bike to ride lower, shifting your weight rearward and potentially requiring some active repositioning of your body to counteract. The VHP 16's anti-rise curve is very flat and sits at just over 90% throughout the travel. That's still a fair bit of anti-rise (and in theory should make for pretty neutral braking performance) but it's far less than a lot of other high-pivot bikes — notably the Forbidden Dreadnought, which gave me some trouble with its braking performance and the geometry shifts that came along with it.
The VHP 16's anti-squat is notably high, at around 140% near sag, and while there's not a massive amount of pedal kickback (about 6.5° per Kavenz's published graph), Kavenz also says that pedal kickback goes negative in the very highest gears. In short, Kavenz's goal was to isolate the suspension from chain forces in the higher gears while still maintaining good pedaling efficiency in the lower ones. On paper, the results look super promising.
The leverage curve of the VHP 16 is quite progressive overall, going from about 2.85:1 to 2.2:1 in a reasonably straight line, though it does flatten out slightly near bottom-out. Kavenz offers the VHP 16 with both air and coil shocks and on paper, it looks like a frame that should worth well with either a coil or a relatively linear, high-volume air option.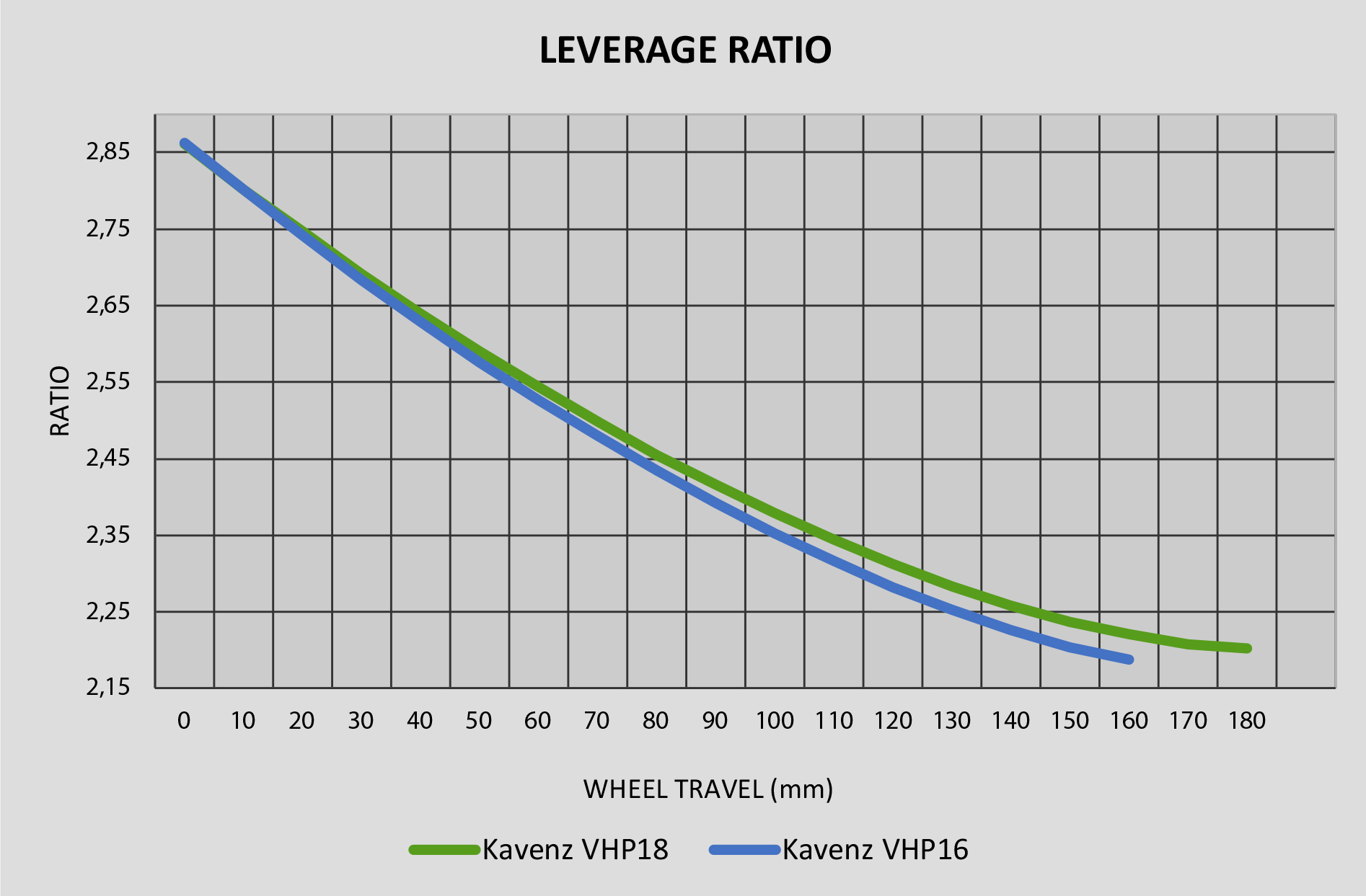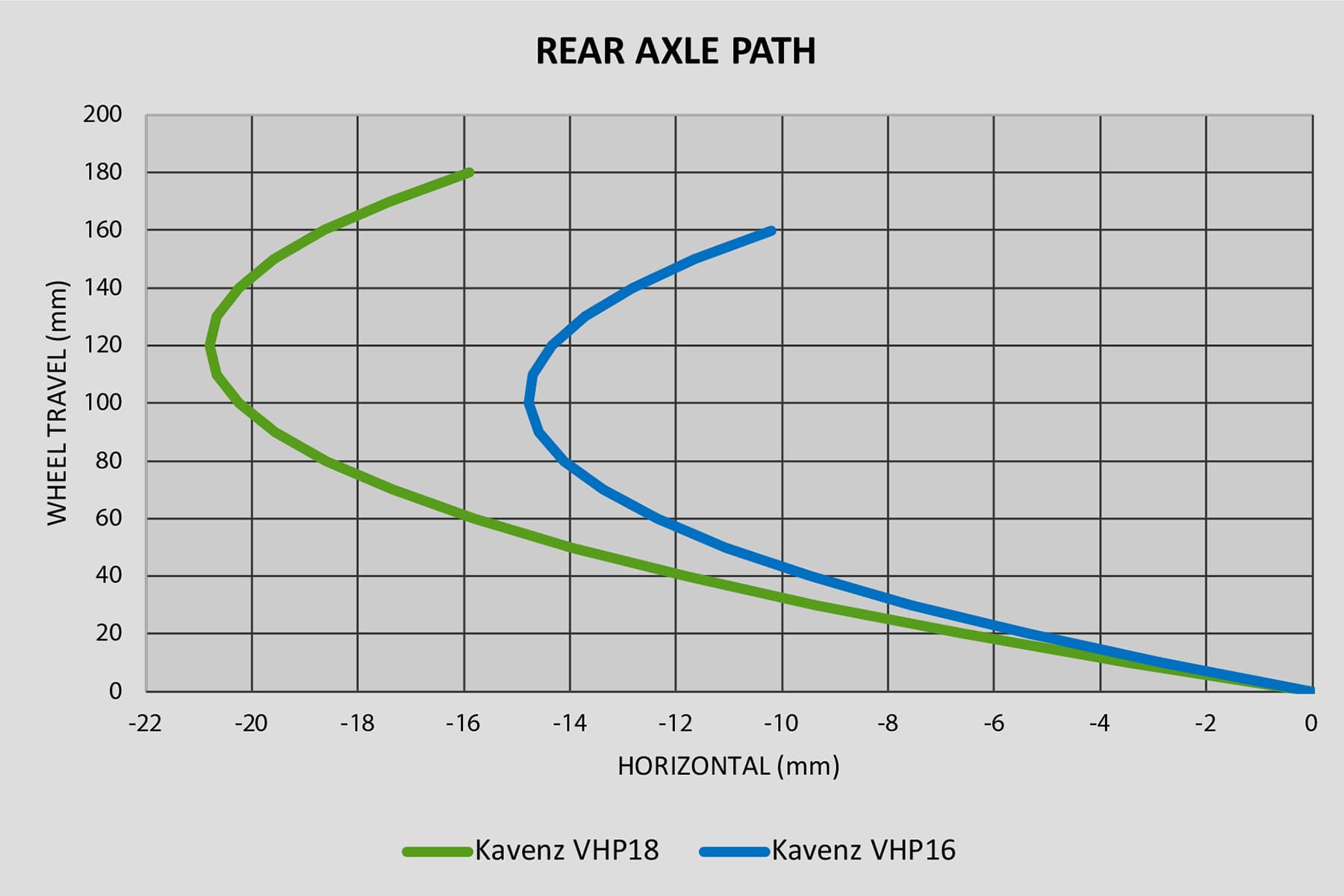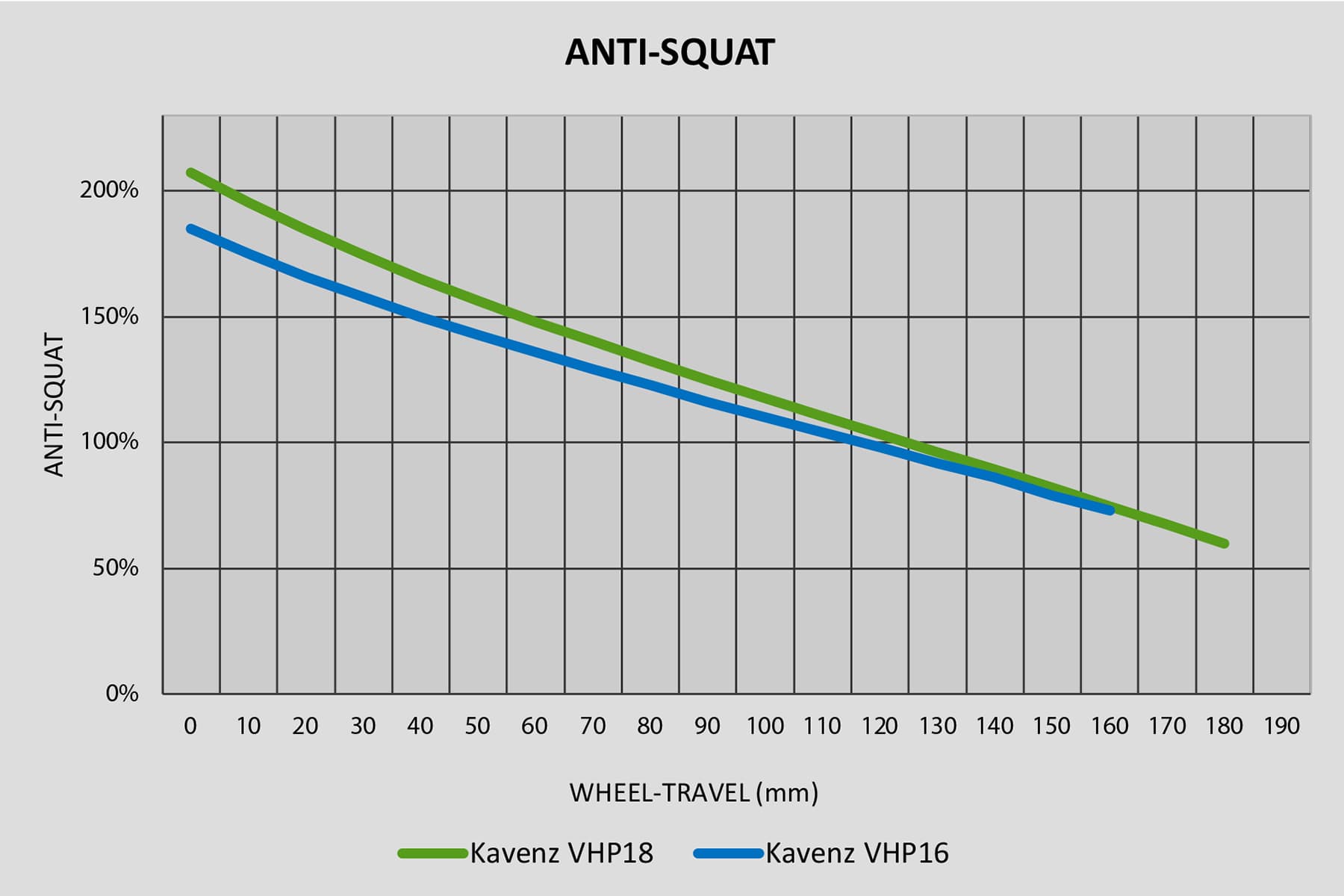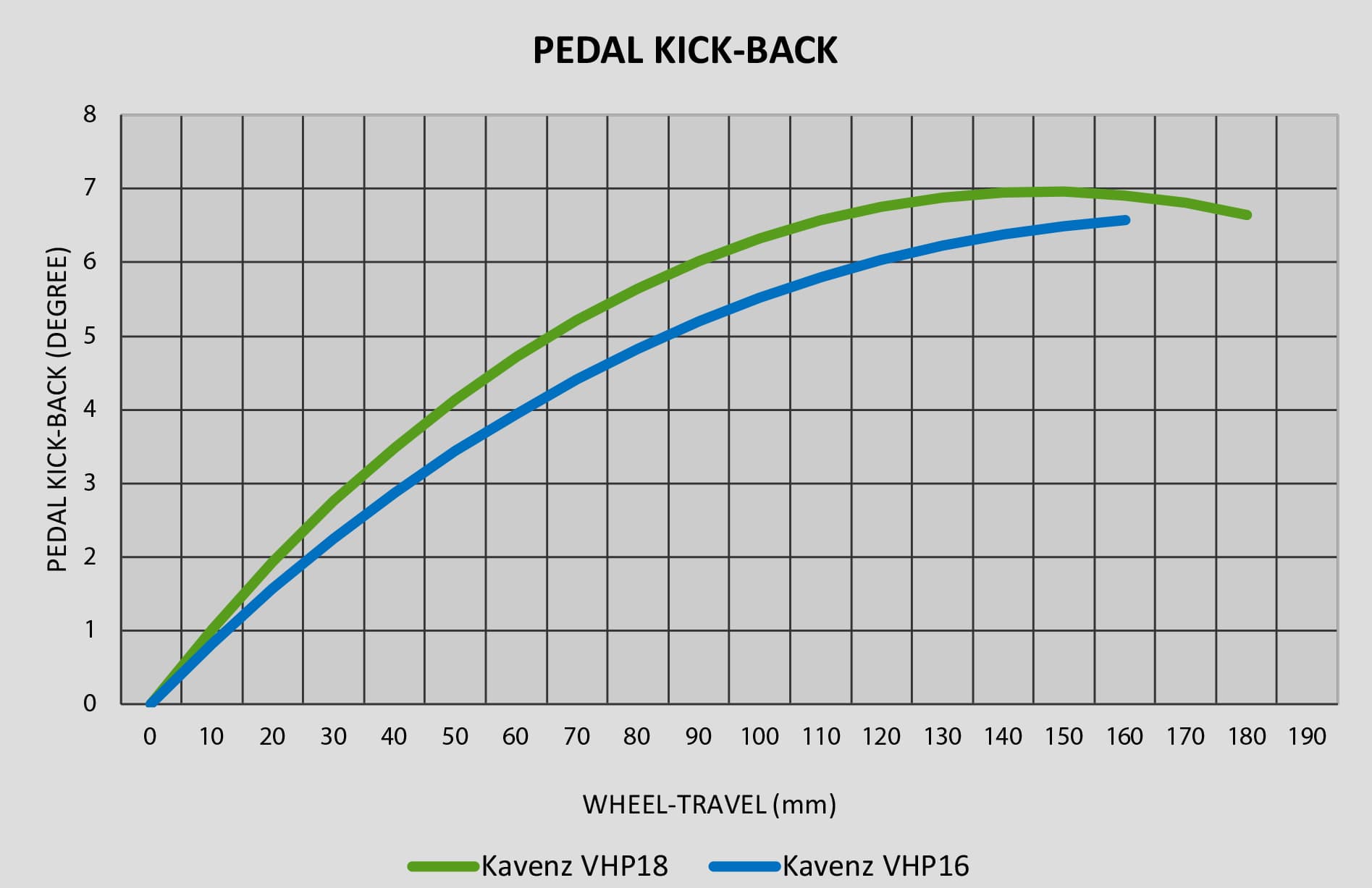 [And if all of that suspension talk didn't make much sense, check out the Suspension Kinematics section of our recently updated Mountain Bike Buyer's Guide.]
The VHP 16 can be ordered in a raw finish (as seen on our test bike), black anodization, or in just about any color of powder coat you can dream up. The details are all fairly standard for this sort of bike — cable routing is fully internal, the bottom bracket shell is threaded (and features an optional splined ISCG-05 mount for a lower chain guide), and the brake mount is set up for a 203 mm rear rotor. As per usual for aluminum frames, that cable routing isn't guided internally, but the VHP 16 uses snap-in ports to open up some bigger openings to make routing less of a headache, and Kavenz includes foam housing dampers to help keep things quiet. There's no molded chainstay protection, but Kavenz includes a strip of mastic tape in the box to let you arrange your own.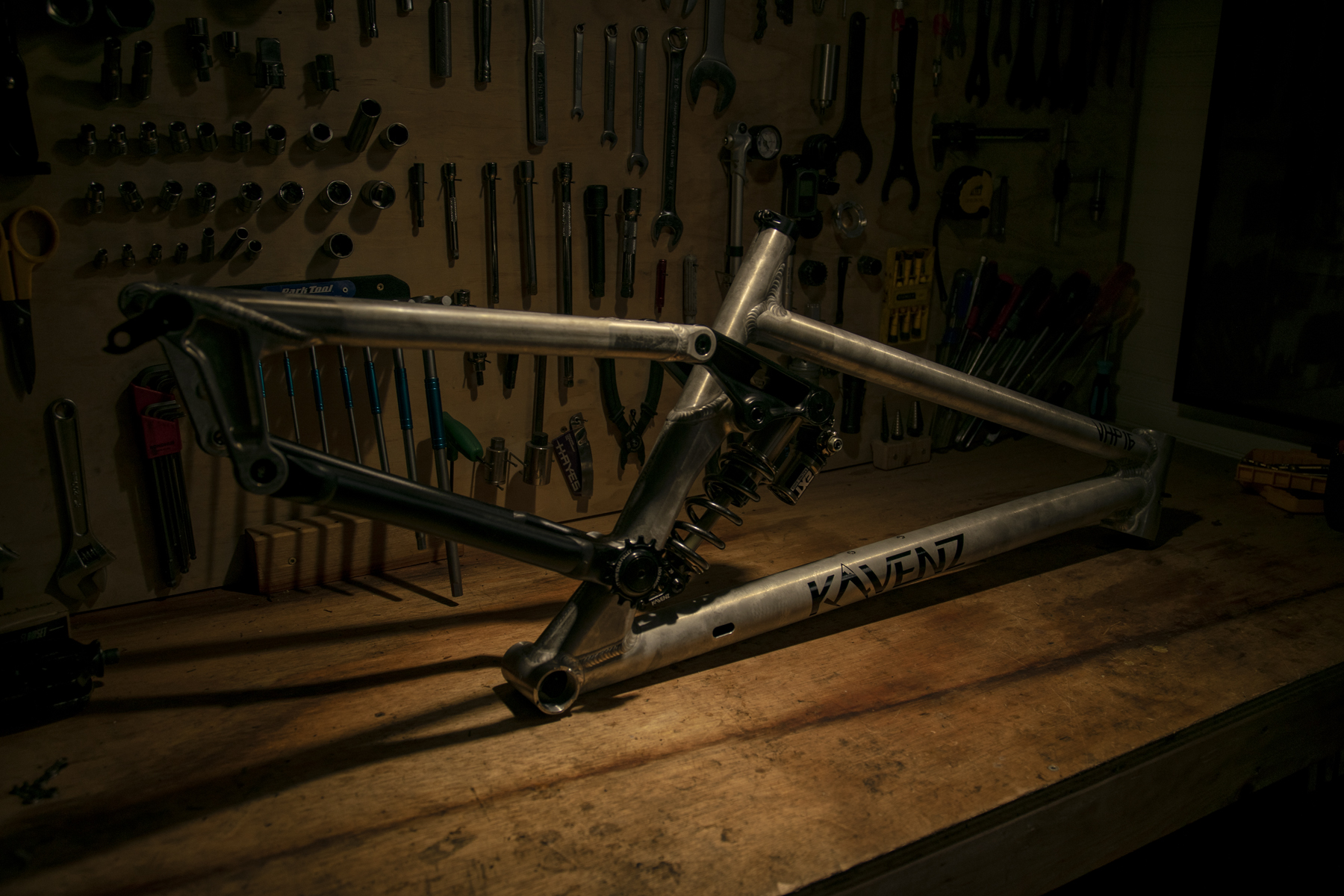 The VHP 16 is also pretty light for an aluminum Enduro frame — and if our complete build weight (35.8 lb / 16.2 kg, without pedals) sounds uninspiring, check out the build spec below. That's with coil suspension at both ends, not-light aluminum wheels, a mid-range drivetrain, very burly tires, and so on.
Fit & Geometry
Kavenz doesn't really do standard sizes; instead, the geometry is semi-custom. You can get a VHP 16 with reach anywhere from 440 to 540 mm in 20 mm increments, a 420, 450, or 480 mm seat tube, and your choice of a 110 or 125 mm headtube. Kavenz stocks a lot of the more common configurations but if you want a less-typical option (e.g. a very short seat tube with a huge reach) they'll be happy to make that for you, and pricing is the same no matter how standard (or not) your combination is. Kavenz does list a geometry chart for the "standard" options but you can mix and match to your heart's content.
The VHP 16 can be run as a full 29er or with a mullet (29'' front, 27.5'' rear) combination by way of a replaceable shock mount that keeps the geometry the same apart from a change in chainstay length — the 29er gets 425 mm static chainstays, and the mullet arrangement drops them to 419 mm. Both of those are very short by modern standards, but Kavenz notes that the high pivot layout means that the chainstays are about 11 mm (29er) or 15 mm (MX) longer at sag. They're also working on an optional rear triangle with longer chainstays for folks who would prefer that, but the exact details aren't available yet. And finally, the VHP 16 can also be converted to a VHP 18 — Kavenz's 180mm-travel Freeride / Park bike — by swapping the lower shock mount and installing a longer 225 mm shock.
Regardless of which wheel size combination you're running, the VHP16 has a 64° headtube angle, 77.5° effective / 75.5° actual seat tube angle, and a fairly low 343 mm estimated bottom bracket height (34 mm drop on 29'' wheels). The VHP 16 isn't wildly long or slack for a modern Enduro bike, but the numbers make a lot of sense given what Kavenz says about aiming for a balance between being fairly stable and capable in steep terrain and at speed, while also being a bit more nimble and playful than the most aggressive, game-on Enduro race bikes out there. The thing I'm most curious to see is just how short the 425 mm static chainstay length feels on trail — on one hand, that's super short, but they do get substantially longer at sag, and the quite-steep seat tube seems like it should help mitigate some of the downsides of super short chainstays when it comes to traction and keeping the front wheel planted on steeper climbs. We've got a VHP 16 in for review, so we'll have a lot more to say on that subject soon — and Blister Members can check out our Flash Review of the VHP 16 right now to hear our initial thoughts.
And speaking of our test bike, Kavenz recommended a 480 mm reach for me (6' / 183 cm tall), and left the seat tube and headtube choice to me. I went with the 450 mm seat tube and 125 mm head tube, and while I think I could have made pretty much any combination with the 480 mm reach work, my early take is that this one feels great. Stay tuned for a lot more on that in the full review.
The Builds
Kavenz sent over a VHP16 frame for us to review, along with an EXT Storia shock for it. That left me to piece together the build with a combination of review parts and some old standbys. Kavenz doesn't currently offer any complete builds but will sell the VHP 16 as a frame only, frame and shock package, or with a fork and/or dropper post included. Check out their website for the full list of options and pricing.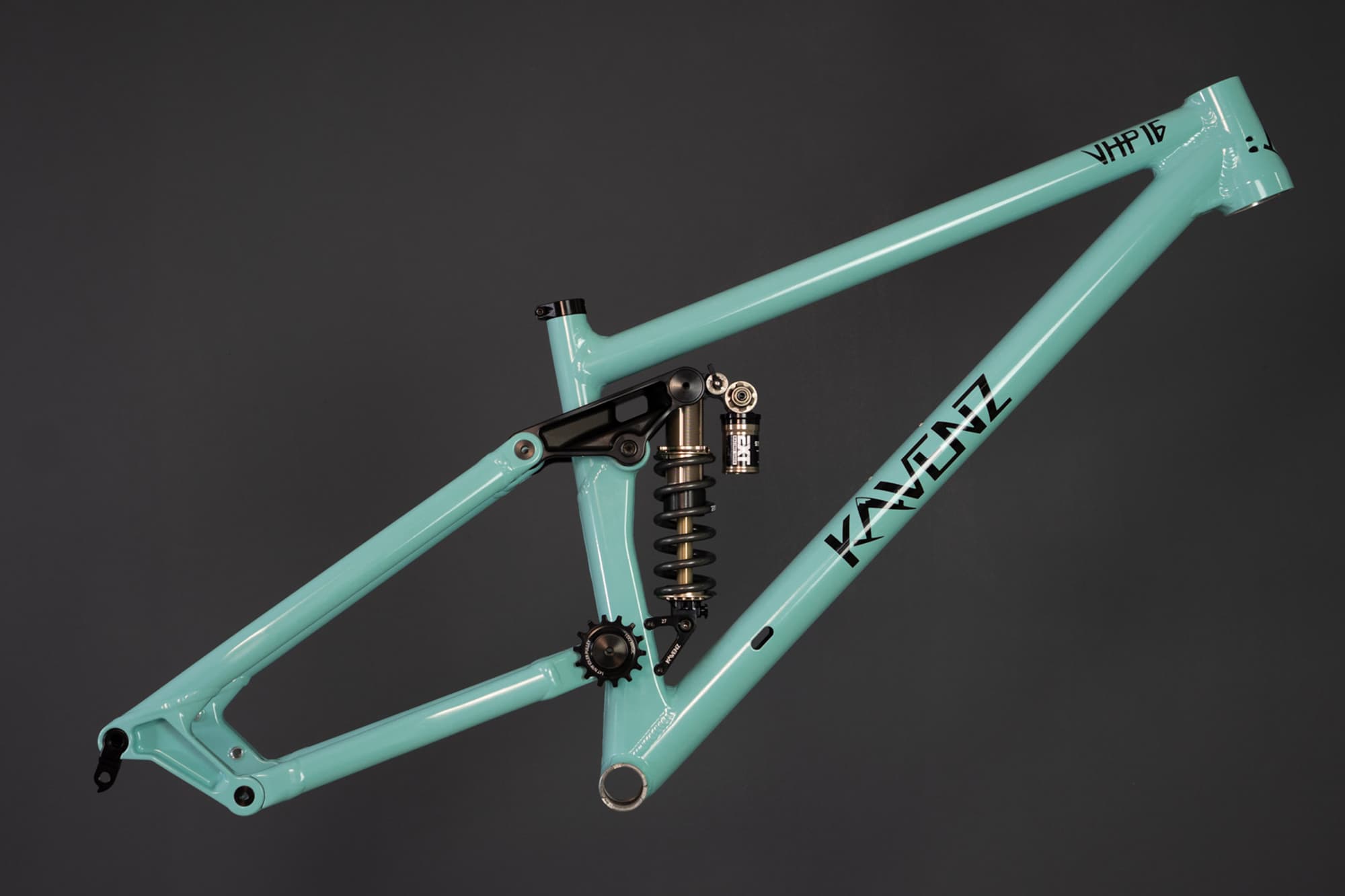 Review Build:
Fork: RockShox ZEB Ultimate w/ Vorsprung Smashpot coil spring conversion (review coming soon)
Shock: EXT Storia
Drivetrain: SRAM GX
Brakes: TRP DH-R Evo (223 mm front / 203 mm rear rotors)
Wheels: Sun Ringle Duroc SD37 Pro
Dropper Post: 9Point8 Fall Line, 200 mm (review also coming soon)
Some Questions / Things We're Curious About
(1) A lot of high-pivot Enduro bikes are meant to be super game-on and focused on flat-out speed, but Kavenz has targeted a more playful middle ground with the VHP16. How does that add up on trail? And who is that blend of traits going to make the most sense for?
(2) And how about the climbing performance of the VHP 16? High-pivot bikes generally give up some pedaling efficiency through the idler, but the VHP 16 has a ton of anti-squat, and manages to pair that with moderate pedal kickback in the lower gears (a combo that wouldn't generally be possible with a more conventional suspension layout), which could be a super promising recipe for an excellent technical climber.
Flash Review
Blister Members can read our Flash Review of the Kavenz VHP 16 for our initial on-trail impressions. Become a Blister Member now to check out this and all of our Flash Reviews, plus get exclusive deals and discounts on gear, and personalized gear recommendations from us.
Bottom Line (For Now)
The Kavenz VHP 16 has a very interesting development story, having essentially begun as a kinematics study that eventually materialized into a full bike, and the end result is a super interesting blend of traits that aren't often found together in the same bike. We've got a VHP 16 in for testing, so stay tuned for a full review soon.