Zimmermann's Skis, Boards & More
Store Hours:
Open seasonally: August 1st – April 30th
7 days / week
Email: info@zimsport.com
Phone: (603) 888-2155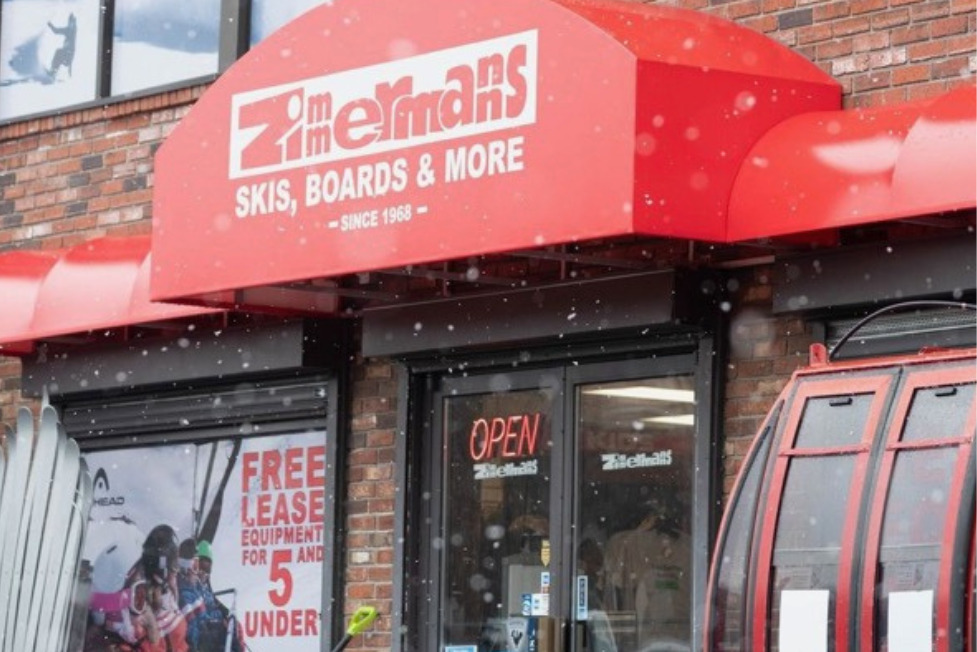 Zimmermann's has been the go-to local snowsports shop in Nashua, NH since 1968. Originally founded by Olympic alpine skier Egon Zimmermann and his good friend from Austria, the business has stayed in the family over the decades. A central part of Zimmermann's storefront these days is displaying this history and sharing the Austrian ski heritage of their original founder.
Zimmermann's is a staple shop in the region and is the go-to spot to equip you with the right ski and snowboard gear. From a knowledgeable staff to a broad selection of gear from a ton of great manufacturers, plus helpful initiatives like a massive seasonal lease program, a concierge service, an online personal ski selector service, and much more, Zimmermann's is incredible in both scale and quality of their offerings and services.
Brands
Zimmermann's offers an expanded variety of ski and snowboard hardgoods, plus everything else you need to get dialed for winter.
Ski brands include Atomic, Armada, Nordica, Line, Icelantic, Black Crows, Volkl, Scott, Elan, Head, and more. Ski boot brands span Nordica, Atomic, Roxa, Salomon, Dalbello, and Tecnica. They are also the only shop in the area that sells backcountry equipment, helping people in the Nashua area get properly equipped for uphill access and backcountry travel.
Snowboard brands include Arbor, Jones, Never Summer, GNU, Rome, K2, Rossignol, and Nidecker.
Plus, you can get fully outfitted in apparel brands such as The North Face, Obermeyer, Nils, Picture, Spyder, Mammut, and others. Shop the full collection online!
Services
Service is central to Zimmermann's and all they do. Their skills also include custom bootfitting and ski and snowboard boot repair, plus a fully decked-out tune shop. Their tune shop features a Winterstegier Mercury tuning machine, which helps provide very precise tunes on skis and snowboards.
Zimmermann's offers the full breakdown of tune packages, and they also provide "Season Passes" for tuning which include a tune, unlimited hot waxes, and additional discounts, so you can ensure well-operating equipment all season long.
Ski Demos
Zimmermann's is incredibly well-known for their impressive seasonal lease program for all ages, from junior to adult. They rent an average of 7,000 seasonal lease packages every season!
You can also prepay for a seasonal lease package online to help streamline the process for the upcoming season.
Zimmermann's is dedicated to getting people into the sport, which means they have a program that effectively lets children five and under ski for free. The security deposit put down on a seasonal lease for a kid under five gets rolled into store credit, or roll the deposit into the following year's season lease.
Online Presence
Complementing their helpful in-store experience, Zimmermann's offers tons of information and product online. Zimmermann's operates two websites to cover their whole range of offerings:
At https://zimsport.com/ you can access store information, tons of gear info, informational videos from their staff, their unique ski selector quiz, and more.
At https://winteriscalling.com/ you'll find a robust and expansive online store, featuring the gear they stock, and all the latest sales on equipment.
Bottom Line
Zimmermann's is a longstanding ski and snowboard shop in Nashua, NH with plenty to offer everyone from beginners to expert skiers and snowboarders, to families passionate about getting their kids on the hill.
Plus, with the full gamut of services, convenient solutions for families, a knowledgeable staff, a robust seasonal lease program, and much more, Zimmermann's is worth checking out, even if just shopping online and/or checking out their helpful videos, blogs, and more!