Ski: 2022-2023 Norse Enduro, 188 cm
Test Location: Mt. Crested Butte, Colorado
Days Skied: 7
Available Lengths: 164, 172, 176, 180, 184, 188 cm
Blister's Measured Tip-to-Tail Length (straight-tape pull): 187.1 cm
Stated Weight per Ski: 1875 grams
Blister's Measured Weight per Ski: 1933 & 1943 grams
Stated Dimensions: 126-100-114 mm
Blister's Measured Dimensions: 125.1-99.4-113.0 mm
Stated Sidecut Radius (188 cm): 25 meters
Measured Tip & Tail Splay (ski decambered): 65 mm / 24 mm
Measured Traditional Camber Underfoot: 4.5 mm
Core: ash/poplar/balsa + aluminum (2 layers) + fiberglass laminate
Base: sintered w/ "permanent Nanowaxx treatment"
Factory Recommended Mount Point: -8.05 cm from center; 85.5 cm from tail
Boots / Bindings: Tecnica Mach1 MV 130 / Tyrolia Attack 13
[Note: Our review was conducted on the 20/21 Enduro, which returned unchanged for 21/22 and 22/23, apart from the addition of 176 cm and 184 cm lengths for 22/23.]

Intro
For those unfamiliar, Norse is a relatively new brand that's based out of Sweden and makes their skis in a factory in Poland. Patrik Sannes, the founder of Norse, previously worked as a ski designer for Faction, and their current line includes the 100mm-wide Enduro and 110mm-wide Freeride, which we reviewed a few months back.
The Enduro is meant to be a do-everything ski, and it's supposed to do all of that "everything" whether you're ripping laps at your local resort or earning your turns in the backcountry. I've now skied the Enduro over the past two seasons, and it's time for the full review.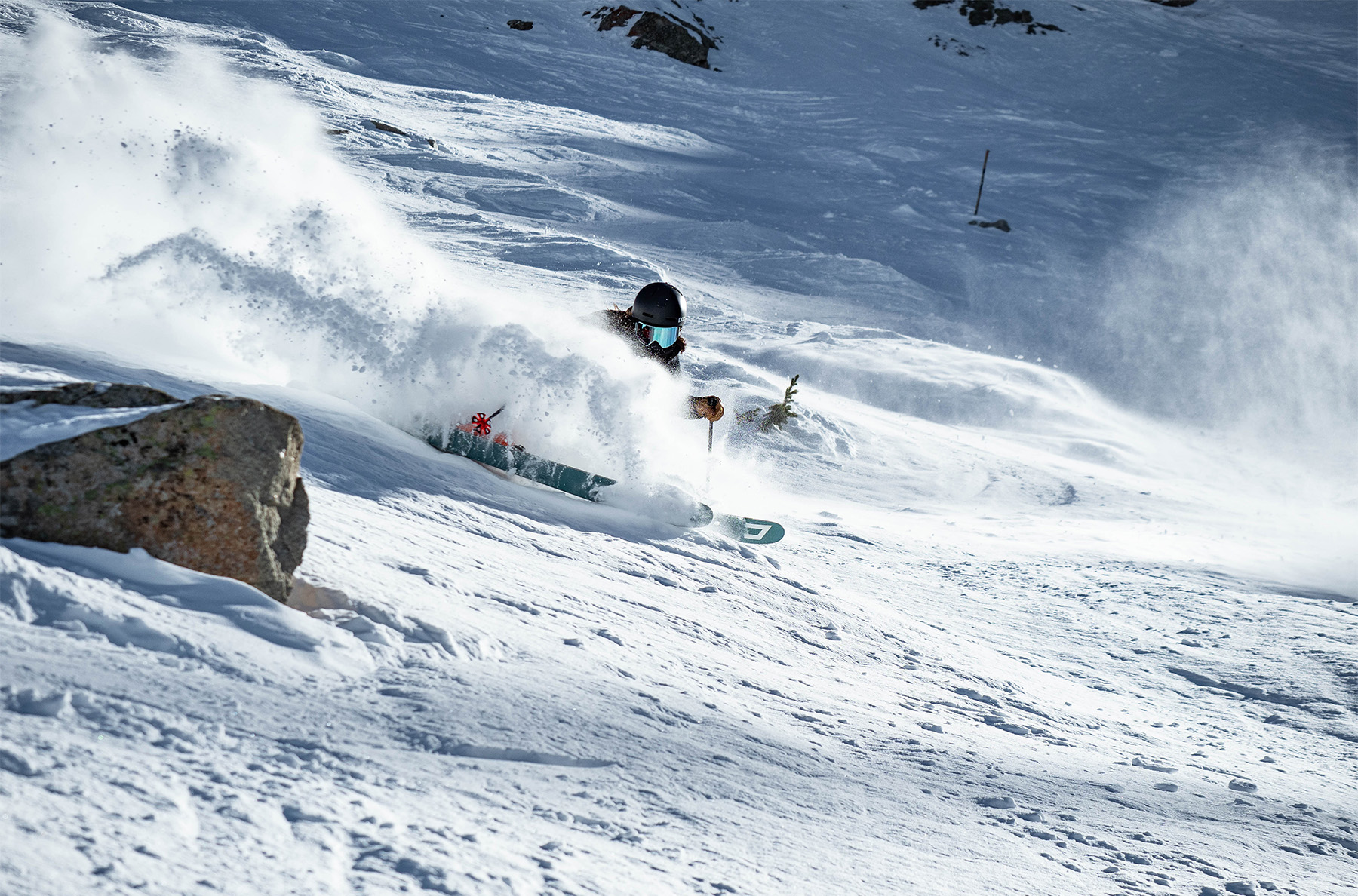 What Norse says about the Enduro
"The Enduro is with its 100 mm waist our most versatile ski.
If we were to pick one ski to use for the rest of our lives, this would be the one. The sturdy yet lightweight construction allows you to take this ski everywhere, making The Enduro a true do-it-all mountain ski. It floats through powder and pivots immediately. It grips on ice, is stable through challenging conditions, and absolutely rails carving on piste."
Construction
Here's how Norse sums up the construction for the Enduro:
"The mixture of perfect pop and lightness in our skis is found in our own ash, poplar, and balsa wood core. Torsional stiffness with traditional feel is delivered by double layers of aluminium sheets and triaxial glass fibres combined with the right amount of rubber vibration dampening.
We also use a high quality sintered base that is permanently impregnated with the original Nanowaxxx treatment. It provides a waxless base that never needs waxing throughout the skis' entire lifespan. It also hardens the base to increase the protection against rock impacts.
Talking about rocks. We also use a wider 2.0 x 1.8 mm steel edge to endure more sharpening and increase the lifespan of your next dearest friends."
Apart from the Nanowaxxx treatment, this is a fairly "normal" construction, but what's arguably less normal is how light the Enduro is for its size, given that it features two layers of metal and at least some fairly heavy ash wood. As for the Nanowaxxx treatment, I frankly didn't notice any difference between the Enduro and other skis during my time on it, but Paul Forward says more about his longer-term experience with it in his review of the Norse Freeride. As for those "wider" 2.0 x 1.8 mm edges, they are wider than some touring skis' edges, but not the widest (some brands use 2.5 x 2 mm edges, often on freestyle-oriented models that get bashed into metal rails).
Shape / Rocker Profile
I think a lot of the Enduro's unique ride that we're about to discuss comes down to its shape and rocker profile, which aren't super typical for a ~100mm-wide all-mountain ski. In particular, this ski features a substantial amount of early taper and the tips and tails, and combined with its sidecut radius, it appears pretty straight when looking down while riding a lift or on the skin track. Combined with its pretty deep, straight rocker lines (especially through the tail), it's a design that looks more reminiscent of many wider skis than other ~100mm-wide all-mountain skis.
Flex Pattern
Here's how we'd characterize the flex pattern of the Enduro:
Tips: 6.5-7
Shovels: 7.5-8
In Front of Toe Piece: 8.5-10
Underfoot: 10
Behind the Heel Piece: 10-9
Tails: 8.5-6.5
The Enduro is fairly soft through the rockered portions of its tips and tails but it's quite strong everywhere else. On snow, I'd say it feels a bit stiffer than these numbers might suggest.
Sidecut Radius
At a stated 24 meters for the 188 cm length we tested, the Enduro's sidecut radius is on the longer end of the spectrum for a ski in its class.
Mount Point
The Enduro's recommended mount point is -8 cm from true center, which puts it somewhere between more traditional, directional skis and more freestyle-oriented ones.
Weight
Given that it's designed with both lift-accessed and human-powered skiing in mind, it makes sense that the Enduro is on the lighter end of the spectrum in terms of weight, but still substantially heavier than many touring-specific models around the same width. At a bit under 2000 grams per ski for the 188 cm length, the Enduro's weight is right in line with many of our favorite "50/50" skis.
1446 & 1447 Line Vision 98, 178 cm (19/20–22/23)
1605 & 1630 Line Vision 108, 183 cm (19/20–22/23)
1781 & 1795 Atomic Maverick 100 Ti, 180 cm (21/22–22/23)
1807 & 1840 Atomic Bent 100, 188 cm (18/19–22/23)
1808 & 1823 Shaggy's Ahmeek 95, 180 cm (21/22)
1810 & 1828 Armada Declivity 92 Ti, 180 cm (20/21–22/23)
1848 & 1903 Line Sick Day 104, 186 cm (16/17–21/22)
1863 & 1894 Blizzard Rustler 9, 180 cm (18/19–22/23)
1883 & 1906 Season Aero, 180 cm (20/21–21/22)
1900 & 1908 Atomic Maverick 95 Ti, 180 cm (21/22–22/23)
1925 & 1934 Black Crows Camox, 186.5 cm (19/20–22/23)
1933 & 1943 Norse Enduro, 188 cm (20/21–21/22)
1936 & 2013 Salomon Stance 96, 182 cm (20/21–22/23)
1937 & 1945 Fischer Ranger 94 FR, 184 cm (19/20–21/22)
1966 & 1973 Liberty Origin 96, 187 cm (18/19–20/21)
1976 & 2028 Parlor Cardinal Pro, 182 cm (19/20–21/22)
1985 & 2006 Parlor Cardinal 100, 185 cm (16/17–21/22)
1994 & 2011 Fischer Ranger 99 Ti, 181 cm (19/20–21/22)
1998 & 2044 4FRNT MSP 99, 181 cm (17/18–21/22)
1999 & 2060 Line Blade, 181 cm (20/21–22/23)
2010 & 2023 Moment Commander 98, 182 cm (20/21–21/22)
2024 & 2112 Dynastar M-Free 99, 185 cm (21/22–22/23)
2043 & 2089 Volkl M6 Mantra, 177 cm (21/22–22/23)
2054 & 2063 Salomon QST 98, 189 cm (21/22–22/23)
2074 & 2088 Line Blade Optic 104, 178 cm (22/23)
2077 & 2096 Line Blade Optic 96, 184 cm (22/23)
2128 & 2186 J Skis Masterblaster, 181 cm (21/22)
2165 & 2186 Wagner Summit 97, 182 cm (21/22–22/23)
2178 & 2195 Volkl M6 Mantra, 184 cm (21/22–22/23)
2218 & 2244 Volkl Mantra 102, 184 cm (19/20–21/22)
2230 & 2290 Line Blade Optic 104, 185 cm (22/23)
2281 & 2284 Blizzard Bonafide 97, 177 cm (20/21–21/22)
2311 & 2342 K2 Mindbender 99Ti, 184 cm (19/20–21/22)
Now, onto how the Enduro performs on snow:
FULL REVIEW
Moguls, Trees, & Tight Terrain
Luke Koppa (5'8", 155 lbs / 173 cm, 70 kg): Let's just get straight to the point — the Enduro feels like a ski designed with off-piste terrain and conditions in mind, and that's where it stands out the most.
In moguls, trees, or any other terrain where lots of on-the-fly adjustments are required, the Enduro shines. It makes those quick changes of direction very easy (and produces a nice amount of energy when bent), while also offering the support and edge hold to be skied very aggressively in tight spots.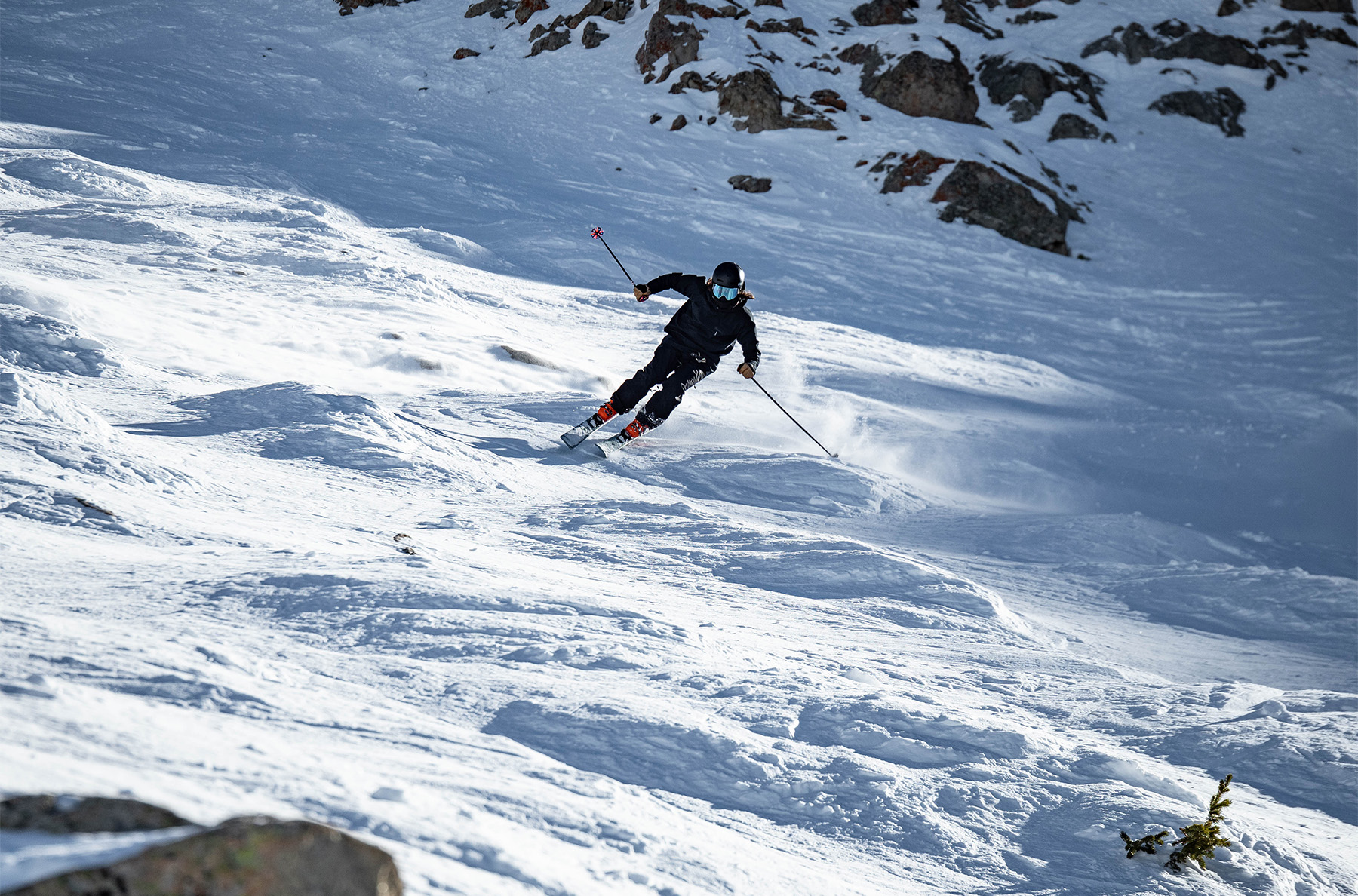 The Enduro isn't a super loose ski overall; yes, it's happy to slash out the tails, but the edge grip provided by its cambered portion is substantial. So rather than sliding and slarving through tight terrain with the ski always on the ground bases-flat, the Enduro feels more inclined to make lots of edge-to-edge transitions. This is why I think the people who will like it the most are those who ski with a pretty dynamic style. The folks who like to drive a ski hard into the trough of a mogul line so that they can catch a little air over the hump. The folks who like to ski a little bit on the edge since they find it more exciting, rather than those who either want the easiest ski or the most planted, calm one.
That's not to say that the Enduro is difficult to ski in tight spots; it's still pretty easy to pivot around bases-flat and has a really low swing weight. And its tails aren't super punishing. But there are skis that are looser and more forgiving (e.g., Line Blade Optic 96), so the Enduro really stands out when you're pushing it a bit (which is where easier skis can often feel unsupportive or imprecise, and more planted skis can feel sluggish).
The bottom line for my personal experience with the Enduro was that it really encouraged me to try skiing tight off-piste lines faster and faster. It had me looking for patches of loose snow to quickly slash (as evidenced by all the photos in this review…), while its low swing weight and supportive, but not super stiff flex pattern encouraged me to make tons of micro-adjustments in an effort to work my way through tight spots even faster. This isn't the easiest ski for moguls and trees, and it's certainly not the most damp and stable, but it is one of the first skis that come to mind when I think of those that I'd pick to ski tight lines with an aggressive, yet light-on-your-feet style.
Groomers
Designing a ski to be "versatile" is all about compromises, where you're willing to make them, and to what degree. Given how fun the Enduro can be off piste, it's not a big surprise to me that it is not the most exciting on groomed snow.
Now, the Enduro does offer good edge hold on firm, smooth, even icy snow. However, it also has pretty tapered tips and a long sidecut radius. So if you want to actually cleanly carve that sort of snow, you need some speed and commitment. The Enduro's tips don't offer much in the way of turn initiation, so you have to drive it very hard and/or have the speed and room to make bigger carves. Doing so, it will hold an edge in most conditions. But it also doesn't feel particularly lively or finish turns with much power or precision through its tapered, substantially rockered tail.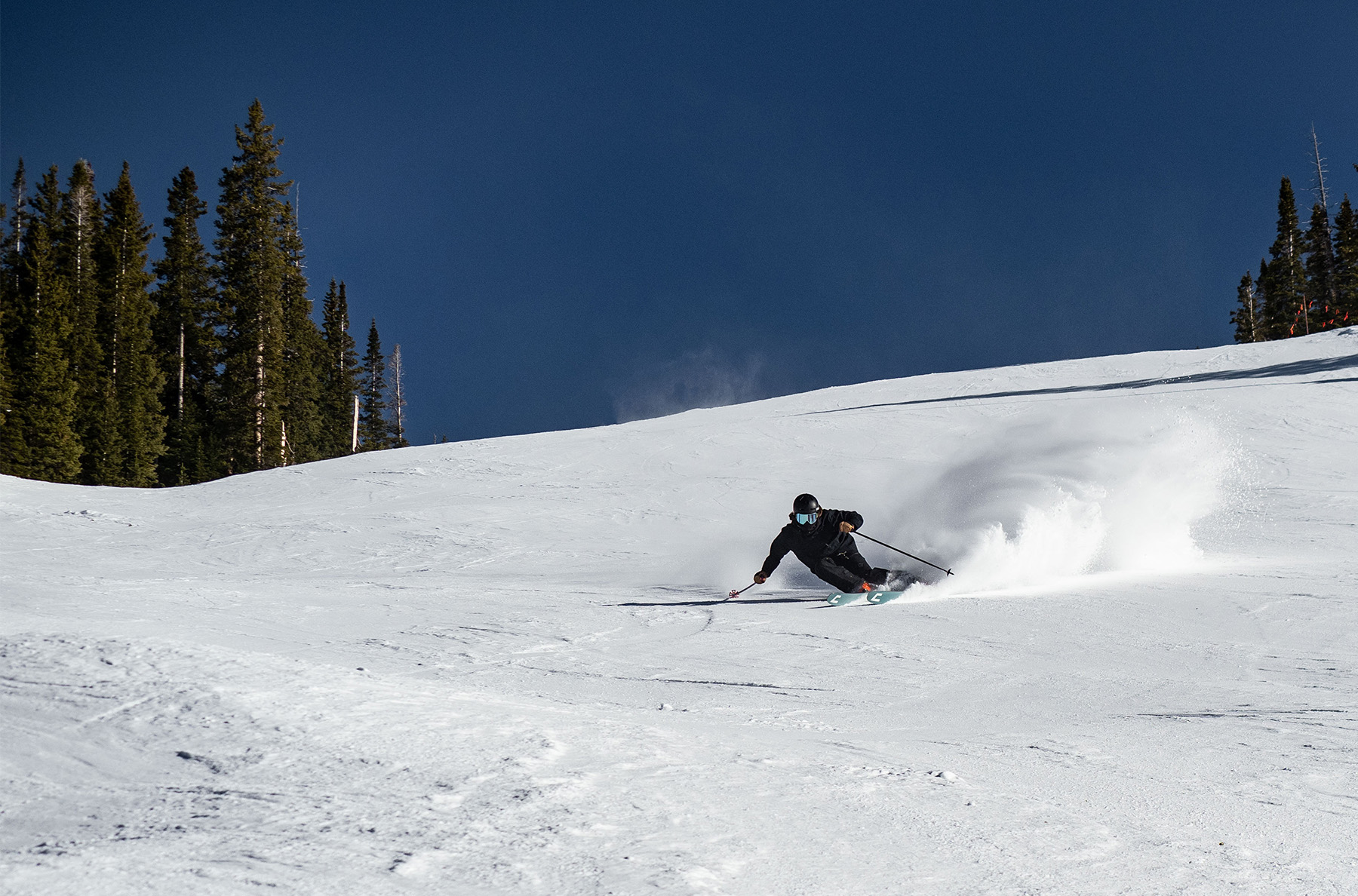 However, if you're not trying to lay down perfect railroad tracks and are willing to smear / slarve your turns to force the ski into the turn shapes you want (see above), the Enduro can definitely do that. It's easy and predictable to feather the Enduro's tails while still getting good edge grip when you drive its shovels and dig in its edges.
So all that is to say, if overall groomer performance is a priority for you, there are lots of ~100mm-wide all-mountain skis that initiate turns more readily, can make smaller carved turns, feel more energetic coming out of a turn, or all of the above. If instead, you don't care much about carving small to medium turns at high edge angles and mostly want a predictable ride, the Enduro can certainly handle that. This is a ski that feels much more "predictable" than "exciting" on piste.
Soft Chop & Slush
One of the upsides to the Enduro's more off-piste-oriented design is above-average stability and suspension, given its fairly low weight. My first day on it was spent skiing a few inches of pushed-around fresh snow on a firm base, and I was instantly impressed by how little it was getting knocked around, given that it weighed the same as some skis I view as touring skis.
Now, if you're looking for a resort-only ski and you want something that doesn't get knocked around much when skiing fast in chop — compared to the whole market — I'd point you toward something much heavier. My notes about relative stability are important. But it's always nice when a ski that's reportedly designed to handle both inbounds and backcountry duties actually feels like it can do both, and the Enduro falls into that category.
In terms of whether you will love skiing the Enduro in soft, somewhat variable conditions, I'd point you back toward what I said in the Tight Terrain section. I think those who will really like this ski are those who seek out little airs, like to slash piles of loose snow, and otherwise ski with a fairly light-on-your-feet style. Adopting that style, I was impressed by how hard I could ski the Enduro when conditions were fairly soft, even if they were pretty chopped up. And this ski also feels notably looser in soft conditions than on firm snow, to the point where I'd call it fairly "surfy" in soft snow. But if you're more of a "plow through everything" skier, you're going to be better served by something much heavier.
Firm Chop & Crud
Similar story as Soft Chop, just to a greater degree. Again, the Enduro offers very good stability and suspension for its weight, but it's clearly a ski where keeping it fairly light was a priority, and the downside to that is always going to be poorer damping and composure in really rough, firm conditions. So if you're honest with yourself about that and are willing to ski more conservatively in challenging conditions in exchange for the Enduro's quickness and maneuverability, I wouldn't worry. But if you are after a ski that does a great job of muting out harsh snow, this isn't the weight class you should be pursuing.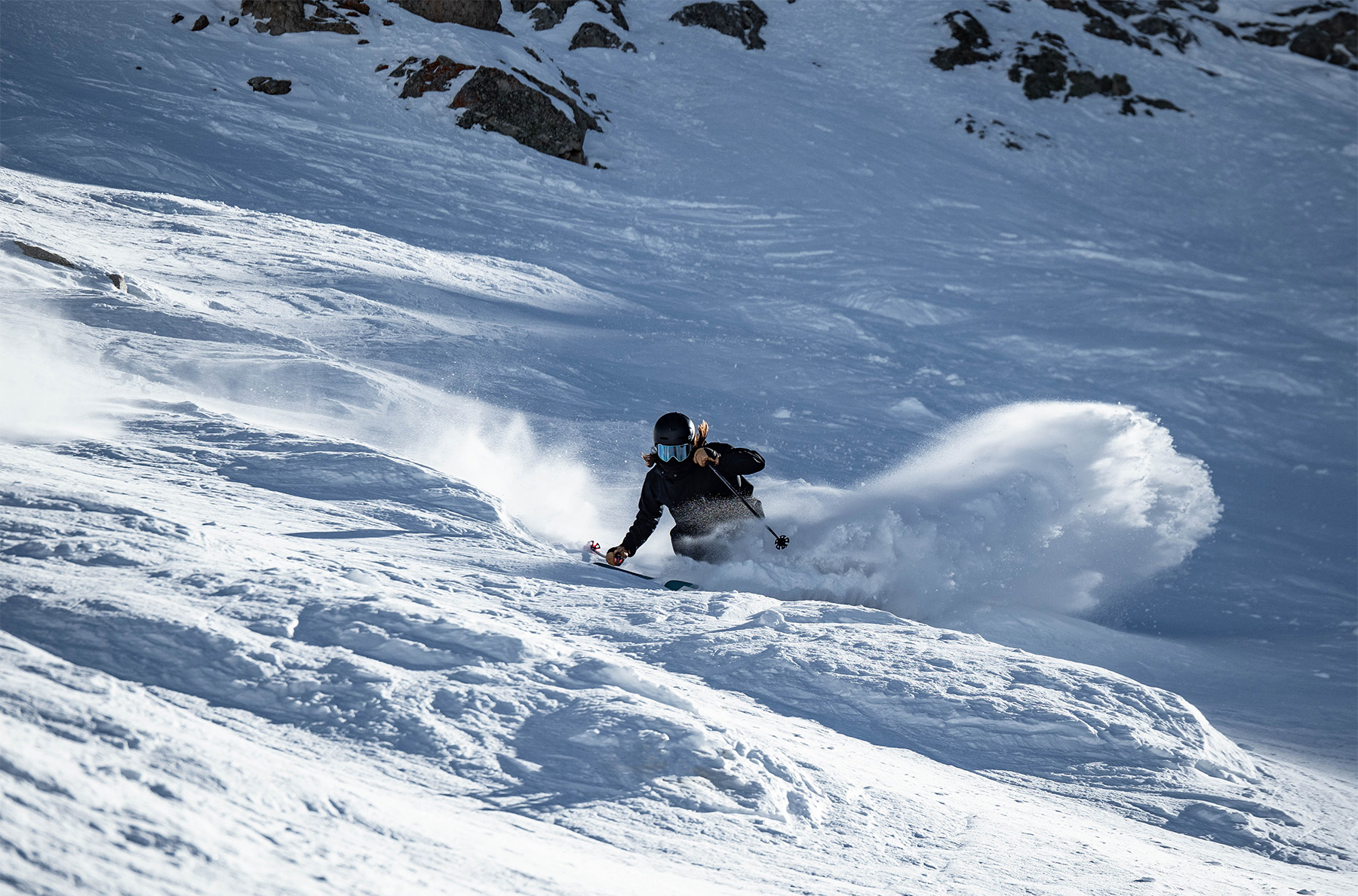 Playfulness & Mount Point
I'd say the Enduro is a fairly playful directional ski. By that, I mean it's quicker, looser, more lively, and/or more accepting of a centered stance than many of the directional skis in its class, but it definitely doesn't feel like something that was designed with freestyle performance as a priority. It still performs best when you're driving its shovels a bit, and its tail rocker and splay aren't ideal for skiing switch in deep snow. So if you throw a lot of tricks and prioritize a ski that is designed for that, you've got better alternatives. But as someone who doesn't ski switch a ton and mostly just likes to get in the air a lot (rather than spin or flip), the Enduro is playful enough for my style.
On that note, given my style, I got along great with the Enduro mounted on its recommended mount point (-8 cm from true center). I didn't feel the need to stray from there, but I could see moving a cm or two forward or back to suit your preferences; I just don't think doing so is ever going to dramatically alter the overall nature of the ski. I.e., it's not going to turn it into a much more planted, directional ski, nor a much more playful, freestyle-oriented one.
Who's It For?
I think the Enduro will work best for those who spend most of their time off piste and who want a ski that's quick, maneuverable, and well suited to a dynamic yet aggressive skiing style. It does a very admirable job of minimizing swing weight without drastically sacrificing suspension or stability, and its flex pattern strikes a nice middle ground of being supportive at higher speeds while not instantly punishing you the moment you make a mistake.
If you spend a lot of your time on piste and prioritize turn initiation and/or the ability to make shorter, snappier turns, I'd look elsewhere. And if you like the planted, calm ride qualities of heavy skis, the lightweight Enduro is unlikely to change your mind. But if you want something that's agile in tight terrain, can still hold an edge quite well, is surprisingly stable in soft snow, and that encourages you to push your limits without totally requiring you to do so, the Enduro is worth a look.
As for 50/50 use, I think the Enduro is a great candidate. It wouldn't be my top pick as a backcountry ski if you mostly stick to low-angle slopes, since I think it really comes alive and is most engaging when you can push it a bit at higher speeds, but it's otherwise very well suited to backcountry conditions. In particular, it handles crusts and other funky backcountry conditions better than a lot of all-mountain skis that are more engaging on piste.
And if you're still not sure if this is a viable option for you, our accompanying Deep Dive article with comparisons to 25+ other skis in its class should help, or you could become a Blister Member, send us a note through the Blister Member Clubhouse, and we'll work one-on-one with you to figure out the ideal ski for you.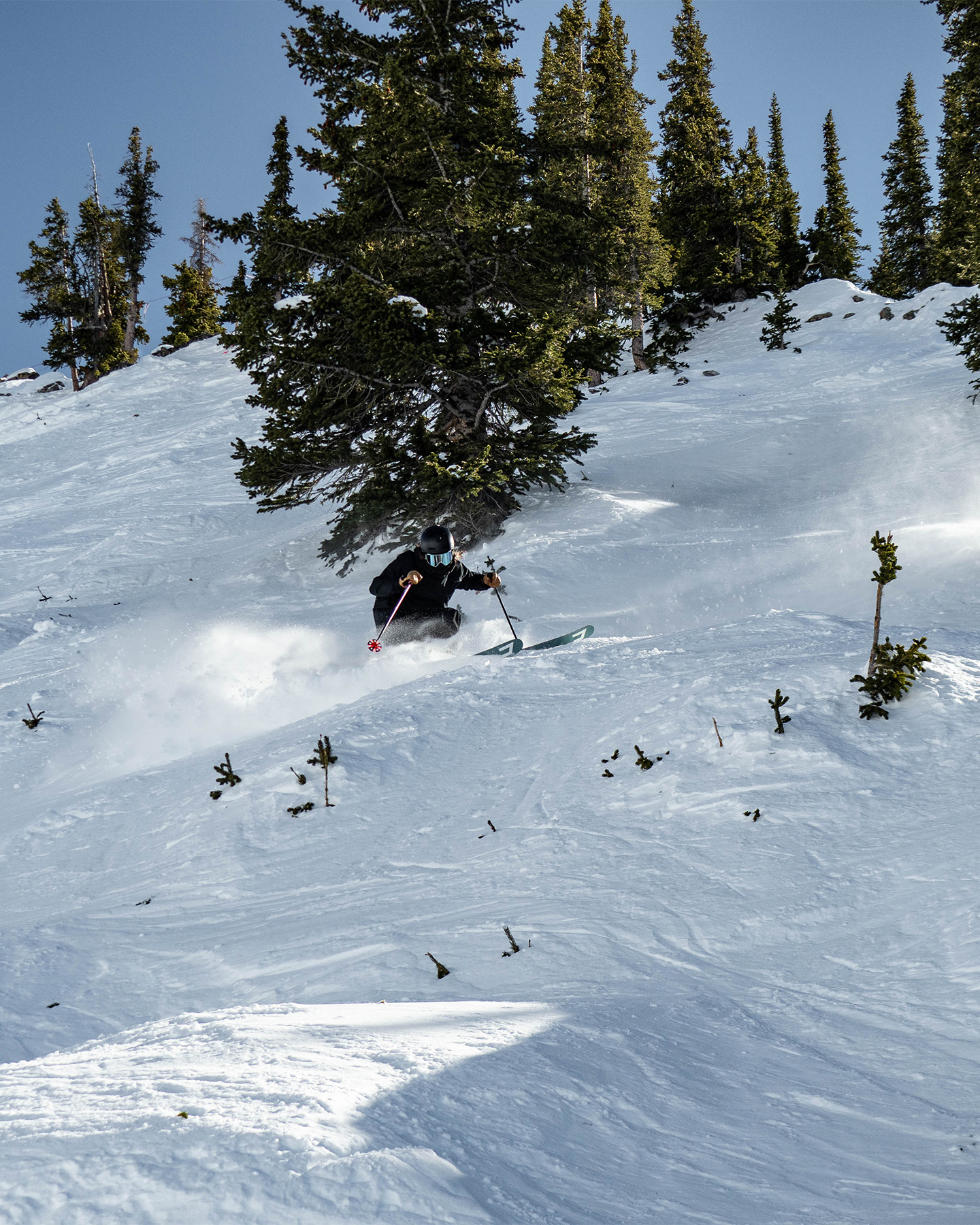 Bottom Line
The ~100mm-wide all-mountain category is filled with generalists, and while that's the safest way to make a ski do many things pretty well, it also makes it more difficult for skis to really stand out. The Norse Enduro, while still versatile in terms of conditions and terrain, is a more narrow-minded "do it all" ski that truly excels in off-piste terrain and under the feet of skiers who want to leverage its nimble, maneuverable ride to ski that terrain in a dynamic, active fashion — whether it's accessed via lifts or your own power.
Deep Dive Comparisons
Become a Blister Member or Deep Dive subscriber to check out our Deep Dive comparisons of the Enduro to see how it compares to the Atomic Bent 100, Line Sick Day 104, Fischer Ranger 102, WNDR Alpine Vital 100, 4FRNT Raven, J Skis Masterblaster, Line Blade Optic 96, K2 Mindbender 99Ti, Wagner Summit 97, Blizzard Bonafide 97, Liberty Origin 101, DPS Pagoda 100 RP, Salomon Stance 96, Moment Commander 98, Salomon QST 98, Atomic Maverick 100 Ti, Renoun Endurance 98, Faction Dancer 2, Dynastar M-Pro 99, Faction Agent 3, Dynastar M-Free 99, Black Crows Camox, Volkl M6 Mantra, Nordica Unleashed 98, & 4FRNT MSP 99.