Ski: 2021-2022 Norse Freeride, 192 cm
Test Location: Alyeska, Alaska
Days Skied: 15
Available Lengths: 176, 184, 192 cm
Blister's Measured Tip-to-Tail Length (straight-tape pull): 191.0 cm
Stated Weight per Ski: 2050 grams
Blister's Measured Weight per Ski: 1973 & 2047 grams
Stated Dimensions: 133-110-123 mm
Blister's Measured Dimensions: 132.0-109.4-122.1 mm
Stated Sidecut Radius (192 cm): 26 meters
Measured Tip & Tail Splay (ski decambered): 67 mm / 33 mm
Measured Traditional Camber Underfoot: 3 mm
Core Materials: ash/poplar/balsa + titanal (2 layers) + fiberglass laminate
Base: sintered + Nanowaxxx treatment
Factory Recommended Mount Point: -7.2 cm from center; 88.3 cm from tail
Boots / Bindings: Lange RX 130 LV / Marker Jester
Intro
Norse is a relatively new company that launched their lineup with two skis, the 100mm-wide Enduro and the 110mm-wide Freeride, discussed here. Norse is based in Sweden and was founded by Patrik Sannes, who spent five years designing skis for Faction. After that, he set out to make his own skis, pressing them in Poland.
Norse claims that the Freeride, "is built for bigger mountains and deeper snow. It is based on the same core construction as the award winning The Enduro but does, despite a quite modest 110 mm waist, offer extraordinary floating characteristics thanks to its unique shape and pronounced rocker. Although being a distinguished big mountain ski, it actually behaves surprisingly well on piste. But truth is, piste is not what The Freedride is made for. Its construction offers a unique combination of shape and rocker that is not only floating better in deep snow than most wider skis, but also providing ability to change direction quickly and incredible stability at speed."
I've been skiing these unique-looking skis since last spring and now have quite a few days on them in a wide variety of conditions here in Alaska, so it's time for our full review.
Construction
The Freeride and Enduro feature an ash, poplar, and balsa wood core that's complemented by two titanal layers and finished off with triaxial fiberglass and some rubber for vibration damping. They also feature a sintered base that "is permanently impregnated with the original Nanowaxxx treatment. It provides a waxless base that never needs waxing throughout the skis' entire lifespan. It also hardens the base to increase the protection against rock impacts." Lastly, the Norse skis feature 2.0×1.8 mm steel edges.
Shape / Rocker Profile
Both the Freeride and Enduro stand out due to their fairly straight-looking shapes and notably tapered tips and tails. They look a bit like the Faction Dancer series, but with more early taper at the tips and tails.
Flex Pattern
Here's how we'd characterize the flex pattern of the Freeride:
Tips: 6.5
Shovels: 6.5-7
In Front of Toe Piece: 7.5-9.5
Underfoot: 10
Behind the Heel Piece: 9.5-8
Tails: 7.5-6.5
The Freeride has fairly soft tips and tails that feel quite similar (as opposed to soft tips and much stiffer tails), though the area around the middle of the ski that features a full sidewall (black portion in the full rocker profile picture) is quite strong.
Sidecut Radius
At a stated 26 meters for the 192 cm length I've been skiing, the Freeride's sidecut radius is on the longer end of the spectrum.
Mount Point
The Freeride (and Enduro) has a fairly progressive mount point of about -7 cm from true center, which isn't as close to center as most pure freestyle skis, but closer to center than most directional skis in this class.
Weight
The Freeride is very light for its size, with our pair of the 192 cm length coming in at a little over 2000 grams per ski. That's not as light as most dedicated touring skis, but notably lighter than many resort-oriented skis — especially those that also feature two layers of titanal. This light-but-not-wildly-light weight is a big reason why the Freeride could work for a wide range of skiing scenarios.
For reference, here are our measured weights for some notable skis. Keep in mind the length differences to try to keep things apples to apples.
1806 & 1862 Armada Tracer 108, 180 cm (19/20–21/22)
1820 & 1821 Majesty Havoc, 186 cm (20/21–21/22)
1833 & 1894 Head Kore 111, 184 cm (22/23)
1863 & 1872 Atomic Bent 110, 188 cm (22/23)
1875 & 1881 Line Sir Francis Bacon, 184 cm (19/20–22/23)
1895 & 1906 Folsom Trophy Carbon, 188 cm (18/19–21/22)
1905 & 1919 J Skis Slacker, 188 cm (20/21–21/22)
1919 & 1923 Head Kore 117, 184 cm (21/22)
1920 & 2006 RMU North Shore YLE 110, 186 cm (21/22)
1947 & 2011 4FRNT Devastator, 186 cm (20/21–21/22)
1951 & 1953 Elan Ripstick 106, 188 cm (20/21–22/23)
1951 & 1957 RMU Apostle 3.0 106 Wood, 184 cm (21/22)
1964 & 1972 Moment Deathwish, 184 cm (19/20–20/21)
1970 & 1973 4FRNT Renegade, 184 cm (20/21–21/22)
1970 & 1993 Moment Deathwish 104, 184 cm (21/22)
1973 & 2047 Norse Freeride, 192 cm (20/21–21/22)
1993 & 2026 Black Crows Atris, 184.2 cm (19/20–21/22)
2008 & 2065 Wagner Summit 106, 186 cm (20/21–21/22)
2011 & 2028 Moment Wildcat 108, 184 cm (19/20–20/21)
2011 & 2046 Elan Ripstick 106 Black Edition, 188 cm (21/22–22/23)
2027 & 2052 K2 Reckoner 112, 184 cm (20/21–22/23)
2034 & 2052 Blizzard Rustler 11, 188 cm (17/18–21/22)
2046 & 2120 Black Crows Corvus, 188 cm (18/19–21/22)
2060 & 2075 4FRNT Hoji, 184 cm (21/22)
2096 & 2100 Salomon QST 106, 181 cm (19/20–21/22)
2110 & 2119 Moment Wildcat 108, 190 cm (19/20–20/21)
2112 & 2125 4FRNT MSP 107, 187 cm (18/19–21/22)
2116 & 2181 Faction Dictator 3.0, 188 cm (19/20–21/22)
2145 & 2167 Sego Big Horn 106, 187 cm (20/21)
2153 & 2184 Rossignol BLACKOPS Sender Ti, 187 cm (20/21–21/22)
2165 & 2211 K2 Mindbender 108Ti, 186 cm (19/20–21/22)
2165 & 2219 Icelantic Nomad 105, 191 cm (19/20–20/21)
2170 & 2180 Dynastar M-Free 108, 182 cm (20/21–21/22)
2182 & 2218 Nordica Enforcer 110 Free, 185 cm (17/18–22/23)
2228 & 2270 Sego Comp 110, 187 cm (20/21–21/22)
2232 & 2242 Blizzard Cochise 106, 185 cm (20/21–21/22)
2243 & 2287 Salomon QST Blank, 186 cm (21/22-22/23)
2295 & 2344 J Skis Hotshot, 183 cm (20/21–21/22)
2302 & 2342 Dynastar M-Free 108, 192 cm (20/21–21/22)
2312 & 2386 Prior Husume, 188 cm (17/18–21/22)
2353 & 2360 Volkl Katana 108, 184 cm (20/21–21/22)
2449 & 2493 J Skis Hotshot, 189 cm (20/21–21/22)
Now, onto how the Freeride performs on snow:
FULL REVIEW
Powder
Paul Forward (6', 200 lbs / 183 cm, 90.7 kg): At 110 underfoot, the Freeride is certainly intended to excel in pow and overall it does quite well. The shovels do not provide a ton of float in very deep snow but overall they plane up quite easily and feel very loose across the fall line. On steeper lines, I definitely felt more comfortable throwing the Freeride sideways across the fall line into long drifted turns much more than I liked tipping it on edge and driving it into big carved turns. Fortunately, this ski feels very balanced on edge and is one of the easiest skis I've ever used in this waist width when it comes to drifting and skidding across the fall line. They really invite a more playful slashing style and, combined with the Freeride's relatively low weight, are super easy to throw around into all manner of turns shapes and sizes in anything from big, open terrain to tight tree runs. While much fatter, heavier, and overall quite different on paper, the ski I kept thinking of when skiing the Freeride in pow was the old Salomon Rocker2 122, which is a ski I quite liked and one that stood out for how loose and drifty it was. In deeper powder, say more than 8 inches or so, the overall lack of surface area and float of the Freeride often had me wishing for something a little fatter, but on shallower pow days, the Freeride offers a fun, loose ride and loves to slash and drift.
Soft Chop
As the powder starts to get cut up more, the Freeride definitely starts to show a bit more of a speed limit. Instead of being tipped into big carved turns (often my strategy for skiing fast in chop), the Freeride feels much more at home when aiming for small patches of untracked snow between the tracks and slashing out little drifts to control speed. As the chop gets firmer, deeper, or more set up, it becomes more important to dial it back a little, stay centered, and work the skis at lower speeds than I would on something of a similar width but with more stability (e.g., skis that weigh notably more).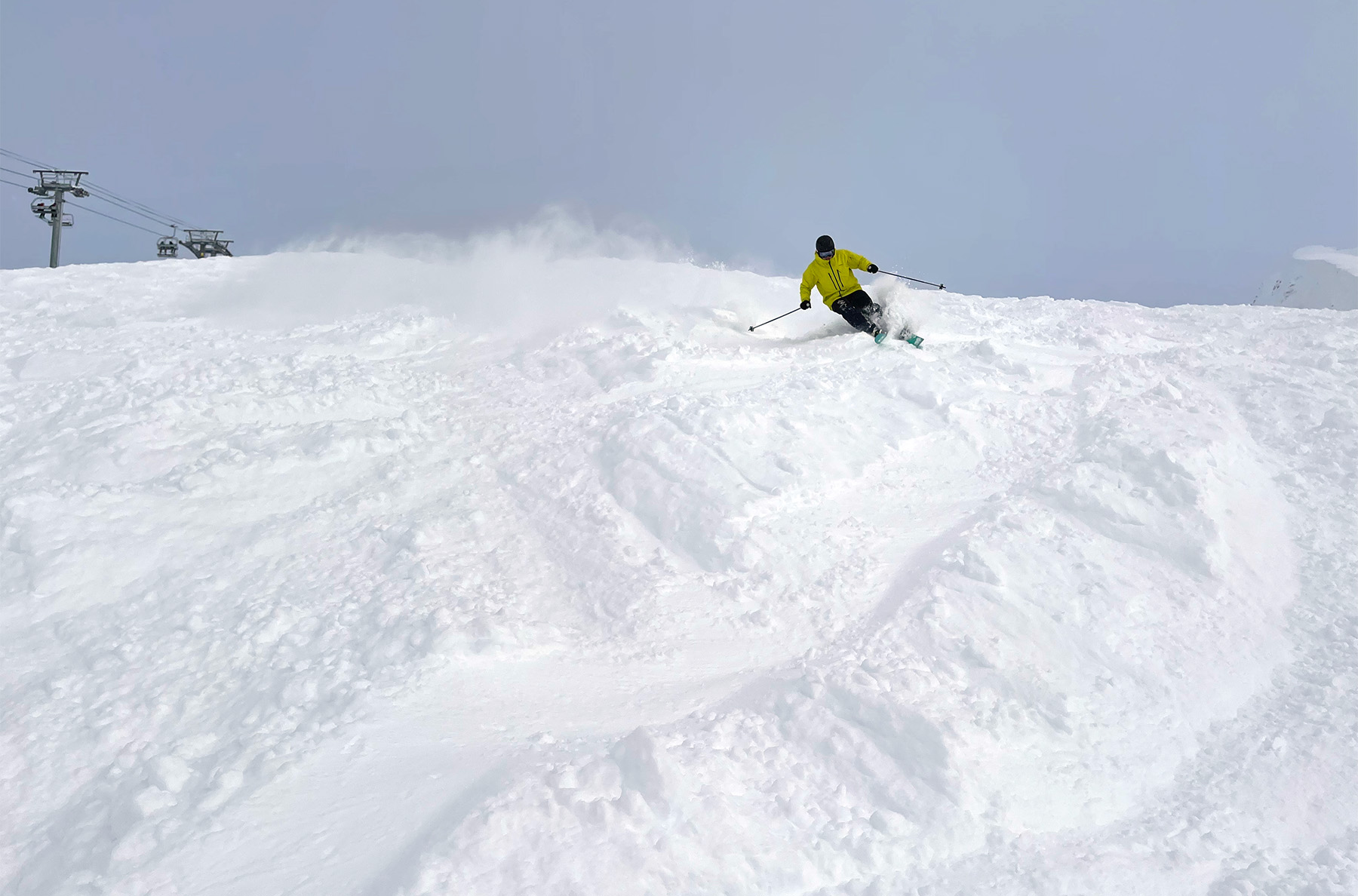 When I try to ski the Freeride at really high speeds in these conditions its tips definitely get pushed around and fold up a little. It also tends to deflect a little easier than heavier skis of similar widths, but that's the compromise you make when skiing a fairly lightweight ski in choppy resort conditions.
Firm Chop / Crud
As the chop gets shallower and there are fewer deep tracks / trenches, the Freeride starts to feel a little more intuitive again (the same applies to soft chop that's lighter / lower-density than what we often get in Alaska). Whereas the shovels tend to deflect in the deeper chop mentioned above, the overall loose, drifty feel of the ski starts to work better in shallower snow and allows for easy skids and speed control. I still find myself going quite a bit slower at times than I would on other heavier and/or more damp skis in this category. But especially on more technical, steep terrain like Alyeska's North Face, a few days after a pow day, the Freeride is a fun ski for skidding and sliding down little ribs and other features, looking for small airs or patches of pow to slash.
What the Freeride does not do very well in these conditions, or really any conditions, is carve. Even when really focusing on edge angle and downhill ski pressure, I never felt like the Freeride wanted to hold a clean edge. I was constantly getting bucked off edge. I often doubt my own technique in situations like that, so I frequently did back-to-back runs on the same terrain with a variety of other skis and consistently found that I struggled more to hold a carved turn, especially at higher speeds, on the Freeride. For those who love to skid and drift around, this isn't a bad thing but in my experience, these are not skis that you can tip into a hard carve and knife through variable conditions. And of course, this is a 110mm-wide ski, so it's never going to be an amazing carver, but there are better options if that's a priority for you.
Moguls, Trees, & Tight Terrain
The quick, drifty nature I've described above, combined with a relatively low swing weight, makes the big teal Norse feel quite intuitive in tighter terrain. I can't think of a ski this wide and long that is easier to pivot and drift around in tight terrain and I had a lot of fun finding tight lines through Alyeska's limited but steep tree runs in a variety of snow conditions. Similarly, pow bumps were a hoot on these and I was able make quick edge transitions and control my speed fairly easily.
Groomers
This is probably where I least enjoyed the Norse Freeride compared to other similarly wide skis. It's certainly possible to carve big clean arcs on the Freeride but with its tapered tips and long sidecut radius, its turn initiation is sluggish and its edge hold is well below average, even for a fat ski. I have >120mm skis that hold an edge on firm groomers better than the Freeride. Once committed to a carved turn, the Freeride will hold an edge, but it doesn't take a lot of interference from snow or technique for it to break free. The Freeride feels like a ski that's at home in off-piste terrain, and while it'll let you predictably skid your way across groomers to get to that terrain, there are many better skis for really making the most of groomed slopes.
Mount Point
I mounted the Freeride on the recommended line (-7.2 cm from true center) and never felt any need to change it, which is frankly fairly rare for me (I'm pretty picky when it comes to mount points). But on the recommended line, the Freeride felt well balanced.
Nanowaxxx
Norse's skis come pretreated with Nanowaxxx permanent waxless base treatment that they claim "provides a waxless base that never needs waxing throughout the skis' entire lifespan. It also hardens the base to increase the protection against rock impacts."
I've skied the Freeride in a wide array of conditions, from very cold, dry pow to spring snow and rained-on, lower-elevation slop, and I've also spent a ton of time on a variety of skis that have had the DPS Phantom treatment. Overall, the Nanowaxxx seemed to work last season but after a bunch more days on them this year, the skis started feeling very slow and in need of wax. I've waxed them a few times since and they seem to be holding wax and gliding like any other ski. Prior to waxing, my preliminary impression is that the treatment doesn't work quite as well as Phantom (I also routinely wax my Phantom-treated skis).
Durability
I'm not sure if it has anything to do with the Nanowaxxx treatment but I've hit my fair share of rocks this season, mostly while traversing out of the Ragdoll gate at Alyeska, and while some of my skis have taken some good-sized core shots, the Norse still look quite good. I've had no concerns about durability overall.
Who's It For?
Light enough for touring but still enough ski for a dedicated lift-served setup, the Freeride is a good example of what could be a solid one-ski quiver for those living in snowy locales and who like skiing steep and/or tight off-piste lines. Given its weight, I think it would be a good option as a 50/50 or sidecountry setup for those looking for something loose and drifty but not overly fat.
Bottom Line
The Norse Freeride is a unique ski. Even at 192 cm, it's very loose, quick, and easy to skid / drift around in just about any kind of terrain. It's not particularly stable on edge and doesn't carve well, but it's a fun ride that's game for just about any terrain or conditions. And because of its weight, it could be reasonably paired with just about any kind of binding — from standard alpine bindings to hybrid 50/50 ones or even a very lightweight tech binding for hunting powder in the backcountry.