Ski: 2022-2023 Atomic Bent 110, 188 cm
Test Location: Mt. Crested Butte & Crested Butte backcountry, Colorado
Days Skied: 7
Available Lengths: 172, 180, 188 cm
Blister's Measured Tip-to-Tail Length (straight-tape pull): 186.3 cm
Blister's Measured Weight per Ski: 1863 & 1872 grams
Stated Dimensions: 134-110-125 mm
Blister's Measured Dimensions: 133.2-109.5-124.6 mm
Stated Sidecut Radius (188 cm): 19 meters
Measured Tip & Tail Splay (ski decambered): 68 mm / 64 mm
Measured Traditional Camber Underfoot: 5 mm
Core Materials: poplar + fiberglass laminate
Base: sintered
Factory Recommended Mount Point: -3 cm from center; 90.1 cm from tail
Boots / Bindings: Tecnica Mach1 MV 130; Atomic Hawx Ultra 130; Tecnica Cochise 130 / Atomic Strive 13

Intro
Ever since Atomic came out with the Bent Chetler 100 to complement the longstanding Bent Chetler 120, many folks have been waiting for them to make a ski that slots in between the two.
For the 2022-2023 season, Atomic answered their calls with the brand-new Bent 110.
(For a more detailed look at the whole 22/23 Bent lineup, see our writeup about the announcement)
We got the Bent 110 right as we (and most of the western U.S.) were in a month+ dry spell, but fortunately, that dry spell coincidentally ended right as our 2022 Blister Summit kicked off, so our reviewers — and many Summit attendees — got to test it in its ideal environment. After some spring laps on it later in the season, it's time to weigh in:
What Atomic says about the Bent 110
"The Atomic Bent 110 takes a similar approach to the mountain as the Bent Chetler 120, with slightly less width. It's Jossi Wells's go-to for backcountry freestyle, charging lift-served pow laps and days where it's deep, but not 120-deep. The Bent 110 is designed with HRZN Tech Tip and Tail for a playful performance and better float through blower without adding bulk to the ski. The 110 features a bit less rocker in the tail than the 120 but still charges through variable chop and crud. The combination of Light Woodcore and Carbon Backbone work together to reduce weight and keep performance responsive. With topsheet and base art by Chris Benchetler, the 110 is wholly reflective of his approach to the mountains: creative and unique."
To summarize: the Bent 110 is designed to bring the ride of the Bent Chetler 120 to a more versatile width, and it's supposed to handle everything from pow-filled backcountry lines to lift-served laps and variable snow.
Shape / Rocker Profile
In short, the Bent 110 looks a whole lot like the Bent Chetler 120. Both skis have pretty symmetrical shapes and rocker profiles, and compared to other freestyle-oriented skis around the same width, the Bent 110 falls somewhere around the middle of the pack when it comes to tip and tail taper and tip and tail rocker. It has a much more symmetrical rocker profile than the narrower Bent 100 (formerly known as the Bent Chetler 100).
Flex Pattern
Here's how we'd characterize the flex pattern of the Bent 110:
Tips: 5.5-6
Shovels: 6-6.5
In Front of Toe Piece: 7-9.5
Underfoot: 10
Behind the Heel Piece: 9.5-7.5
Tails: 7-5.5
The flex pattern of the Bent 110 is basically a story of two parts: the rockered portions and the cambered portions. The rockered tips and tails of this ski are pretty soft, but the cambered portion (which is a bit more than half the length of the ski) is quite strong overall. And while there's a clear contrast between the soft extremities and stiff midsection, it does not feel like there are any noticeable hinge points — the transitions in stiffness feel quite smooth.
Mount Point
Same as the Bent Chetler 120, the Bent 110's recommended mount point is -3 cm from the true center of the ski, which is definitely on the more center-mounted end of the spectrum (even for a freestyle ski). That said, there are also alternative lines (-2, -1, +1, +2) printed on the top sheet, so we'll be doing a bit of experimentation with mount point.
Weight
The first several generations of the Bent Chetler 120 were all pretty heavy skis. That all changed when they overhauled that ski for the 18/19 season and it became one of the lightest 120mm-wide skis on the market. The Bent Chetler 100 followed that trend, also being quite light for its size.
The Bent 110 continues that pattern. It's very, very light for its size — especially for a ski that's supposed to "charge through variable chop and crud." At about 1870 grams per ski for our 188 cm length, the Bent 110 falls in line with many skis that are designed for backcountry touring, and is notably lighter than most resort-oriented skis in its class.
For reference, here are a number of our measured weights (per ski in grams) for some notable skis. Keep in mind the length differences to try to keep things apples-to-apples.
1710 & 1744 Atomic Bent Chetler 120, 184 cm (18/19–22/23)
1820 & 1821 Majesty Havoc Carbon, 186 cm (20/21–22/23)
1833 & 1894 Head Kore 111, 184 cm (22/23)
1863 & 1872 Atomic Bent 110, 188 cm (22/23)
1875 & 1881 Line Sir Francis Bacon, 184 cm (19/20–22/23)
1895 & 1906 Folsom Trophy Carbon, 188 cm (18/19–21/22)
1905 & 1919 J Skis Slacker, 188 cm (20/21–21/22)
1920 & 2006 RMU North Shore YLE 110, 186 cm (21/22–22/23)
1947 & 2011 4FRNT Devastator, 186 cm (20/21–22/23)
1951 & 1953 Elan Ripstick 106, 188 cm (20/21–22/23)
1964 & 1972 Moment Deathwish, 184 cm (19/20–20/21)
1970 & 1973 4FRNT Renegade, 184 cm (20/21–22/23)
1970 & 1993 Moment Deathwish 104, 184 cm (21/22–22/23)
1993 & 2026 Black Crows Atris, 184.2 cm (19/20–21/22)
2008 & 2065 Wagner Summit 106, 186 cm (20/21–22/23)
2011 & 2028 Moment Wildcat 108, 184 cm (19/20–20/21)
2011 & 2046 Elan Ripstick 106 Black Edition, 188 cm (21/22–22/23)
2027 & 2052 K2 Reckoner 112, 184 cm (20/21–22/23)
2034 & 2052 Blizzard Rustler 11, 188 cm (17/18–21/22)
2046 & 2120 Black Crows Corvus, 188 cm (18/19–22/23)
2060 & 2075 4FRNT Hoji, 184 cm (21/22–22/23)
2096 & 2100 Salomon QST 106, 181 cm (19/20–21/22)
2110 & 2119 Moment Wildcat 108, 190 cm (19/20–20/21)
2112 & 2125 4FRNT MSP 107, 187 cm (18/19–22/23)
2116 & 2181 Faction Dictator 3.0, 188 cm (19/20–21/22)
2145 & 2167 Sego Big Horn 106, 187 cm (20/21–21/22)
2153 & 2184 Rossignol BLACKOPS Sender Ti, 187 cm (20/21–21/22)
2165 & 2211 K2 Mindbender 108Ti, 186 cm (19/20–21/22)
2165 & 2219 Icelantic Nomad 105, 191 cm (19/20–20/21)
2170 & 2180 Dynastar M-Free 108, 182 cm (20/21–22/23)
2171 & 2191 Wagner Summit 109, 186 cm (22/23)
2182 & 2218 Nordica Enforcer 110 Free, 185 cm (17/18–22/23)
2228 & 2270 Sego Comp 110, 187 cm (20/21–21/22)
2232 & 2242 Blizzard Cochise 106, 185 cm (20/21–22/23)
2243 & 2287 Salomon QST Blank, 186 cm (21/22–22/23)
2258 & 2303 Wagner Summit 107, 186 cm (21/22–22/23)
2295 & 2344 J Skis Hotshot, 183 cm (20/21–21/22)
2302 & 2342 Dynastar M-Free 108, 192 cm (20/21–22/23)
2312 & 2386 Prior Husume, 188 cm (17/18–21/22)
2353 & 2360 Volkl Katana 108, 184 cm (20/21–22/23)
2449 & 2493 J Skis Hotshot, 189 cm (20/21–21/22)
Initial Questions / Things We Were Curious About
(1) Given its low weight, should we mostly be thinking of the Bent 110 as a touring ski, a resort ski, and/or a ski to use for both? Just how stable is it going to feel in more challenging, cut-up resort conditions?
(2) In terms of conditions, will the Bent 110 feel like a ski that's really specifically designed for soft conditions, or can it handle some firmer snow?
(3) The Bent 110 has a very centered mount point and an overall design that seems targeted at playful skiing, but will more directional skiers still get along with it? What if you move away from the recommended mount point?
Flash Review
Blister Members can read our Flash Review of the Bent 110 for our initial on-snow impressions. Become a Blister member now to check out this and all of our Flash Reviews, plus get exclusive deals and discounts on skis, and personalized gear recommendations from us.
FULL REVIEW
Powder
Luke Koppa (5'8", 155 lbs / 173 cm, 70 kg): Fresh snow is clearly where the Bent 110 excels and feels most adept — notably more so than some other skis around the same width. While 110 mm underfoot is super wide by some folks' standards, it's not that wide by others'. Still, the Bent 110 performs better in deep, untracked conditions than most of its competitors.
When it comes to flotation and maneuverability — for a very center-mounted ski — the Bent 110 is excellent for its width. I was fortunate to be on it on the second day of the big storm cycle that hit Mt. Crested Butte during the 2022 Blister Summit, and despite hitting patches that were over knee-deep, I never found myself feeling like I needed to be on a wider ski. Even at slow speeds in tight trees with deep snow throughout, the Bent 110 remained very maneuverable. While I don't really notice them in other conditions, I feel like I have to credit at least some of the Bent 110's surfiness / loose ride in deep conditions to the "HRZN Tech" inserts at the tips and tails; the ends of the ski feel notably loose in deep snow.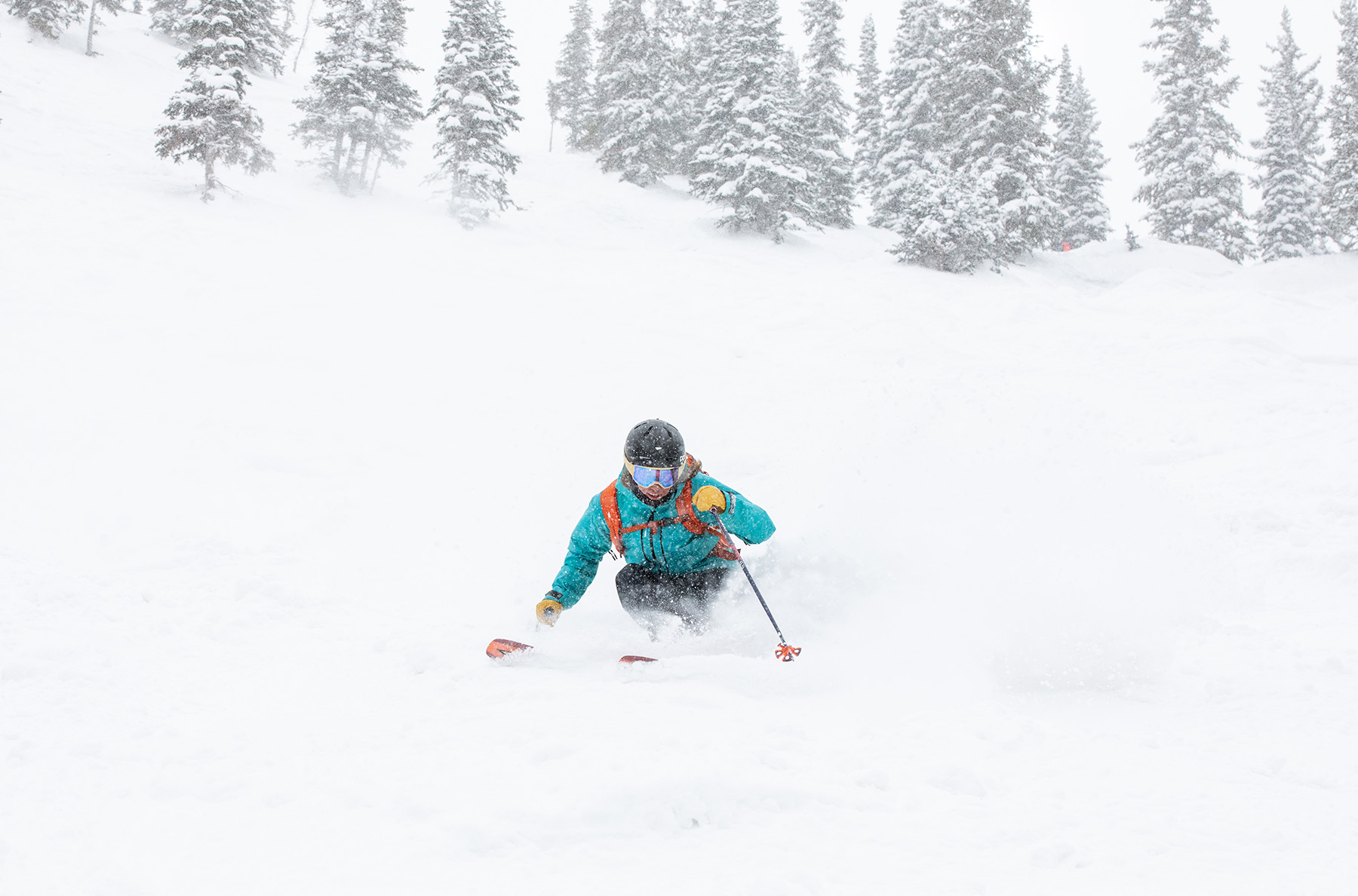 Now, it's important to reiterate the caveat that the Bent 110 is a nearly center-mounted ski, and that means it behaves differently in deep snow (and other conditions) when compared to a directional ski with a mount point that's several centimeters farther back. Namely, the Bent 110 encourages (and borderline requires, at times) that you ski it with a centered, upright stance where you're not putting a ton of pressure on the front of your boots / front of your skis. Doing that, the ski feels really maneuverable in doesn't get bogged down that easily in deep conditions. But if you try to drive the Bent 110's shovels like a very directional ski, you'll probably find yourself submerging those shovels. Instead, it's best to see the Bent 110 for what it is — a freestyle-focused, playful ski — and ski it like one, optimizing its maneuverability and not trying to drive it straight down the fall line.
Dylan Wood: (5'10", 155 lbs / 178 cm, 70 kg): It's very fitting to lead this review with the Bent 110's powder performance, because this is where the Bent 110 most clearly stands out. As Luke mentioned, this 110mm-wide ski provides impressive flotation in powder and performs really well when skied with a playful, freestyle-focused approach. It's loose, poppy, and quick, making it a great option for those who like to get in the air a lot, throw their skis sideways, and take a dynamic approach to skiing soft snow. I only really found the limits of this ski's flotation in very deep, unconsolidated mid-winter snow in the Crested Butte backcountry.
Its nearly centered mount point and freestyle-heavy design do result in a ski that doesn't pair very well with a directional style in powder. It basically demands a more centered stance, and its short, soft tips and shovels are prone to being overpowered and overdriven in deep snow. Directional skiers and those looking for very composed and stable pow skis have many better options for a powder ski, but for those who prioritize playfulness and compatibility with a freestyle-focused approach to the mountain, the Bent 110 makes for a versatile pow ski that can still be practical when it hasn't snowed in a while.
Soft Chop
Luke: In soft, low-density chop (e.g., the first half of a typical resort pow day in Colorado), I still really enjoyed the Bent 110. Its above-average maneuverability in soft snow continues to be an asset when the untracked snow gets cut up a little bit and you consequently need to make more adjustments and turns than you do in perfect pow. And that's good, cause the Bent 110 is certainly not a ski that feels inclined to just blast through cut-up snow. Especially in late-day chop, where the snow has consolidated a bit and gotten heavier / denser, I found the Bent 110 would get knocked around quite a bit if I ignored its lack of weight and tried to ski it like I would a ~2100+ g ski. I also tend to drive the shovels of my skis a bit harder in chop, so that the front of the ski can absorb some of the impacts, but the Bent 110's stronger preference for a centered stance meant I had to do most of the impact-absorption myself, via my legs.
Again, I still really enjoyed slashing and popping around low-density chop on the Bent 110; its loose ride, balanced feel, and minuscule swing weight (for a ski this big) all add up to a ski that's great for skiing with a dynamic, playful style with lots of slashes and airs. In heavier chop, the Bent 110 either requires you to be a very good skier to ski fast, or more likely, it'll require you to significantly dial back your speed to stay in control. For those looking for a pretty easy, maneuverable soft-snow ski, that might be perfect. But if you're looking for a playful freestyle ski and you tend to ski fast in variable snow between hits, keep in mind the Bent 110 is one of the most playful, but least stable skis in its class.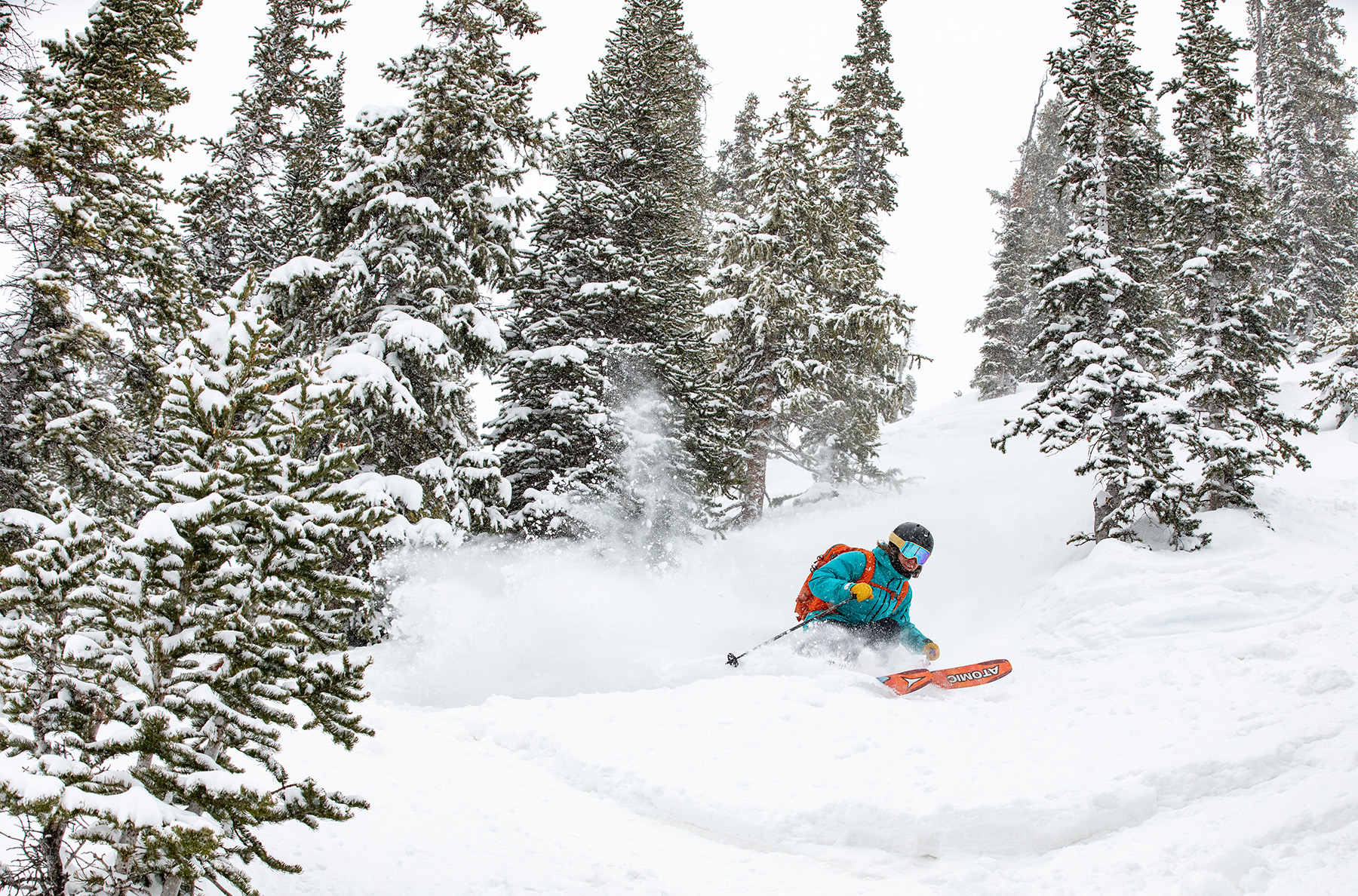 Dylan: Yep, the Bent 110 remains a playful, nimble ski in soft chop. Its biggest assets remain its low weight (including swing weight) and loose feel, and it's very easy to throw around and make quick adjustments. If you like to plow and charge your way through soft chop, though, you'll very likely find this ski lacking in composure and support. But, as Luke mentioned, very talented skiers with a balanced stance might not struggle with this as much as someone who is used to driving the shovels of their skis through soft chop and mostly pointing it down the fall line.
Firm Chop / Crud
Luke: The Bent 110's low weight becomes more obvious the firmer and rougher the snow gets. It gets knocked around a lot in firm, bumpy snow and definitely feels most at home in soft and/or consistent conditions. I ended up skiing it late one day when visibility was low, about a foot of snow had fallen the night before, and most of the groomers were now covered in barely visible piles of crud. Granted, those are challenging conditions for any ski / skier, but I found myself having a very hard time keeping the Bent 110 in check, with its stiff underfoot section feeling pretty harsh and its light tips getting knocked off track quite easily. All that is to say: if you want a ~110mm-wide ski that still feels pretty capable and practical in rough, challenging conditions, you'd be better off with something much heavier. While some skis around this width (e.g., Nordica Enforcer 110 Free) feel like "wider all-mountain skis," the Bent 110 strikes me as more of a "narrower powder ski."
Dylan: Agreed. If the snow is soft or even just smooth and consistent, the Bent 110 feels practical and capable. The rougher, firmer, and choppier the snow, the more this ski feels squirrely and unstable. Granted, it never felt harsh and unforgiving in very firm snow like some much stiffer, equally light skis can, just unsupportive and uninspiring.
Slush
Luke: While I think the Bent 110 is a ski that certainly feels most appropriate in soft conditions, those soft conditions don't necessarily have to be deep for the ski to be a lot of fun. Slush is the prime example of that.
In soft slush, where the snow is forgiving and providing the suspension (rather than requiring the ski to do so), the Bent 110's low weight becomes less of a liability and more of an asset. In these conditions, you can leverage the Bent 110's strong flex pattern around the middle of the ski and actually ski it pretty hard, while still taking advantage of its loose ride and low swing weight. That combination is great for skiing fairly fast in open terrain, but then also quickly throwing in a slash or popping off a pile of pushed-around snow. Compared to the Bent 100, the Bent 110 offers a substantially surfier, more playful ride in slush and also doesn't get bogged down as much when the slush is fairly deep. Fresh snow and deep chop aside, slush is where I think the Bent 110 really outshines its narrower sibling, whereas the Bent 100 feels more practical in most other non-pow-day scenarios.
Moguls, Trees, & Tight Terrain
Luke: As we alluded to above, the Bent 110 is a really maneuverable ski overall, especially in soft snow. Of the ~110mm-wide skis I've used, the Bent 110 would be near the top of my list for skiing tight, pow-filled trees. Its tips and tails are loose, it has a seemingly nonexistent swing weight, and it caters well to a pivoting / sliding / slarving style where you're turning the ski from your ankles.
That said, in tight terrain that's covered with firm snow, especially really tight mogul lines, the 188 cm Bent 110 can feel a bit big. Yes, it's really light for its size and pretty loose, but the middle of the ski is still quite stiff, and there's a lot of ski behind your boots, due to the centered mount point.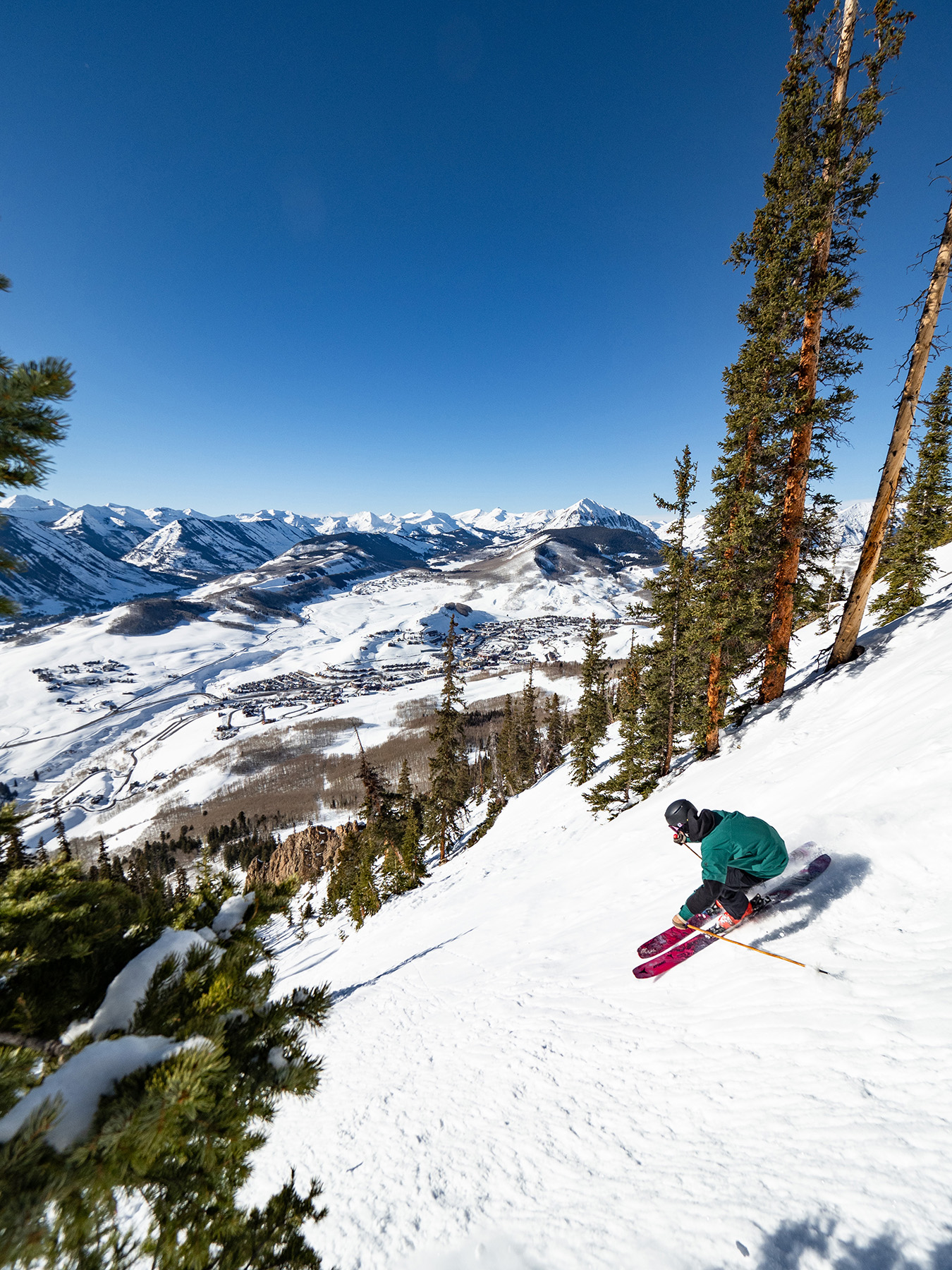 So there were definitely times where I felt myself getting punished / stood up by the tail of the Bent 110, but those were all in very tight bump lines that can make most skis feel a bit tricky to work with. Selfishly, I wish Atomic had stuck with the 120's sizing and offered the Bent 110 in a 184 cm length, since that's pretty perfect for me and my preferences, but I'm sure some other folks are the opposite and prefer the Bent 110's size splits. And of course, if you're used to skis with very centered mount points, this won't be as noteworthy; just keep in mind that, while its rockered tips and tails make it feel very playful, the Bent 110 is still quite strong through its cambered section.
Dylan: Absolutely, this is another place where the Bent 110 feels practical and at home. This ski is very quick and maneuverable, and ideal for tight terrain. Some stiffer, similarly light skis that aren't as easy to release encourage more of a dynamic style, picking up the tails from turn to turn (the Head Kore 111 is a great example of this), but the Bent 110 is very happy to slide its way through tight terrain, and it feels intuitive and forgiving. Luke is right when he mentions this ski's long tails and stiff flex pattern underfoot potentially being hard for some folks to handle, but he's also right when he reiterates that skiers used to skis with pretty centered mount points likely won't be troubled by this.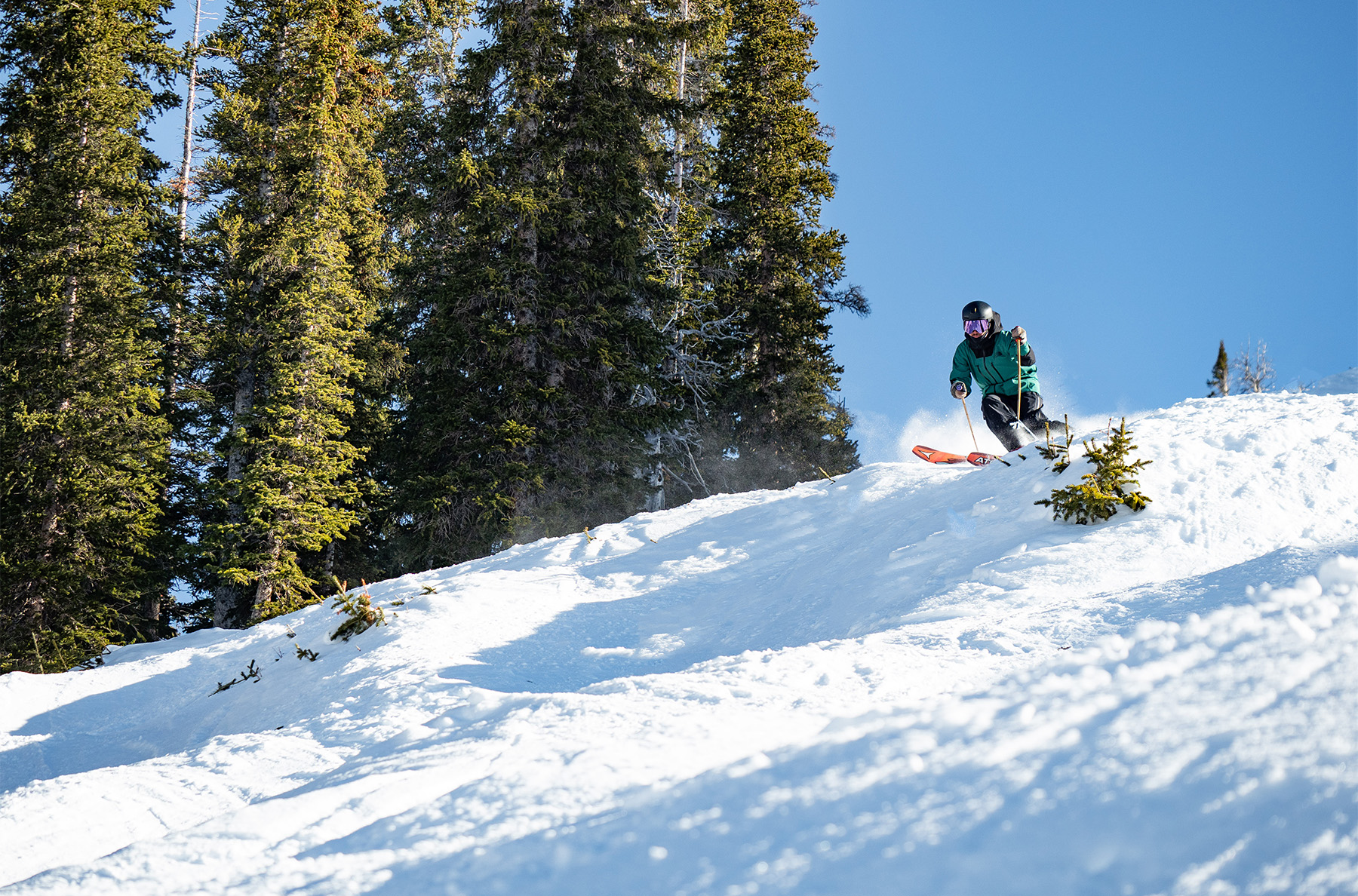 Regarding Luke's comment on length, you can consider me one of those "other folks" who is very happy to see the Bent 110 in a 188 cm length. At my height and weight (5'10", 155 lbs / 178 cm, 70 kg), I always thought the 184 cm Bent Chetler 120 was a bit short, while the 190 cm length seemed too long for how playful and light that ski was. The longer and somewhat heavier 188 cm Bent 110 definitely ups the stability without sacrificing much at all in the realm of playfulness or maneuverability (more on this comparison in our accompanying Deep Dive article).
Groomers
Luke: Not much to report here, other than that, for its width, the Bent 110 performs quite predictably on piste and on other firm, smooth conditions. It doesn't offer much in the way of turn initiation and I didn't find myself getting much energy out of it while carving, but its edge hold is surprisingly good.
Dylan: I agree. The Bent 110 isn't a very exciting ski on piste, but those who like to casually carve groomers to and from the lift shouldn't have much to complain about.
Playfulness
Luke: The Bent 110 is very playful in pretty much every interpretation of the word. It's loose and surfy. It's very balanced in the air. It's got an extremely low swing weight. It's got a twinned tail built for landing and taking off switch. Its tips and tails are easy to bend and press.
The Bent 110 isn't great for carving tight turns like, say, the Line Sir Francis Bacon / Outline, but other than that, I can't really think of an attribute related to the general term "playfulness" where the Bent 110 is lacking. I also appreciated the Bent 110's strong midsection on landings; for how relatively soft and loose its tips and tails feel, it offers a pretty big, supportive landing platform.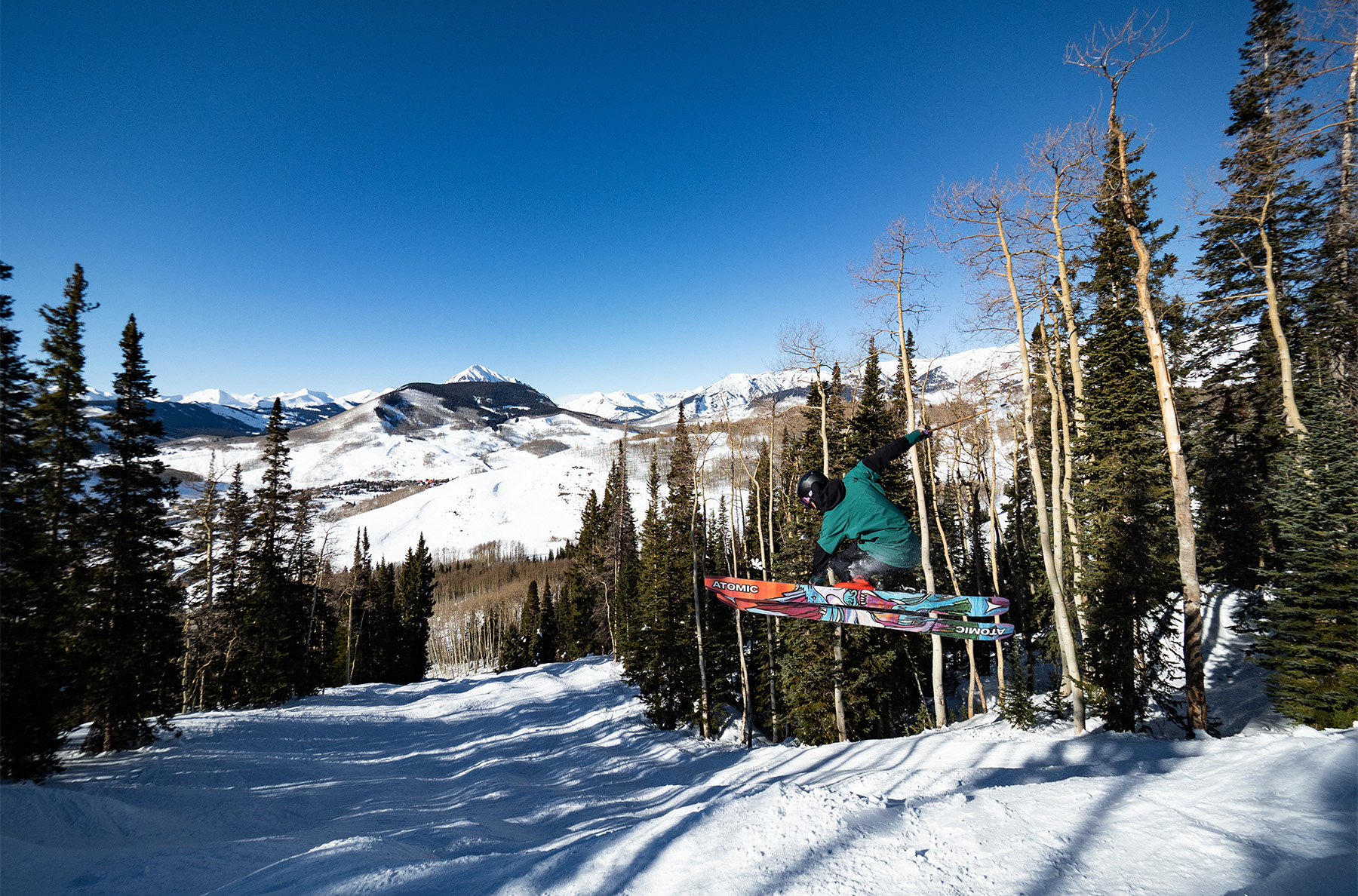 Dylan: Totally, the Bent 110 is a benchmark example of what playfulness means in a ski for all the reasons Luke mentioned above. And while you don't have to flip or spin to enjoy this ski, I might add that both of those things are very easy to do on the Bent 110, whether you are in the park or far from it.
Mount Point
Luke: As we touched on above, the Bent 110's recommended mount point (-3 cm from true center) encourages a pretty centered, upright stance. I also tried it about -1 and -2 cm behind that recommended line (equating to -4 and -5 cm from true center), and that didn't really change much. The ski felt a bit more intuitive when trying to drive it and initiate turns from the shovels, but not so much that I'd all of a sudden recommend it to directional skiers used to skis with very set-back mount points. Regardless of where you mount it, the Bent 110 feels like a ski that was specifically designed with centered, freestyle-oriented skiing in mind.
Dylan: I never felt compelled to mess with the mount point of this ski, given how cohesive it felt at its recommended line of -3 cm from true center.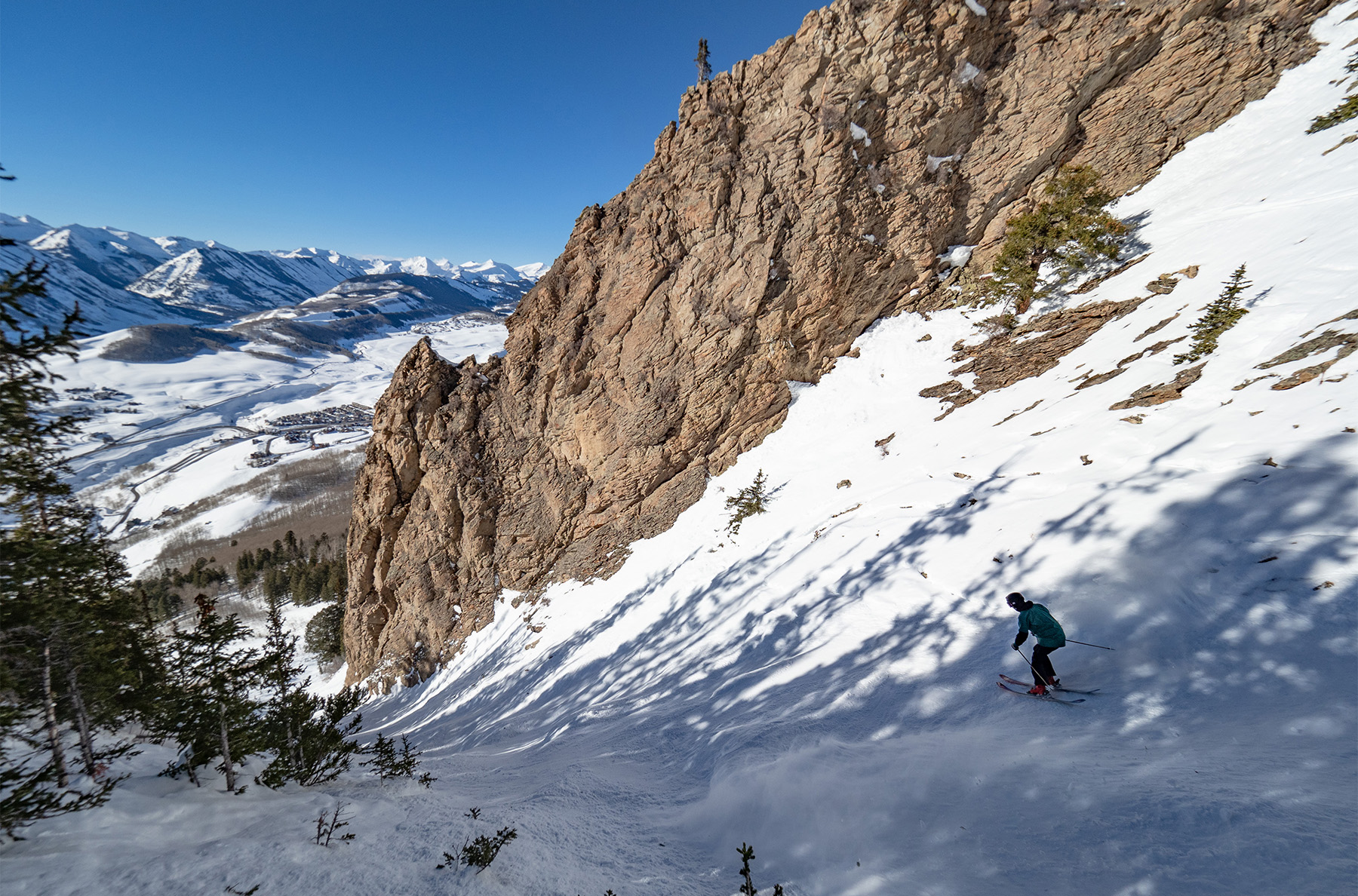 Who's It For?
Luke: In my mind, there are a few ideal scenarios for the Bent 110. Across, the board, I think it's definitely best suited to those who focus on freestyle skiing and/or just ski with a more centered, upright stance. I think some directional skiers who are accustomed to more rearward mount points will not find the Bent 110 all that intuitive.
The other thing to keep in mind is the Bent 110's weight, or more accurately, its lack of it. At about 1865 grams for the 188 cm length, the Bent 110 could certainly serve as a dedicated touring ski, especially if you don't need the lightest possible option but like the sound of the Bent 110's playful, maneuverable ride. It could also be a great 50/50 ski for use inside the resort and in the backcountry, and I think it makes the most sense in that context when you'd primarily be breaking it out in the resort when the conditions are pretty soft. Finally, as a lift-access-only ski, again, I think the Bent 110 makes the most sense when primarily used in soft conditions, and for skiers who place a much higher priority on maneuverability, quickness, and playfulness, rather than suspension or stability.
Dylan: Luke summed this up really well. While we often like to remind directional skiers looking for a maneuverable ski that they shouldn't be disregarding an all-mountain freestyle ski, I really don't think the Bent 110 is a practical choice for those who like to drive the shovels of their skis.
Instead, the Bent 110 makes a lot of sense if you want something quick, maneuverable, and playful — and you ski with a balanced, centered stance. I really liked it as a touring ski, and I think that anyone with even a smidge of interest in uphill skiing ought to consider mounting it with a 50/50 binding (e.g., Shift, Duke PT, CAST) or at least complementing it with a pair of Daymaker touring adapters once you realize how light it is.
Finally, if you'd like to take the guesswork out of your next gear decision, you can always become a Blister Member, submit a question through the Blister Member Clubhouse page, and we'll work individually with you to figure out which products would be ideal for you.
Bottom Line
The Atomic Bent 110 brings much of the popular Bent Chetler 120's playfulness, low weight, and maneuverability to a slightly more practical, narrower platform. Like its wider sibling, the Bent 110's standout traits are how nimble, surfy, and agile it feels, but those things come at the cost of stability, suspension, and composure in variable conditions. For those looking for a lightweight, freestyle-friendly ski for soft conditions, the Bent 110 offers a unique ride that could be a good fit, whether you plan on riding lifts or skinning uphill for your turns.
Deep Dive Comparisons
Become a Blister Member or Deep Dive subscriber to check out our Deep Dive comparisons of the Bent 110 to see how it compares to the Atomic Bent Chetler 120, Atomic Bent 100, Faction Mana 3, J Skis Slacker, Head Kore 111, Moment Deathwish, 4FRNT Hoji, Nordica Enforcer 110 Free, Icelantic Nomad 105, Prior Northwest 110, Kye Shapes Metamorph, K2 Reckoner 112, Dynastar M-Free 108, RMU YLE 110, Salomon QST Blank, & WNDR Alpine Intention 110.
Rocker Profile - Decambered
Tail Profile - Decambered