Ski: 2022-2023 Wagner Summit 109, 186 cm
Test Location: Mt. Crested Butte, Colorado
Days Skied: 5
Available Lengths: TBD
Blister's Measured Tip-to-Tail Length (straight-tape pull): 184.2 cm
Blister's Measured Weight per Ski: 2171 & 2191 grams
Stated Dimensions: 142-109-130 mm
Blister's Measured Dimensions: 141.7-107.9-129.1 mm
Stated Sidecut Radius (186 cm): 20.4 meters
Measured Tip & Tail Splay (ski decambered): 70 mm / 33 mm
Measured Traditional Camber Underfoot: 5 mm
Core Materials: beech/aspen + carbon fiber "torsion box" + fiberglass laminate
Base: sintered "extra thick"
Factory Recommended Mount Point: -7.3 cm from center; 84.8 cm from tail
Boots / Bindings / Wax: Tecnica Mach1 MV 130 / Marker Jester / mountainFLOW All-Temp

Intro
Back at our inaugural Blister Summit, Wagner did something they don't normally do — they created four "factory series" skis that were built for a general consumer in mind, rather than fully custom for one individual. The "Summit" series of skis were a big hit with a lot of attendees and many of our reviewers, and we've already talked a lot about the Summit 97, Summit 106, and Summit 107.
At this year's Blister Summit, Wagner unveiled a new ski in the collection, the Summit 109. Talking with Pete Wagner, here's how he described the design intention of the Summit 109: "A resort ski that is big enough to work well in pow, but versatile and comfortable when you're not in pow and dealing with chop, crud, and scraped off snow."
We started spending time on the Summit 109 back in February, and then continued to ski it throughout the season, so now it's time for a full review.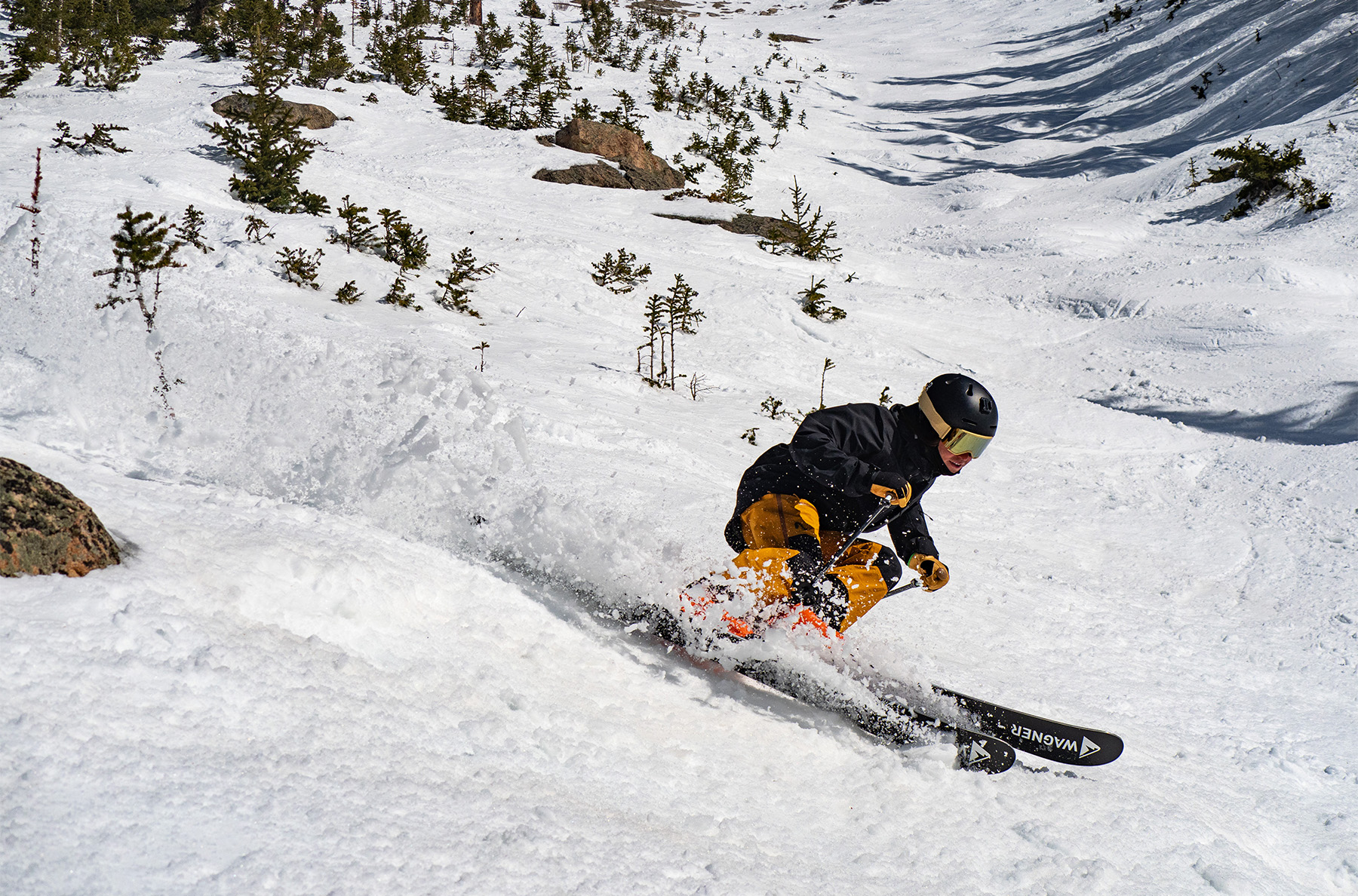 Construction
If you were to go the fully custom route with Wagner, you've got a lot of options to pick from when it comes to the materials used in your skis. The Summit 109 features a beech / aspen wood core, fiberglass laminate, and Wagner's "Carbon Fiber Torsion Box," which essentially means that there are strands of carbon fiber wrapped around the wood core, with the goal of increasing torsional rigidity without adding much weight. The Summit 109 also features Wagner's "extra thick" sintered base and edges, and P-Tex sidewalls. Like all of Wagner's skis, the Summit 109 is made in Telluride, Colorado.
Shape / Rocker Profile
The Summit 109 looks a lot like the other Wagner Summit skis, with fairly minimal tip and tail taper (particularly for a ski of its width). Its rocker lines are very similar to the Summit 106 and Summit 107, if not a tiny bit shallower than those skis. The Summit 109 also has a bit more camber than those skis; it definitely doesn't look like some super-rockered, super-tapered ski with a really soft-snow-oriented design.
Flex Pattern
Here's how we'd characterize the flex pattern of the Summit 109:
Tips: 6
Shovels: 6-6.5
In Front of Toe Piece: 7-9
Underfoot: 10
Behind the Heel Piece: 9.5-9
Tails: 8.5-6
This is a pretty moderate flex pattern overall, feeling very similar overall to the Summit 106 and Summit 109, though the Summit 109 feels a bit stiffer through the back half. Still, it's fairly soft at the very ends, and ramps up fairly slowly as you move from the shovels to the midsection, though it stays stiffer for longer from the midsection to the tail.
It's also important to note that, if you purchase a Wagner Summit ski, you can choose the "standard" flex pattern, a stiffer version, or a softer version.
Mount Point
This is one area where the Summit 109 differs from its counterparts — with a recommended mount point of about -7 cm from true center, the 109's mount point isn't as rearward / traditional as the other Summit skis. It's still not super close to center, but as we'll get into below, this slightly more forward mount point does translate to a different experience on snow.
Weight
At about 2180 grams per ski for the 186 cm length, the Summit 109 sits on the heavier end of the spectrum in the current market, where lightweight skis abound, but it's also got plenty of company in the ~2150-g zone.
For reference, here are our measured weights for some notable skis. Keep in mind the length differences to try to keep things apples to apples.
1820 & 1821 Majesty Havoc Carbon, 186 cm (20/21–22/23)
1833 & 1894 Head Kore 111, 184 cm (22/23)
1863 & 1872 Atomic Bent 110, 188 cm (22/23)
1875 & 1881 Line Sir Francis Bacon, 184 cm (19/20–22/23)
1895 & 1906 Folsom Trophy Carbon, 188 cm (18/19–21/22)
1905 & 1919 J Skis Slacker, 188 cm (20/21–21/22)
1920 & 2006 RMU North Shore YLE 110, 186 cm (21/22–22/23)
1947 & 2011 4FRNT Devastator, 186 cm (20/21–22/23)
1951 & 1953 Elan Ripstick 106, 188 cm (20/21–22/23)
1964 & 1972 Moment Deathwish, 184 cm (19/20–20/21)
1970 & 1973 4FRNT Renegade, 184 cm (20/21–22/23)
1970 & 1993 Moment Deathwish 104, 184 cm (21/22–22/23)
1993 & 2026 Black Crows Atris, 184.2 cm (19/20–21/22)
2008 & 2065 Wagner Summit 106, 186 cm (20/21–22/23)
2011 & 2028 Moment Wildcat 108, 184 cm (19/20–20/21)
2011 & 2046 Elan Ripstick 106 Black Edition, 188 cm (21/22–22/23)
2027 & 2052 K2 Reckoner 112, 184 cm (20/21–22/23)
2034 & 2052 Blizzard Rustler 11, 188 cm (17/18–21/22)
2046 & 2120 Black Crows Corvus, 188 cm (18/19–22/23)
2060 & 2075 4FRNT Hoji, 184 cm (21/22–22/23)
2096 & 2100 Salomon QST 106, 181 cm (19/20–21/22)
2110 & 2119 Moment Wildcat 108, 190 cm (19/20–20/21)
2112 & 2125 4FRNT MSP 107, 187 cm (18/19–22/23)
2116 & 2181 Faction Dictator 3.0, 188 cm (19/20–21/22)
2145 & 2167 Sego Big Horn 106, 187 cm (20/21–21/22)
2153 & 2184 Rossignol BLACKOPS Sender Ti, 187 cm (20/21–21/22)
2165 & 2211 K2 Mindbender 108Ti, 186 cm (19/20–21/22)
2165 & 2219 Icelantic Nomad 105, 191 cm (19/20–20/21)
2170 & 2180 Dynastar M-Free 108, 182 cm (20/21–22/23)
2171 & 2191 Wagner Summit 109, 186 cm (22/23)
2182 & 2218 Nordica Enforcer 110 Free, 185 cm (17/18–22/23)
2228 & 2270 Sego Comp 110, 187 cm (20/21–21/22)
2232 & 2242 Blizzard Cochise 106, 185 cm (20/21–22/23)
2243 & 2287 Salomon QST Blank, 186 cm (21/22–22/23)
2258 & 2303 Wagner Summit 107, 186 cm (21/22–22/23)
2295 & 2344 J Skis Hotshot, 183 cm (20/21–21/22)
2302 & 2342 Dynastar M-Free 108, 192 cm (20/21–22/23)
2312 & 2386 Prior Husume, 188 cm (17/18–21/22)
2353 & 2360 Volkl Katana 108, 184 cm (20/21–22/23)
2449 & 2493 J Skis Hotshot, 189 cm (20/21–21/22)
Now, onto how the Summit 109 performs on snow:
FULL REVIEW
Luke Koppa (5'8", 155 lbs / 173 cm, 70 kg): The Wagner Summit 109 made its debut at the Blister Summit this past season, and it was apparently quite popular there, cause it wasn't until the last day of the Blister Summit that I swung by the Wagner booth and someone else wasn't out skiing it. So I got a nice day of pow-hunting on it that week, and then proceeded to ski it for a few more days throughout the rest of the season, in a pretty wide range of conditions. Drew Kelly also got to ski it at the Blister Summit and was a big fan, despite us having pretty different skiing styles, so he'll be chiming in here, too.
Powder
Luke: When I first skied the Summit 109, we had received a couple feet of snow that week, and there were still some patches of untouched pow leftover, mostly in tighter trees. The Summit 109 felt pretty quick and easily maneuverable in those scenarios, with me not having to think too much about the ski to get it to do what I wanted. And that was a theme for me with this ski across pretty much all conditions and terrain — it never exhibited any weird or unpredictable behavior, and mostly let me forget about it (in a good way).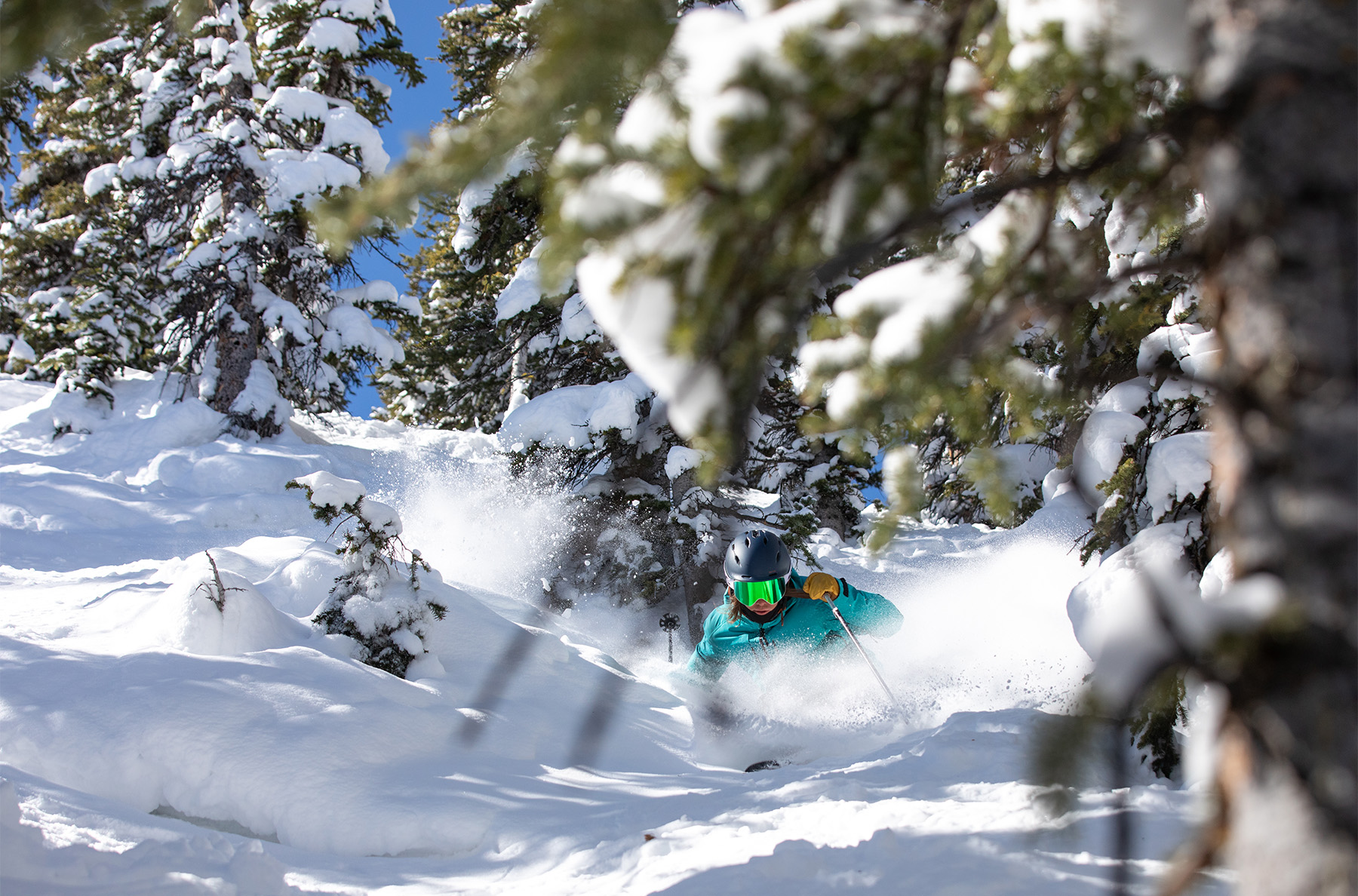 Earlier that day I had been skiing the RMU YLE 110, which is notably lighter, more rockered, more tapered, and more center-mounted than the Summit 109, and is one of the generally looser, easier skis I've used around this width. So compared to that ski, the Summit 109 required a bit more pressure on its shovels to get them to release and wasn't quite as intuitive when trying to ski from the backseat, though the two felt pretty similar in terms of flotation.
Overall, the Summit 109 falls somewhere in the middle of the pack in terms of powder performance for a ~110mm-wide ski. There are several looser, surfier options, but the Summit 109 is far from the most demanding or most locked-in.
Drew Kelly (5'11", 165 lbs / 180 cm, 75 kg): Like Luke, I also skied the Summit 109 at the Blister Summit, but skied it earlier in the week and was therefore able to test it in more untracked pow about 6-12 inches deep.
One of the first sensations I noticed when clicking into the Summit 109 was its mount point. I'm someone who typically gets along well with more rearward mounted skis (things in the -10 cm and back range), and was anxious about this relatively more forward-mounted ski (about -7 cm from the center of the ski) potentially messing with my pow-day mojo. Sometimes skis with more forward mounting points cause stubborn forward-leaning skiers like myself to feel as if the shovels are constantly punching into the fresh snow, especially in shorter-to-middling length skis (I often prefer pow skis around 190 cm or longer). What I found instead, as I dropped into my first turns down Headwall, was that the ski felt surprisingly balanced. No teetering required. I got a constant and confidence-inspiring buoyant feeling that I didn't have to work hard for at all.
And as I continued throughout the day, that feeling of intuitive balance persisted. To me, it felt like the perfect balance of sidecut in combination with fairly subtle tip splay and rocker lines. Especially on a day when I could still regularly feel the hardpack at the bottom of the fresh snow, the Summit 109 excelled.
Soft Chop & Slush
Luke: This is where I think just about any ~110mm-wide ski should feel most at home, and that certainly holds true for the Summit 109. Its combination of good stability, surprising agility, and versatility in terms of skiing stance all add up to a ski that can be fun to ski in a variety of ways in soft chop and slushy conditions.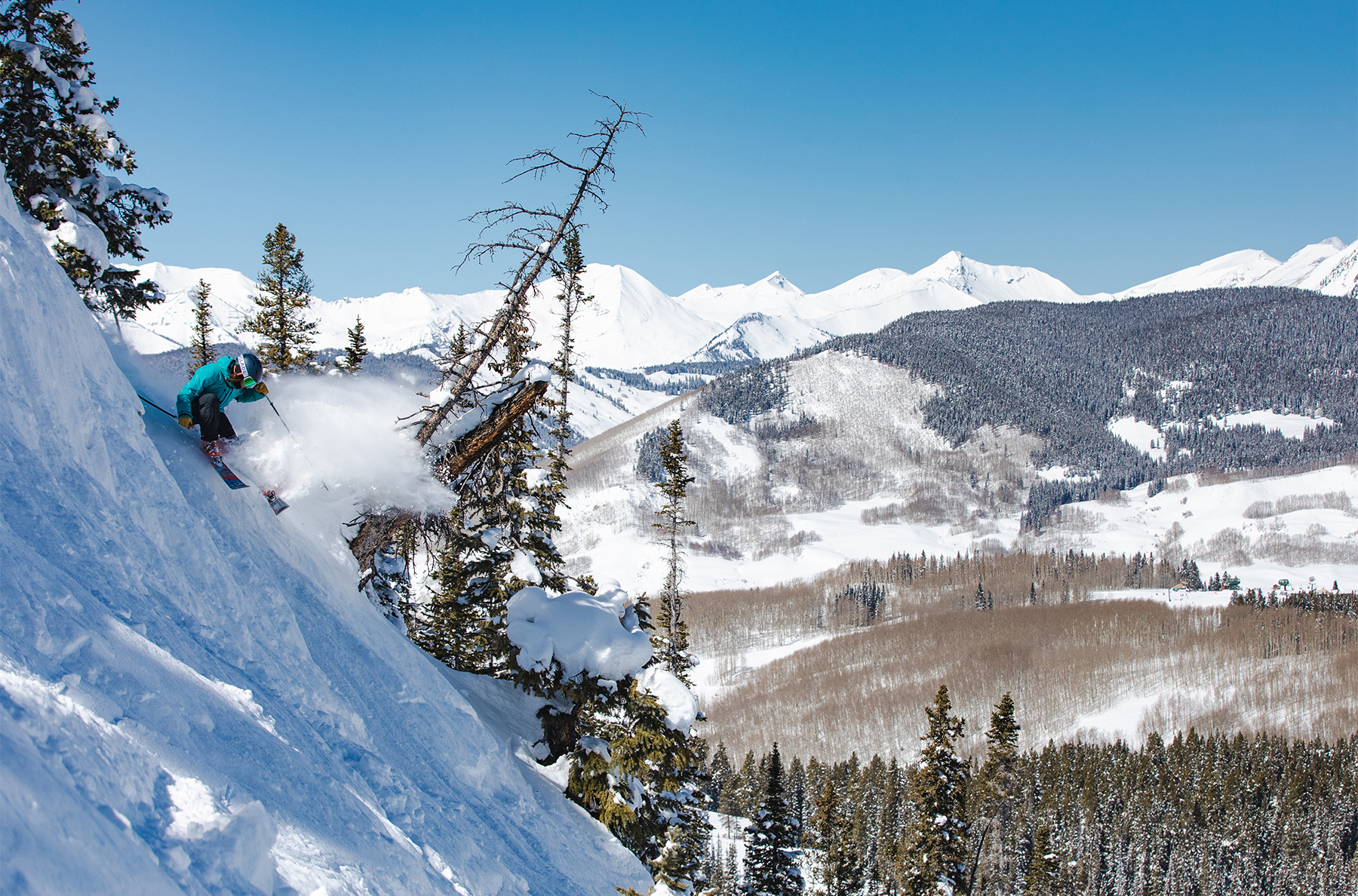 I got all my ski days on the Summit 109 before actually weighing it, and I was pretty surprised to find that it weighed at least 100-200 grams more than I would have guessed, based on its on-snow performance — and I mean that in both good ways and bad ways.
From the start, the Summit 109 felt quite quick for its size; in terms of swing weight, it definitely did not make me think it weighed over 2150 grams per ski. Even when searching for soft snow in Mt. Crested Butte's very tight trees, I didn't feel like the weight of the Summit 109 was holding me back from skiing in a pretty dynamic, light-on-my-feet style, which is not something I'd say about most skis that come in at similar weights.
On the other hand, the Summit 109 also doesn't feel as planted or composed when skiing fast through chop as some other similarly heavy skis. E.g., the tips of the 185 cm Nordica Enforcer 110 get knocked around less in variable snow, but the Summit 109 feels notably quicker, despite the two being pretty dang close when it comes to weight.
That said, the Summit 109 does offer a notably more stable ride in these conditions than its lighter sibling, the Summit 106 (which weighs about 2040 g). In terms of stability in chop, the Summit 109 does a nice job of filling the substantial void between the lightweight Summit 106 and pretty heavy Summit 107. If anything, I'd say the Summit 109 reminds me a bit more of the 106 than the 107; the Summit 107 is much more damp and planted, but also much more sluggish.
What all of that translates to on snow is a ski that can handle some fairly big, high-speed turns in low-density chop, but is also quite happy to pop off more consolidated piles. It's not what I'd recommend for those who want a super planted, steamroller-type ride (that's what the Summit 107 is for), but the balance the Summit 109 strikes between stability and quickness is pretty neat, and one that I think a lot of folks could enjoy.
Firm Chop & Crud
Luke: I kept skiing the Summit 109 well into the spring, which meant I inevitably encountered some still-refrozen, truly awful snow. While it handles these conditions better than most lighter skis (i.e., doesn't feel as jarring or get knocked around as much), its suspension is definitely not as smooth, plush, or shock-absorbing as most heavier skis. Few skis can make those miserable of conditions really fun, but if you're looking to feel as little of the rough snow as possible, the Summit 107 is definitely a better choice.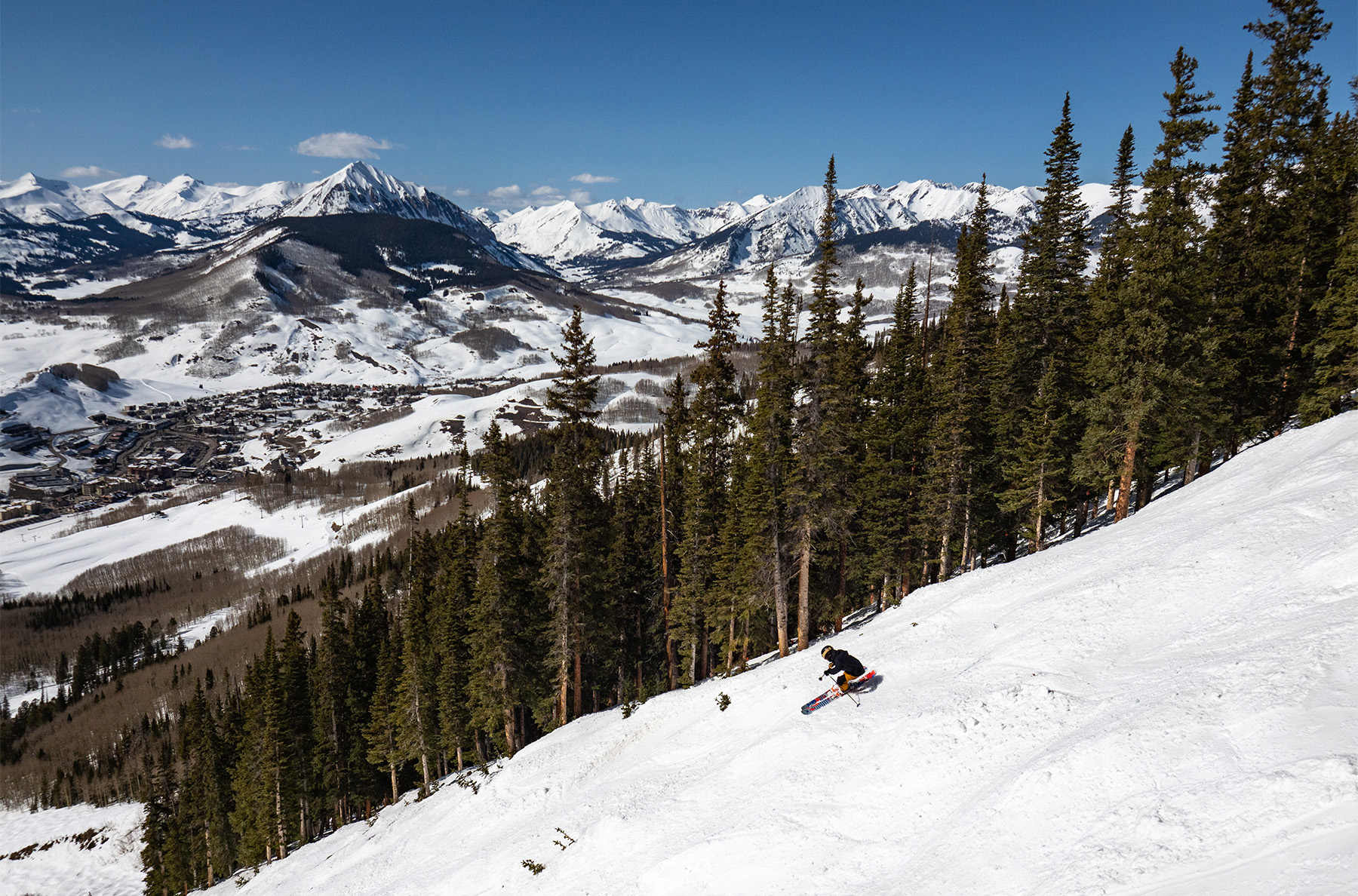 However, just like I said in the soft chop section, the Summit 109 is a step above the numerous lighter (~2000 g and lighter) skis in its class when it comes to suspension and stability, while feeling notably more agile and lively than most of the heavier alternatives. And in crud that's softer than fully refrozen but more set-up than fresh chop, the Summit 109 can still be skied pretty hard without feeling harsh or twitchy, you just have to adopt a more active, dynamic, light-on-your-feet style than you need to in softer conditions.
Moguls, Trees, & Tight Terrain
Luke: Overall, the Summit 109 is a pretty maneuverable ski — especially for its weight and dimensions.
As I mentioned above, the Summit 109's swing weight feels considerably lighter than I would expect if I just looked at how much the whole ski weighed on a scale. The word "sluggish" never came to mind when I was on this ski.
The Summit 109 is also pretty easy to release, slash sideways, and pivot through tight spots. It did feel a bit less loose / more precise on edge than the Summit 106, which I wasn't really expecting. I think part of this might come down to mount point — the Summit 109's -7 cm mount point is the farthest forward of all the Wagner Summit skis, and it consequently allows me to ski it more centered than those other skis. When I'm skiing more centered / not driving the shovels as much, I think shape and rocker profile play more of a role in how loose a ski feels, and the Summit 109 doesn't have super deep rocker lines or a lot of tip or tail taper like some of the looser, more forward-mounted skis in its class (e.g., RMU YLE 110 & Moment Wildcat 108). That's not to say the Summit 109 feels locked in, it's just not as loose as I expected.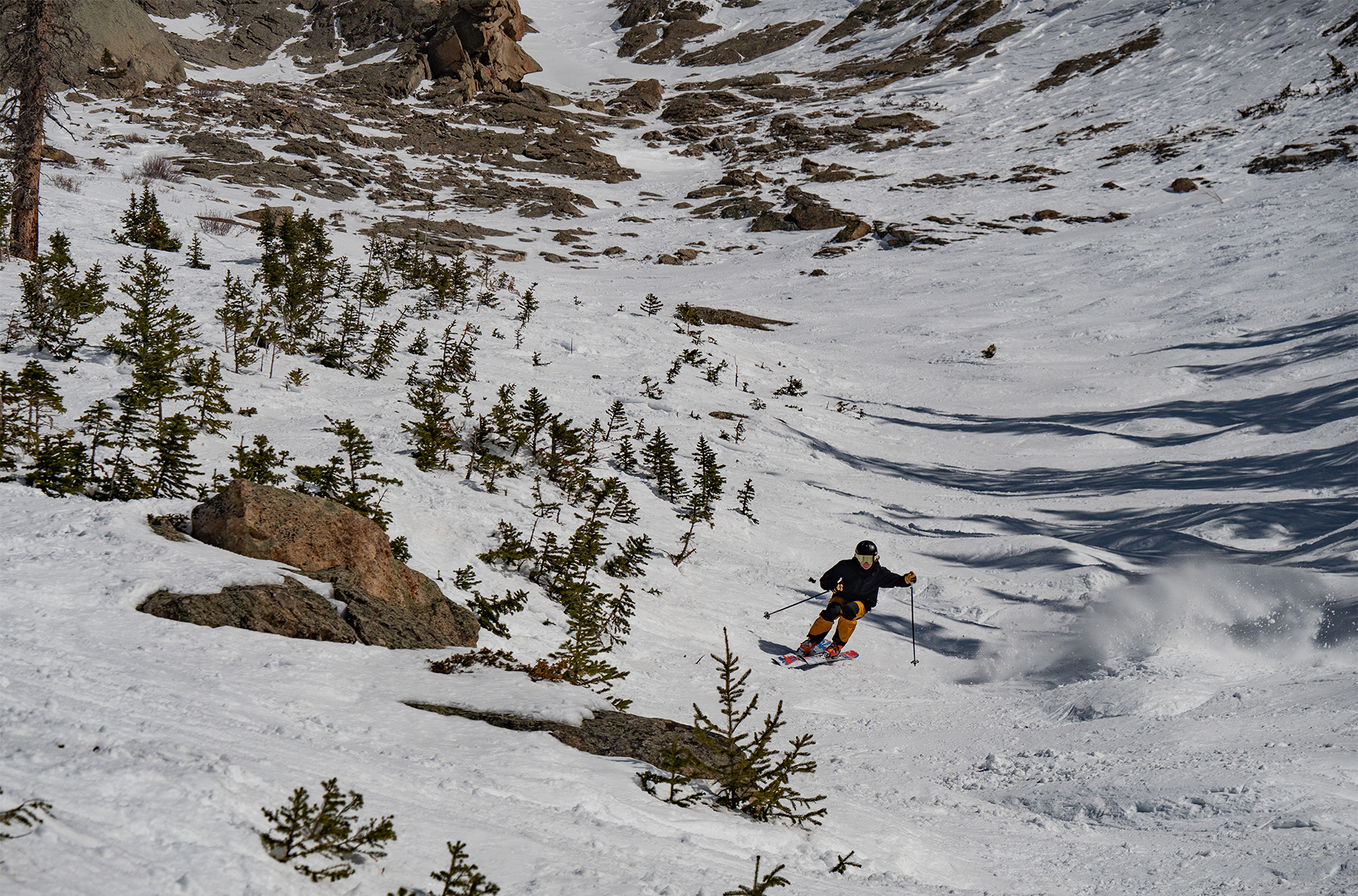 Now, one of the big upsides to the Summit 109's mount point is that it doesn't force you into skiing in only one way with only one stance. I could happily ski it pretty upright / centered in more spaced-out moguls, but I could also ski it with a pretty aggressive forward stance with lots of pressure on the front of my boots. And compared to other skis that let you drive them pretty hard in a directional style, the Summit 109 does feel pretty easy to release and slash around. I wouldn't recommend the Summit 109 (at least in this construction) to people who are very frequently skiing tight bumps from the backseat, but I always found it pretty easy to recover from a mistake on this ski.
Drew: In addition to pow-covered steeps, moguls and trees were the two other types of terrain I spent time skiing while on the Summit 109, and I agree with Luke's assessments here. I continued to be a little surprised by the disparate qualities this ski was exhibiting: while I could drive the Summit 109 hard in the steeps, linking large-radius turns, I could also be quite agile in tight, demanding bumps. The tips didn't unpredictably hook up or feel ungainly, and the tails felt very forgiving. Of the skis I've used, the standout maneuverability and feel of the current Blizzard Cochise 106 in bumps comes to mind as the nearest comparison: agile, oddly light-feeling, good suspension, fun.
Luke: Interesting; I never thought of the Cochise 106 while on the Summit 109, though I'm also generally skiing lighter, easier skis in bumps than Drew. FWIW, I find the Cochise 106 to feel more sluggish and more punishing of centered or backseat skiing.
Groomers
Luke: Overall, the Summit 109 carves really well for a nearly 110mm-wide ski; it's definitely above average on piste compared to most skis around the same width. It doesn't require much aggression to get it carving on edge, it offers very respectable edge hold on firm snow, and it even produces a nice amount of pop when exiting a hard carve.
The Summit 109 does feel a bit more biased toward medium- to large-radius turns than the Summit 106 and Summit 107; the 109 needs a bit more speed before you can start really laying it over, and it doesn't feel quite as engaging at low speeds and on flatter slopes. But unless you want to be able to carve really tight turns on your 110mm-wide skis, I doubt many people will find anything to complain about in terms of the Summit 109's on-piste capabilities.
Playfulness
Luke: The Summit 109 feels like a pretty playful directional ski. By that, I mean it's more playful than many directional skis when it comes to swing weight, energy / pop, maneuverability, and catering to a centered stance, but it's not a ski that feels like it always wants to be in the air spinning and flipping.
The Summit 109 doesn't take much effort to get it off the ground and it does feel fairly balanced in the air, but there's definitely a notable difference between it and more straight-up freestyle skis like the YLE 110 and Atomic Bent 110, particularly when it comes to how balanced they feel in the air, switch-skiing (and landing) performance, and how loose / surfy those feel.
Who's It For?
Luke: As I alluded to above, the Summit 109 is a ski that I think could make a whole bunch of skiers happy. So this is once again a case where I think the most efficient method is to outline who it's not for. And in my mind, that'd basically be (1) people who love really heavy skis because of how composed, calm, and damp they feel when skiing fast, even in rough snow, and (2) those who want a ski that sits on the opposite side of the spectrum, with minimum weight and maximum maneuverability. Also, at around 109 mm underfoot, the Summit 109 obviously isn't ideal if you're never going to be using it in soft conditions, though I'm sure plenty of people could be happy using it as their daily driver at a resort that rarely sees super firm conditions and does see lots of soft snow.
Outside of those categories, the Summit 109 offers a lot to like for a lot of people. It's more damp and stable than many lighter alternatives, but it's more agile and playful than heavier (and even similarly heavy) options. It can work for aggressive directional skiers, but it also allows you to ski it fairly centered and even skis switch pretty well. It feels most at home in soft snow, but it's also a very good carver and offers enough suspension and maneuverability to still feel fairly practical skiing all over the mountain when it hasn't snowed in weeks.
Bottom Line
The Wagner Summit 109 is a fairly wide ski that is a blast to ski in all sorts of soft conditions, yet it remains enjoyable long after the fresh lines have been cut up and packed down. It's difficult to neatly slot into an established category because it feels more agile than its weight suggests, still feels smoother and more stable than most lighter alternatives, and can be enjoyed by both directional and more playful skiers.
Deep Dive Comparisons
Become a Blister Member or Deep Dive subscriber to check out our Deep Dive comparisons of the Summit 109 to see how it compares to the Wagner Summit 106, Wagner Summit 107, K2 Mindbender 108Ti, Line Blade Optic 104, Nordica Enforcer 110, J Skis Hotshot, RMU YLE 110, WNDR Alpine Intention 110, Head Kore 111, Atomic Bent 110, Moment Commander 108, Salomon QST Blank, 4FRNT Hoji, Icelantic Nomad 105, Volkl Katana 108, Blizzard Cochise 106, Sego Comp 110, Dynastar M-Free 108, Black Crows Corvus, Prior Husume, 4FRNT MSP 107, Moment Wildcat 108, Fischer Ranger 108, Moment Deathwish, & Rossignol Sender Ti.
Rocker Profile (decambered)
Tail Profile (decambered)