Ski: 2022-2023 WNDR Alpine Intention 108, cambered, 188 cm
Available Lengths: 164, 170, 176, 182, 188, 194 cm
Blister's Measured Tip-to-Tail Length (straight-tape pull): 186.8 cm
Stated Weight per Ski: 2000 grams
Blister's Measured Weight per Ski: 1997 & 2003 grams
Stated Dimensions: 137-108-128 mm
Blister's Measured Dimensions: 137.4-108.4-128.2 mm
Stated Sidecut Radius (188 cm): 21.5 meters
Measured Tip & Tail Splay (ski decambered): 65.5 mm / 34 mm
Measured Traditional Camber Underfoot: 1 mm
Core Materials: aspen + algal-PU stringers + algal-PU sidewalls + "Spiral Plate" binding reinforcement + fiberglass laminate
Base: sintered
Factory Recommended Mount Point: -7.7 cm from center; 85.7 cm from tail

Intro
WNDR Alpine is now entering their third year of production, and among many other interesting projects, they've redesigned their original ski, the Intention.
Dropping from 110 to 108 mm underfoot, the 2022-2023 Intention 108 is still designed to be a do-everything backcountry ski, but it features some shape and flex updates, as well as some really cool new technology.
You'll soon be able to watch our Blister Summit Brand Lineup video with WNDR Alpine's Matt Sterbenz, where you can get the full story on what the brand has been up to. In this First Look, we'll take a quick, closer look at the Intention 108 in particular.
What WNDR Alpine says about the Intention 108
"Get ready, the all-new Intention 108 is here. With a slightly shorter turn radius and moderately stiffer flex than its predecessor, the Intention 108 is an outspoken yet creative dreamer. The Intention 108 is your thoughtful yet boisterous friend who likes to get rowdy on the descent while supporting your efforts when you hit the skin track. Unphased by your reservations in variable and unpredictable snowpack, its naturally derived bio-based materials unlock intuitive and balanced big mountain instincts."
Construction
All of WNDR Alpine's skis and boards feature various bio-based materials designed to increase performance and reduce environmental impact, which they sum up as "Algal Tech." This starts with the PU foam stringers that are inlaid with the ski's aspen wood core; that PU is made from algae, by WNDR Alpine, in partnership with the biotech company, Checkerspot. WNDR Alpine claims that the algal PU adds damping at less weight than a typical wood core, and we've attested to the fact that the WNDR Alpine skis we've reviewed have offered a very nice ride quality for their weight. (WNDR Alpine posts data for their claims about their materials for those who are interested.)
Next up is the Intention 108's sidewalls, which are also made of algal PU. They claim that their Algal Wall sidewalls offer better damping than traditional petroleum-based ABS, while not creating as much excess waste material because they are poured into a mold, rather than laminated and trimmed.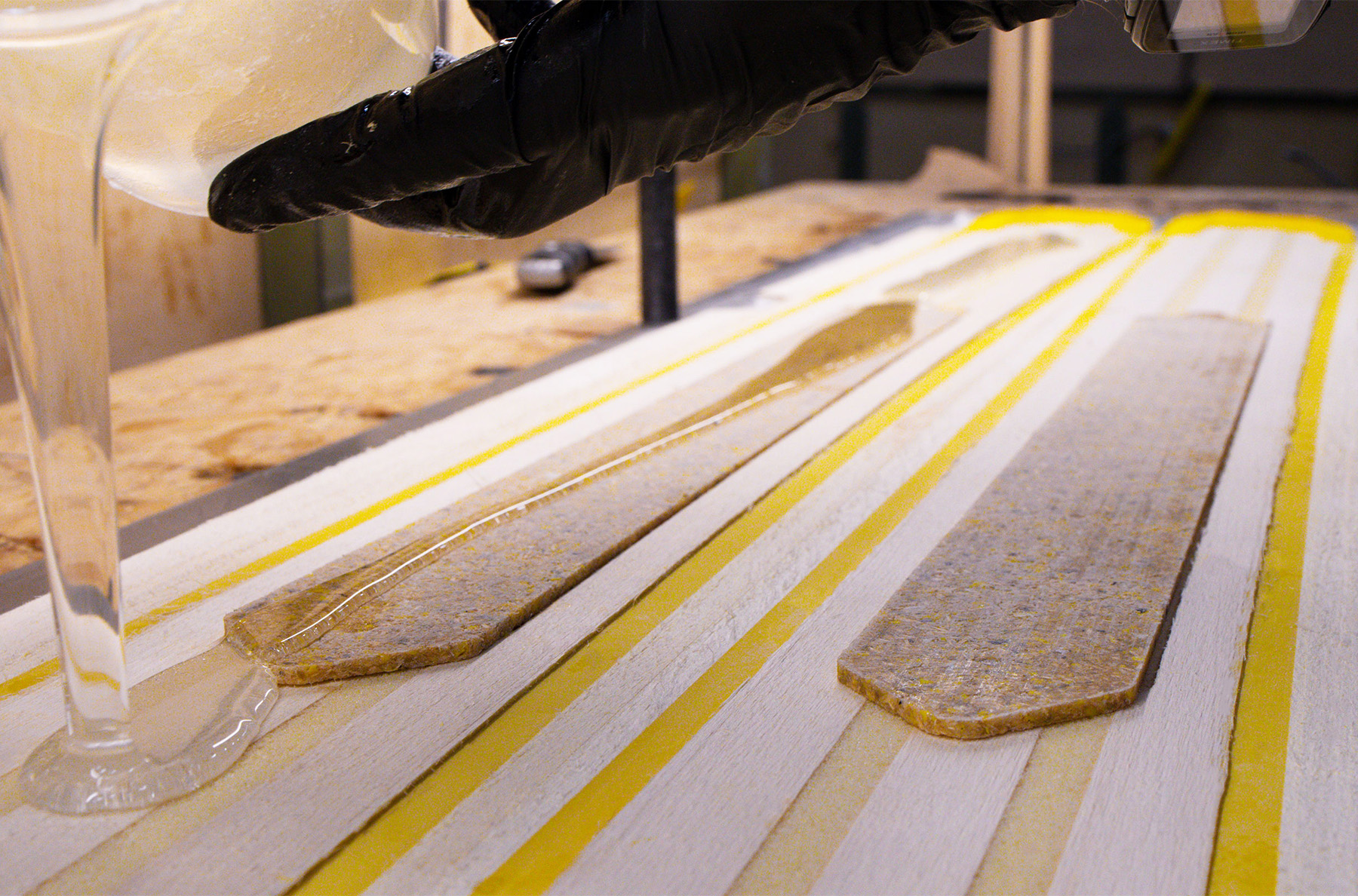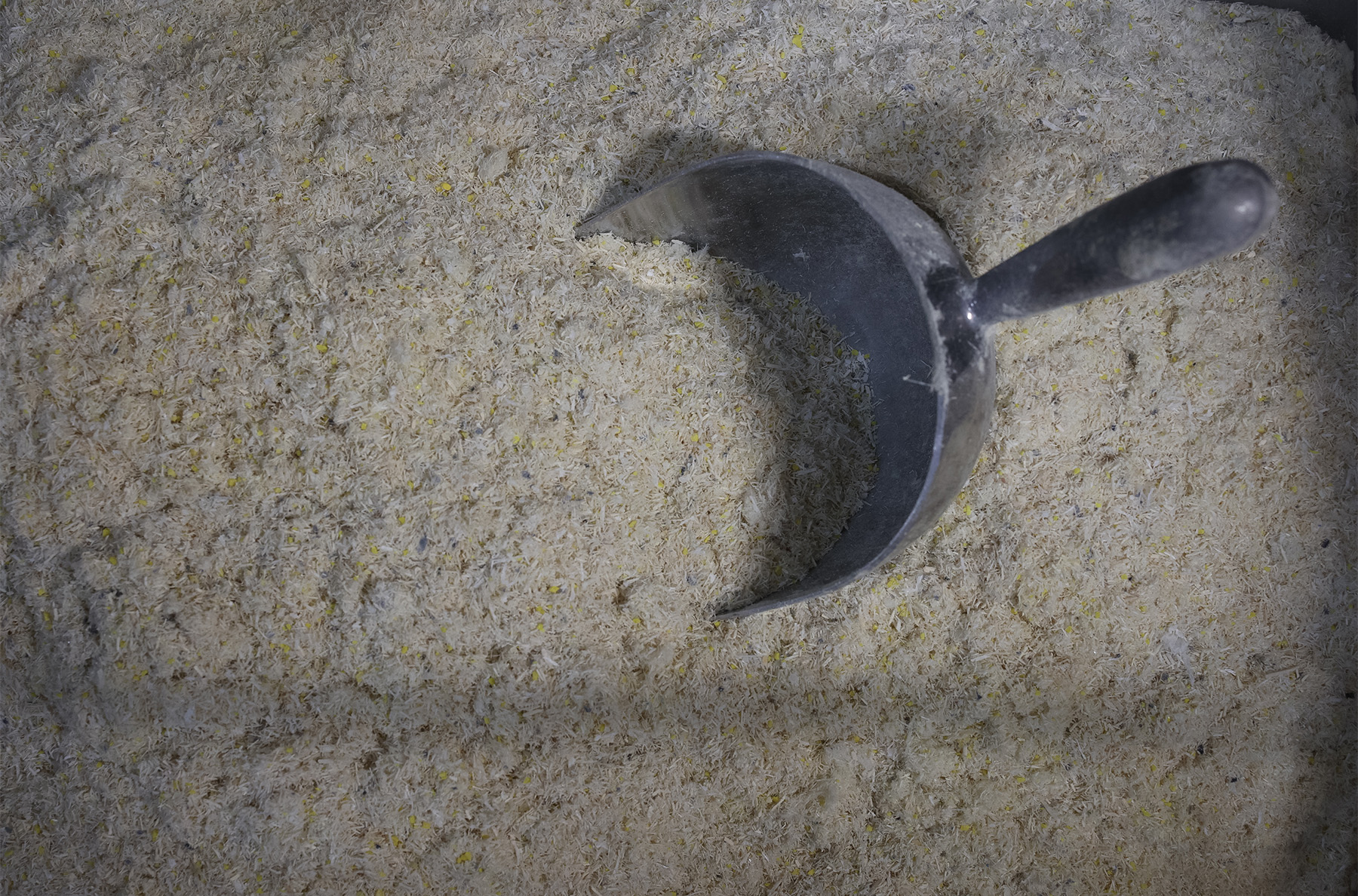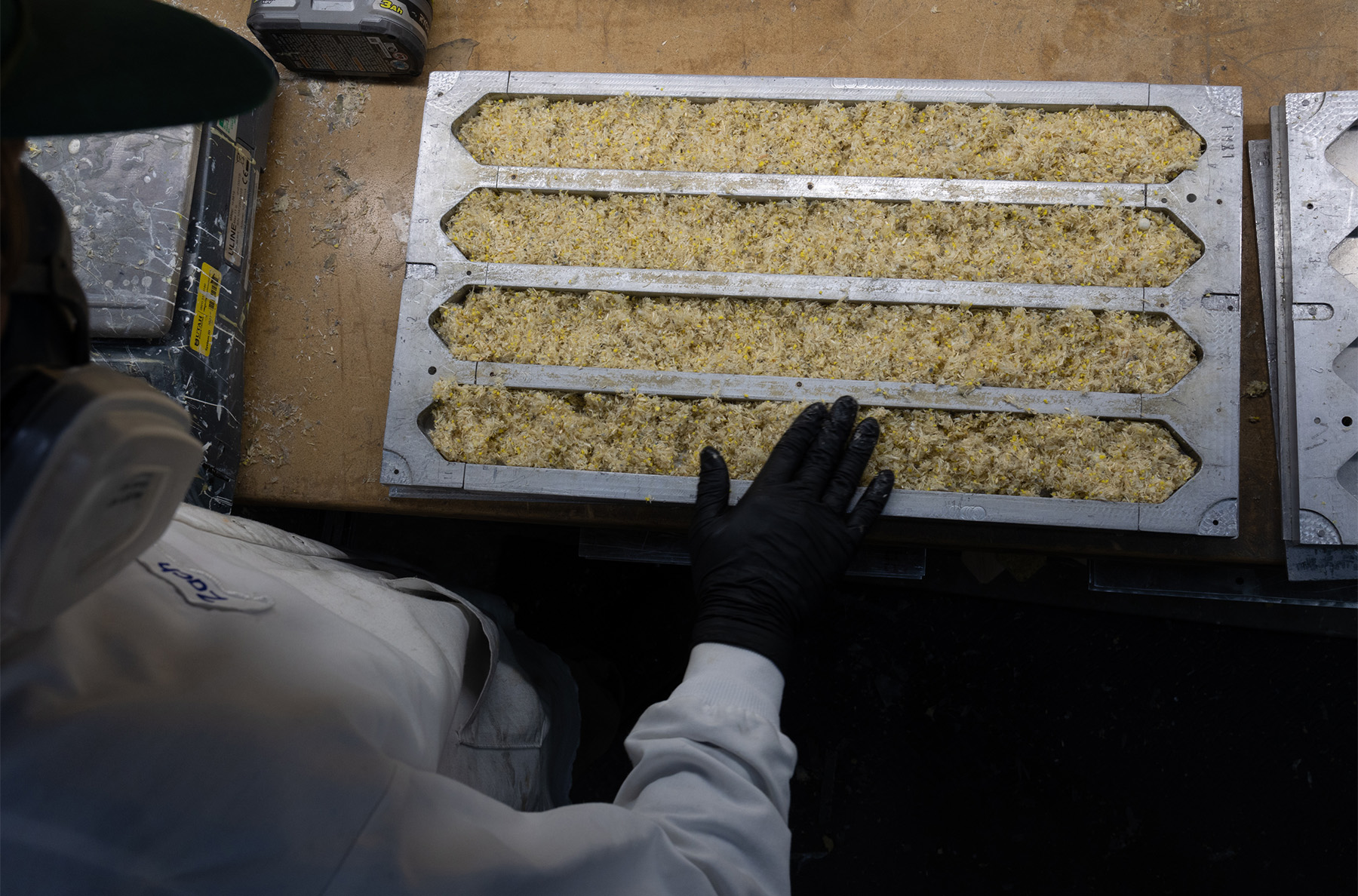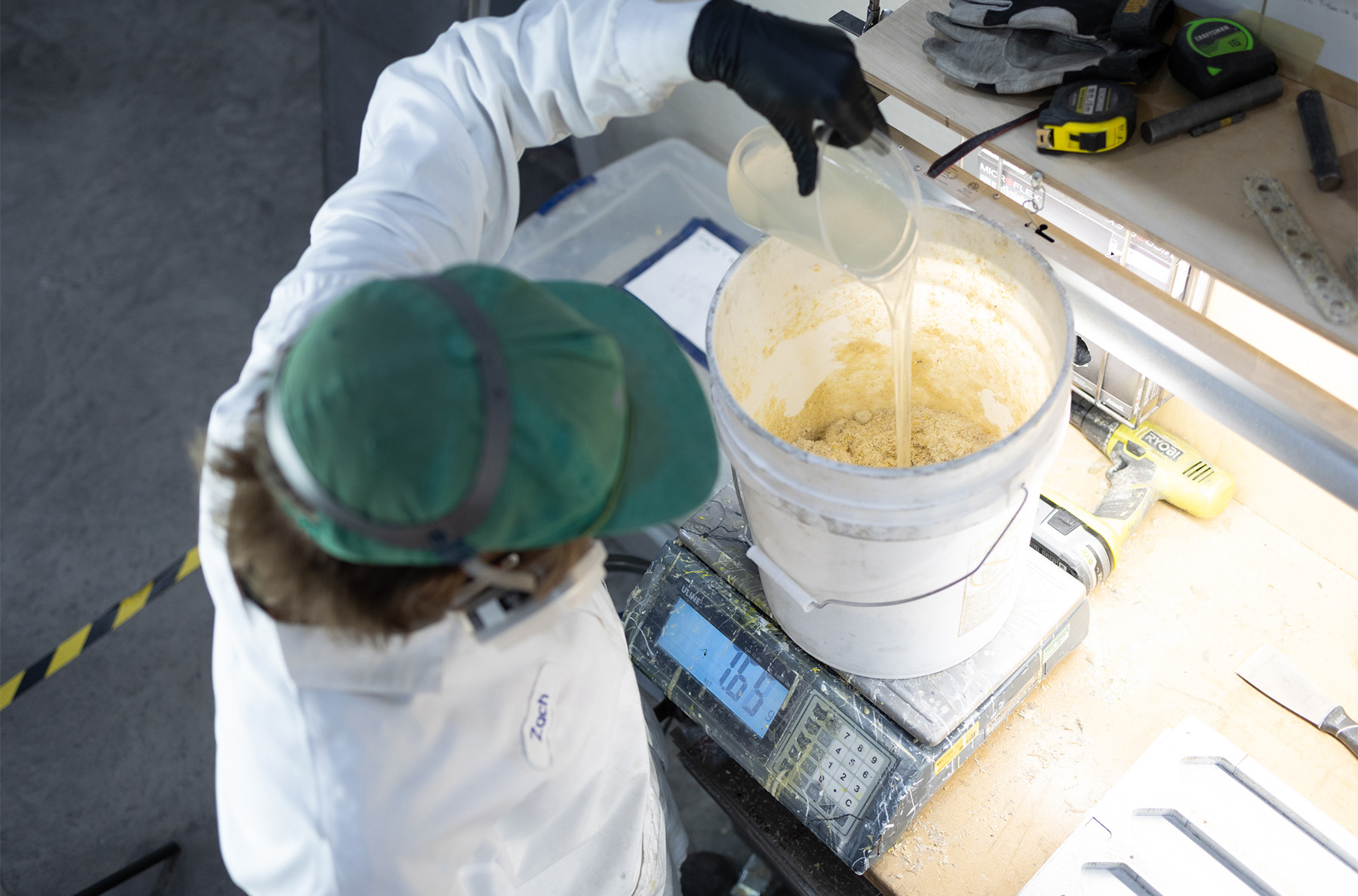 Finally, there's a new element for WNDR Alpine's construction, summarized under the "Spiral Made" moniker, which includes production processes and materials pertaining to recycling and waste reduction. For now, that includes the brand's new "Spiral Plate." For reference, most skis feature some sort of reinforcement around the binding area to reduce the chance of binding screws pulling out of the ski. Previously, WNDR Alpine had used an insert of maple wood for this. For 22/23, their Spiral Plate replaces that maple insert. Essentially, the Spiral Plate is made by taking the waste / flashing materials that are created when finishing a pressed ski, mixing them with a resin, and molding them into a cohesive plate. In short, they're using waste from a previous ski to help build a part of a new one, with the goal of reducing the net waste created. It's a pretty sweet concept, and it reportedly offers greater pull-out strength than the previous maple inserts.
Overall, WNDR Alpine says that 42% of their latest ski construction consists of bio-based or recycled materials, which is up from 30% for the first-generation Intention 110, and consists of more recycled material than their 21/22 construction.
Shape / Rocker Profile
Overall, the Intention 108 looks very similar to the Intention 110; it doesn't look like they've made any drastic changes to the tip and tail shape / taper, nor the depth of the rocker lines. For a ski this wide, the Intention 108 still has a fairly low level of early tapering at the tips and tails.
Same as all their skis, the Intention 108 is available in two rocker profiles: one with camber, and one that's fully reverse cambered. Our pair of the cambered Intention 108 does have a bit less camber than our Intention 110, but the depth of the rocker lines looks very similar to the previous ski. Compared to some other reverse-camber skis such as the 4FRNT Hoji, the reverse-cambered Intention 108 doesn't have quite as dramatic of a reverse-camber profile, with a longer section of the ski that looks pretty much "flat" around the middle. Here are WNDR Alpine's rocker images for both versions (we'll be posting our own rocker pics of the cambered version in the future).

Flex Pattern
Here's how we'd characterize the flex pattern of the Intention 108:
Tips: 6
Shovels: 6.5-7
In Front of Toe Piece: 7.5-9.5
Underfoot: 10
Behind the Heel Piece: 10-9
Tails: 8.5-6
Compared to the Intention 110, the Intention 108's flex pattern feels very similar overall. The main difference we noticed when hand-flexing the two is that the Intention 108 is a tiny bit softer at the very ends of the tips and tails, but a bit stiffer around the midsection (most notably behind the bindings). Overall, it's a pretty strong ski, but its tips and tails are pretty easy to bend.
Sidecut Radius
WNDR Alpine shortened the sidecut radius of the Intention by a bit, with the new 188 cm Intention 108's stated sidecut radius being 21.5 meters, whereas the old 185 cm Intention 110's was 22.6 meters. The goal of that change was to make the ski a bit more responsive and agile, without seriously hampering high-speed stability and maneuverability in deep snow.
Mount Point
Not much change here — the Intention 108 has a slightly more forward than average recommended mount point of about -7.5 cm from true center.
Length
This is one notable change from the previous Intention 110. The new Intention 108 is available in 164, 170, 176, 182, 188, and 194 cm lengths. WNDR Alpine said that they were specifically getting requests for lengths at the low and high end of the 180's, with some folks feeling caught between lengths with the old 178, 185, 191 cm length options. What hasn't changed is that the new Intention 108 is still available in a huge range of lengths that should give plenty of skiers a size that works for them.
Weight
Despite the tweaks to its construction, the Intention 108's weight has stayed pretty much the same, and may have dropped some weight relative to its size. Our pair of the 188 cm Intention 108 weighs about 2000 grams per ski, which is pretty much the same as our measured weight for the old 185 cm Intention 110. So this ski is still on the heavier end when compared to dedicated touring skis of a similar size, but it's still lighter than many resort-oriented skis around the same width.
For reference, here are a number of our measured weights (per ski in grams) for some notable skis. Keep in mind the length differences to try to keep things apples-to-apples.
1820 & 1821 Majesty Havoc Carbon, 186 cm (20/21–22/23)
1833 & 1894 Head Kore 111, 184 cm (22/23)
1863 & 1872 Atomic Bent 110, 188 cm (22/23)
1875 & 1881 Line Sir Francis Bacon, 184 cm (19/20–22/23)
1895 & 1906 Folsom Trophy Carbon, 188 cm (18/19–21/22)
1905 & 1919 J Skis Slacker, 188 cm (20/21–21/22)
1920 & 2006 RMU North Shore YLE 110, 186 cm (21/22–22/23)
1947 & 2011 4FRNT Devastator, 186 cm (20/21–22/23)
1951 & 1953 Elan Ripstick 106, 188 cm (20/21–22/23)
1964 & 1972 Moment Deathwish, 184 cm (19/20–20/21)
1970 & 1973 4FRNT Renegade, 184 cm (20/21–22/23)
1970 & 1993 Moment Deathwish 104, 184 cm (21/22–22/23)
1973 & 2005 WNDR Alpine Intention 110, 185 cm (21/22)
1993 & 2026 Black Crows Atris, 184.2 cm (19/20–21/22)
1997 & 2003 WNDR Alpine Intention 108, 188 cm (22/23)
2008 & 2065 Wagner Summit 106, 186 cm (20/21–22/23)
2011 & 2028 Moment Wildcat 108, 184 cm (19/20–20/21)
2011 & 2046 Elan Ripstick 106 Black Edition, 188 cm (21/22–22/23)
2027 & 2052 K2 Reckoner 112, 184 cm (20/21–22/23)
2034 & 2052 Blizzard Rustler 11, 188 cm (17/18–21/22)
2046 & 2120 Black Crows Corvus, 188 cm (18/19–22/23)
2060 & 2075 4FRNT Hoji, 184 cm (21/22–22/23)
2096 & 2100 Salomon QST 106, 181 cm (19/20–21/22)
2110 & 2119 Moment Wildcat 108, 190 cm (19/20–20/21)
2112 & 2125 4FRNT MSP 107, 187 cm (18/19–22/23)
2116 & 2181 Faction Dictator 3.0, 188 cm (19/20–21/22)
2145 & 2167 Sego Big Horn 106, 187 cm (20/21–21/22)
2153 & 2184 Rossignol BLACKOPS Sender Ti, 187 cm (20/21–21/22)
2165 & 2211 K2 Mindbender 108Ti, 186 cm (19/20–21/22)
2165 & 2219 Icelantic Nomad 105, 191 cm (19/20–20/21)
2170 & 2180 Dynastar M-Free 108, 182 cm (20/21–22/23)
2171 & 2191 Wagner Summit 109, 186 cm (22/23)
2182 & 2218 Nordica Enforcer 110 Free, 185 cm (17/18–22/23)
2228 & 2270 Sego Comp 110, 187 cm (20/21–21/22)
2232 & 2242 Blizzard Cochise 106, 185 cm (20/21–22/23)
2243 & 2287 Salomon QST Blank, 186 cm (21/22–22/23)
2258 & 2303 Wagner Summit 107, 186 cm (21/22–22/23)
2295 & 2344 J Skis Hotshot, 183 cm (20/21–21/22)
2302 & 2342 Dynastar M-Free 108, 192 cm (20/21–22/23)
2312 & 2386 Prior Husume, 188 cm (17/18–21/22)
2353 & 2360 Volkl Katana 108, 184 cm (20/21–22/23)
2449 & 2493 J Skis Hotshot, 189 cm (20/21–21/22)
Flash Review
Blister Members can read our Flash Review of the Intention 108 for our initial on-snow impressions. Become a Blister member now to check out this and all of our Flash Reviews, plus get exclusive deals and discounts on skis, and personalized gear recommendations from us.
Bottom Line (For Now)
The new WNDR Alpine Intention 108 looks like it maintains much of what we liked about the previous Intention 110, while managing to be built in a less environmentally harmful way. We'll be spending more time on the new ski next season, so stay tuned for updates.