The North Face Freethinker Futurelight Jacket
Reviewer: 5'10", 145 Ibs
Size Tested: Medium
Blister's Measured Weight, Jacket (size Medium): 598 grams
Fabric: 3-layer Futurelight waterproof / breathable membrane w/ 4-way stretch
Membrane: The North Face's Futurelight
Face Fabric: 70-denier recycled nylon
Backer: tricot
Stated Features
Hyperarticulated fit built around skiing and riding
Fixed, helmet-compatible drop hood with riveted cord-lock adjustment system
#5 YKK® AquaGuard®, two-way center front zip
Two #3 YKK® AquaGuard® zip, pack-friendly chest pockets/vents with radio loops
Pack-compatible, #3 YKK® AquaGuard® chest zip gives access to the interior of the jacket
#3 YKK® AquaGuard® zip wrist pocket with goggle wipe
Stay-down zip pulls
Bonded, Adjustable cuffs with pieced-in Velcro® closure
Integrated wrist gussets and elastic thumb-loop cuffs
Bonded, articulated, four-way stretch mini powder skirt
Jacket-to-pant integration
Ergo drop hem with riveted cord-lock adjustment system
Pockets:
2 exterior hand pockets (zippered)
1 chest pocket (zippered w/ both interior and exterior access)
1 exterior forearm pocket w/ goggle wipe and pass slot (zippered)
2 interior drop-in pockets
MSRP: $499
The North Face Freethinker Futurelight Pants
Size Tested: Medium
Blister's Measured Weight (size Medium): 638 grams
Fabric: 3-layer Futurelight waterproof / breathable membrane w/ 4-way stretch
Membrane: The North Face's Futurelight
Face Fabric: 70-denier recycled nylon
Backer: tricot
Stated Features:
Hyperarticulated fit built around skiing and riding
Removable suspenders
Integrated waist adjustment
Jacket-to-pant integration
Zip-fly
Two #3 YKK® AquaGuard® zip, harness-friendly, bonded bellow cargo pockets with gear clips
Lot Lift System
#5 YKK® AquaGuard® zip outer-leg vents with drop-seat feature
Integrated crotch gusset
Zip outseam hem gusset with additional snap adjustments
Stay-down zip pulls
Bonded, reinforced kickpatches and hem
Chimney Venting™ system
StretchVent™ gaiters with gripper elastic and boot hook
Pockets:
2 exterior thigh pockets (zippered)
MSRP: $425
Test Locations: Front Range & Summit County; CO
Days Tested (so far): 8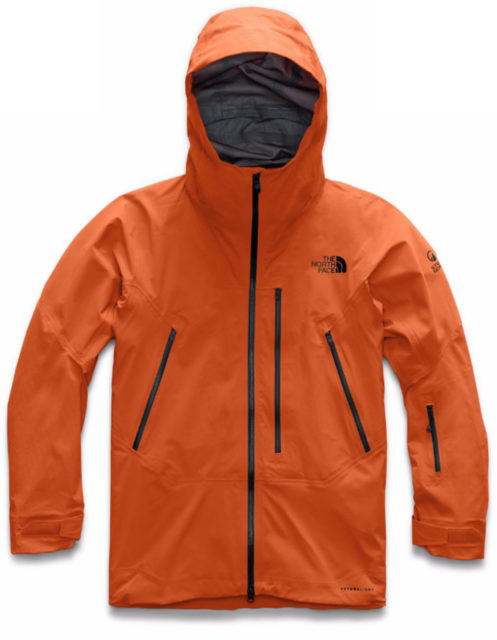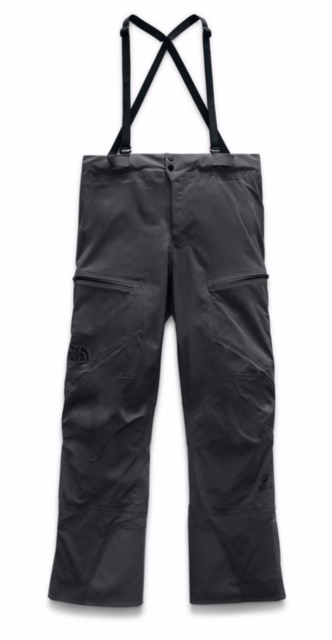 Intro
Futurelight. That's the apparel buzzword of the 2019-2020 winter season. Unless you're fully off the grid, you've probably seen the widespread marketing campaign surrounding The North Face's brand-new waterproof / breathable fabric, dubbed Futurelight.
First, if you're interested in learning much more about Futurelight, I sat down with Scott Mellin, The North Face's Global General Manager of Mountain Sports, on our GEAR:30 podcast to dive into the nitty-gritty of their new tech. You can listen to that entire conversation here for the backstory around the fabric, how The North Face tested it, how it differs from other waterproof / breathable fabrics, and much more.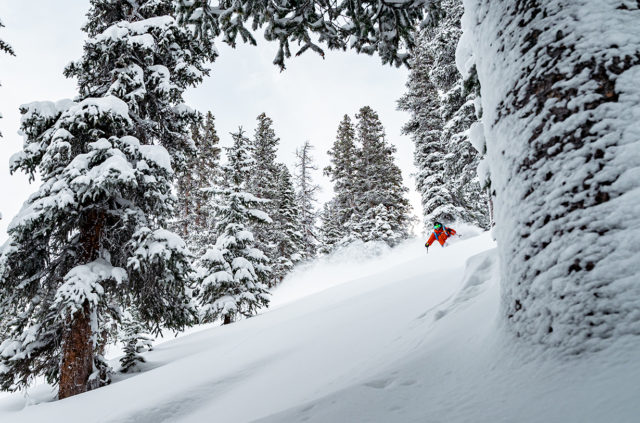 I've been able to log some time in The North Face's new Freethinker Futurelight Kit this season, and I am excited to share some of my initial thoughts. We'll also be posting a long-term update later in the year, so be sure to check back in for that. But for now, we'll dive into our first takeaways.
The Freethinker is The North Face's most minimal snowsports-oriented snow shell, designed for backcountry skiers and snowboarders who prioritize low weight and breathability. I've been using it during most of my early season touring in Colorado, and here's my initial take.
Fit
The fit of the Freethinker kit, as its name might suggest, is definitely on the baggier, more "freeride" side of the spectrum (despite being designed as a minimal kit). The size Medium makes for a generous fit on my 5'10" 145 lbs frame.
The Freethinker Jacket has plenty of room to layer underneath and the hem comes down well past my hips. The hem also drops down an inch or two in the back for coverage over the seat (the hem covers most of my butt when I sit down).
The Freethinker Jacket's sleeves hit just around my first knuckle with my arms at my side. They feel pretty average in length and I haven't had any issues with them being either too short or too long.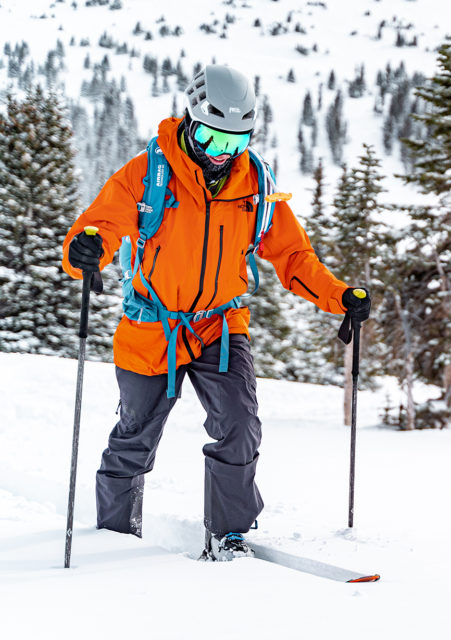 The jacket's hood is generous but not enormous. It fits over an average ski helmet, but without a ton of room to spare. The hood isn't as large as those on some other ski shells, but I think that many ski shells have hoods that are unnecessarily large. The hood on the Freethinker jacket feels just about right for a ski shell — I have full, unrestricted range of motion with the hood over a helmet, but I don't have a ton of extra fabric when the hood is down.
The Freethinker pants have a similar "freeride" cut, though I would say that, in comparison to the Freethinker Jacket, the pants are a bit less baggy. There is room in the leg for almost any underlayer you might want to wear under the pant, but the leg isn't so wide that it gets in the way while doing things like bootpacking or skinning. If I was spending a lot of time in crampons though, I would probably opt for something with a narrower leg.
The size Medium Freethinker Pant leaves room in the waist for me (granted, I have a pretty small 30" waist), but not so much room that the fit feels insecure. The pant includes an integrated and adjustable belt, its suspenders offer a large range of adjustment (and are easily removed), and I've been very happy with the fit. I would say that the size Medium Freethinker Pants would comfortably fit someone with up to a 34" inch waist.
Features
While it's the lightest and most minimal shell in The North Face's snowsports-oriented "Steep Series" collection, the Freethinker kit doesn't skimp on many features. It has most of the standard ski / snowboard shell features and a couple of interesting (and useful) other features, too.
The Freethinker Jacket has two zippered hand pockets on the front, one very large external chest pocket, and a forearm pocket with an included cloth for cleaning goggle lenses. The chest and hand pockets double as ventilation since they are partially lined with mesh that goes to the interior of the jacket (the jacket doesn't have pit zips). The hand pockets are plenty large for most things I might throw in them (goggles, snacks, a full-sized posi screwdriver, etc.) but not quite large enough to fit most skins (though you might be able to jam some small, ski-mo skins in there).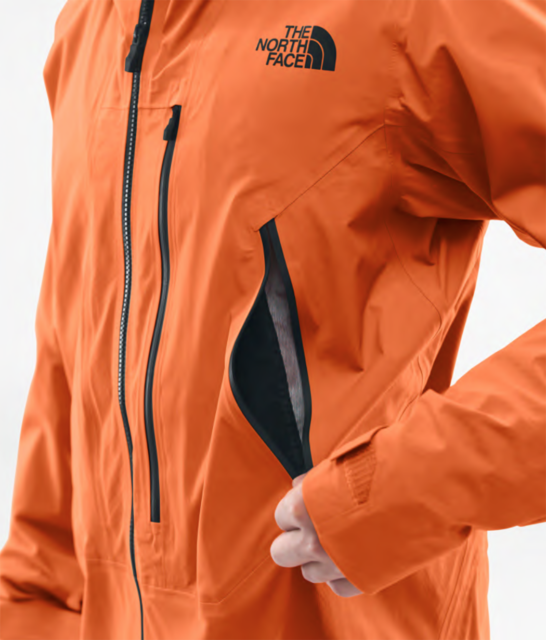 The Freethinker Jacket's chest pocket is quite large and has an elastic sleeve for a radio near the bottom of the pocket. This chest pocket also has a pass-through zipper to the inside of the jacket. This zipper connects the inside of the chest pocket with the inside of the jacket (the zipper pull is on the inside of the jacket). Theoretically, you could put something in the chest pocket from the inside of the jacket through this zipper. But in practice, I can't think of a scenario where I would actually use this feature. What would be useful for me is a zipper that allows access to the Freethinker's two interior drop-in pockets without having to open the jacket's main front zipper on cold / snowy days. However, the access zipper in the chest pocket is too small to put my hand completely through (the zipper is 4.5" / 11.5 cm long), and it is so high in the chest pocket that I wouldn't be able to access the drop-in pocket even if the zipper was longer. This is a bit of a confusing feature. You might be able to access your midlayer's chest pocket through the Freethinker Jacket's access pocket, but that would completely depend on the particular midlayer.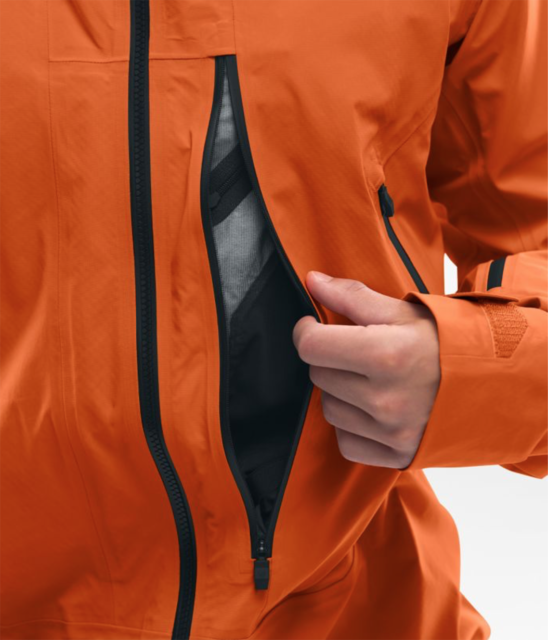 The Freethinker Jacket also has a minimal, "half powder skirt." The powder skirt is not adjustable and only offers coverage in the back-half of the jacket. I am a personal fan of powder skirts and I wish the Freethinker had a full powder skirt for increased snow protection when not wearing a pack as I've occasionally gotten snow up the front of the jacket. However, if you're not a powder skirt fan, you likely won't even notice that it's there.
The Freethinker Pant has a much more standard set of features — save for one. The pant features a full drop seat that doubles as dual leg vents (each 51 cm / 20 in long), built-in adjustable waist belt, removable suspenders, two thigh pockets, adjustable snow gaiter at the cuff, and reinforced fabric on the cuffs. All pretty standard stuff, and all of those features perform as expected. The two thigh pockets each have elastic loops that you could clip a beacon to, if you choose to do so.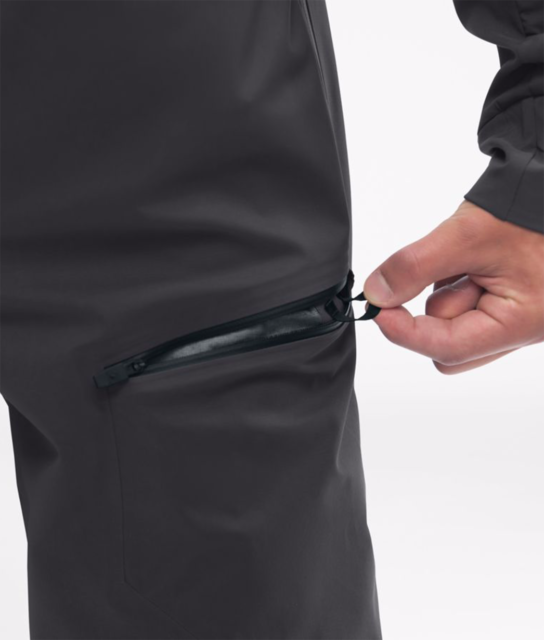 The one not-so-standard feature on the Freethinker Pants is what The North Face calls the "Lot Lift System." The idea is that, if the legs of the pant are too long and drag on the ground when you're walking around without your boots on, you can pull a cord in each of the thigh pockets that cinches the legs up to keep them off the ground. I used to occasionally see this feature on super baggy pants that were designed for park skiing, but I haven't worn a pant with this feature in a long time.
I think the Lot Lift system works pretty well and I find myself using it just about every time I wear the pants while I'm not wearing boots. It is quick and easy to use (both to cinch up the leg and release the leg) and it doesn't seem to add too much bulk to the lower leg of the pant. I'm not sure the Freethinker pant is quite baggy enough to completely warrant this feature, but I find myself using it all the same.
Weight
The Freethinker kit comes in at a very average weight for a hardshell — heavier than some dedicated touring shells, but lighter than some burly inbounds shells.
Industry staples like the Patagonia PowSlayer and Arc'teryx Sabre are only a few grams off the weight of the Freethinker. However, I would say that the Freethinker's weight comes in large part due to its generous set of features rather than the materials used. The Freethinker's fabric is fairly light and not as burly as either the PowSlayer or the Sabre.
With that said, here are our measured weights for some notable pieces in this category and how they compare to the Freethinker Jacket & Pants. Note the size differences to keep things apples-to-apples.
Jackets:
364 g Black Diamond Helio Active Shell, size Medium
366 g Patagonia Ascensionist Jacket, size Medium
435 g Arc'teryx Rush LT Jacket, size Medium
518 g Flylow Cooper Jacket, size Medium
544 g Outdoor Research Hemispheres Jacket, size Medium
563 g Rab Sharp Edge Jacket, size Medium
574 g Amundsen Peak Anorak, size Medium
590 g Flylow Higgins Coat 2.1, size Large
593 g Patagonia PowSlayer Jacket, size Large
598 g The North Face Freethinker Jacket, size Medium
605 g Patagonia Descensionist Jacket, size Medium
610 g Strafe Cham Jacket, size Large
615 g Patagonia SnowDrifter Jacket, size Medium
626 g Arc'teryx Sabre LT Jacket, size Medium
635 g Mammut Alvier Armor Hardshell Jacket, size Medium
665 g Norrona Tamok Gore-Tex Pro Jacket, size Medium
726 g Holden M-51 Fishtail 3 Layer Jacket, size Medium
825 g The North Face Ceptor Jacket, size Medium
841 g Strafe Pyramid Jacket, size Large
848 g Open Wear Open One 3L Shell Jacket, size Medium
1047 g FW Manifest 3L Jacket, size Large
Pants:
441 g Norrona Lyngen Windstopper Hybrid Pants, size Large
485 g Strafe Cham Pants, size Large
494 g Patagonia Descensionist Pants, size Medium
539 g Arc'teryx Rush LT Pant, size Medium
555 g Open Wear Open One 3L Shell Pants, size Medium
603 g Patagonia PowSlayer Bibs, size Large
608 g Patagonia SnowDrifter Bibs, size Medium
618 g Rab Sharp Edge Pants, size Medium
620 g Arc'teryx Sabre Pants, size Large
635 g Spyder Turret GTX Shell Pants, size Medium
638 g The North Face Freethinker Pants, size Medium
723 g Black Diamond Mission Pants, size Medium
775 g FW Manifest 3L Pants, size Large
896 g Flylow Baker Bib, size Small
Materials
Finally! Let's talk Futurelight. The 3-layer fabric / laminate that is used on the Freethinker kit is pretty lightweight. It has a supple hand feel and very low-resistance drape (i.e., not much structure). The fabric is also rather stretchy, which gives the Freethinker great range of motion (granted, the cut is relatively generous so much of that range of motion comes from the patterning, rather than the stretch fabric).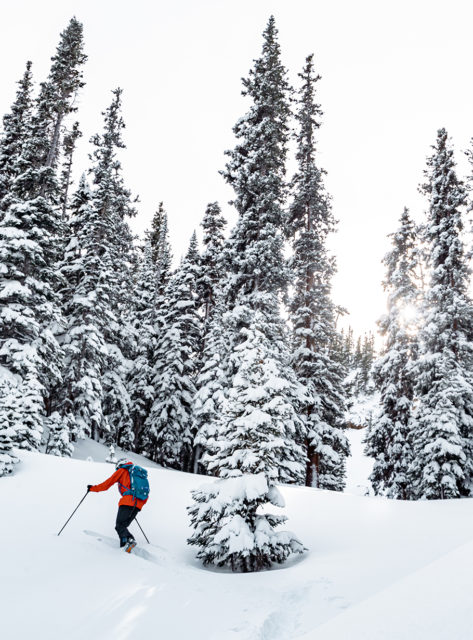 One thing I like to talk about with fabrics and garments is the relationship between the structure / substance of the fabric and the weight and added features of the piece. I think that, when a company nails that relationship, is when a good jacket can become a great jacket. If the fabric is super supple but the added features and pockets are heavy, the jacket tends to flop around, the drape can feel odd, and it is sometimes more difficult to take it on and off. If the fabric is super stiff and substantial with minimal features, then the jacket can feel sort of like a suit of armor — unwieldy, overly stiff, and often times quite loud.
The Freethinker falls into the former category — the fabric doesn't have quite enough structure to hold up to the weight of the pockets, adjustments, etc. It isn't all that bad by any means, but this jacket feels a bit weighed down by the zippers and other notions. Very few pieces nail this ratio and most people won't notice it, but it also means I'm still looking for my perfect jacket…
Compared to the waterproof hardshell market, though, the Freethinker's fabric definitely falls on the more supple and comfortable end of the spectrum (it's not nearly as stiff and crinkly as most Gore-Tex or Gore-Tex Pro fabrics).
Weather Resistance
The Futurelight membrane is an air-permeable and tunable electrospun polyurethane (PU) mesh. That's a lot of words that essentially mean it's designed to maximize breathability while maintaining acceptable levels of weather resistance. And when we say the Futurelight membrane is "tunable," we mean that The North Face can theoretically change the levels of water resistance and breathability, depending on the piece. So for this review, I'm specifically talking about how the Freethinker's iteration of the Futurelight membrane performs. We're hoping to get in more Futurelight pieces to see just how much they vary in terms of weather resistance and breathability.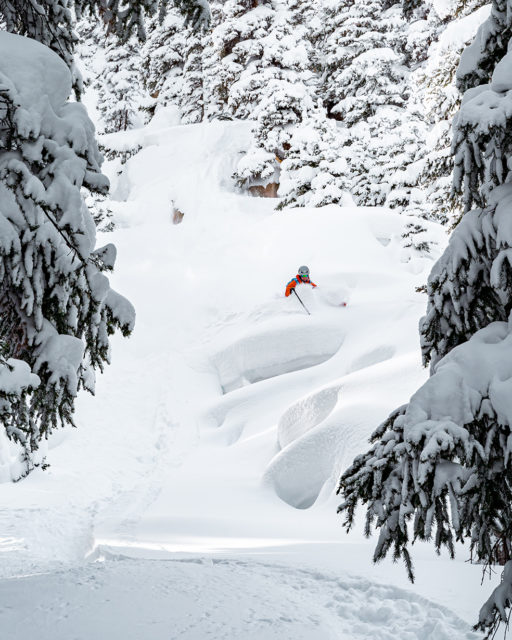 Unfortunately, in the eight days that I've so far worn the Freethinker kit, I haven't been able to get it into any truly terrible, extremely wet weather. I did tour with it on one wet storm day with no issues to report (i.e., no water penetrated the fabric), but I'll be updating this review later in the season once I've been able to get into some more bad weather. My initial impressions are quite positive, but I'll be reporting back as soon as I can say more about its wind and water resistance.
We will also be sending the Freethinker Jacket out to our reviewer Andrew Forward in Alaska, where he'll be able to really test its weather resistance in the wet maritime climate, and also its durability (Andrew tends to be very hard in his gear). Stay tuned to this review for his take later in the year.
Breathability
So far, I have been quite pleased with the level of breathability that I've experienced in this kit. I've taken it on some pretty long and strenuous tours and I've rarely had to shed the jacket or open up the pant's leg vents. For a waterproof shell, that's very impressive.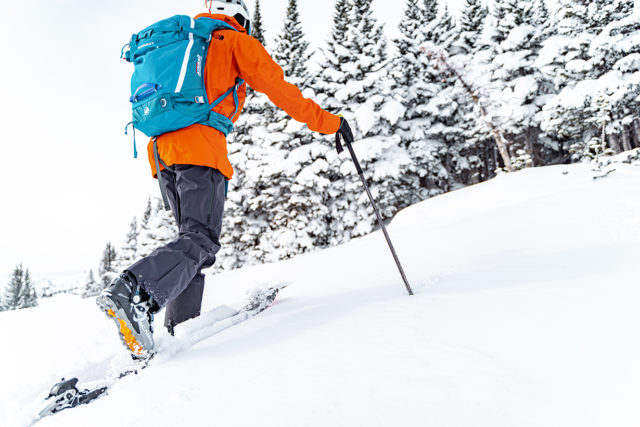 I would say that the Freethinker kit lands on the more breathable end of the spectrum of hardshells. I'm not sure it's quite as breathable as the old Patagonia Descensionist (which was one of the most breathable "hardshells" we've ever tested), but I think it is a bit more breathable than that piece's replacement, the SnowDrifter, and I'm pretty confident that it's more breathable than most Gore-Tex and Gore-Tex Pro fabrics.
Again, Andrew and I will update this review with our full-fledged takes after we put the kit through a season of abuse.
Warmth
There is nothing warm about this kit. It is a thin, lightweight, non-insulated shell and it offers almost zero inherent warmth or insulation value. That doesn't mean that wearing it isn't warmer than not wearing it, but in the grand scheme of hardshells, the Freethinker is certainly near the colder end of the spectrum.
Durability
So far so good, but that's a very initial impression. Again, we'll update this review later in the year after a full season of abuse by both myself and Andrew Forward. But keep in mind, this is a lightweight shell that clearly isn't designed with maximum durability as its top priority. I don't expect it to hold up to a ton of abuse like a burlier, heavier kit would, but I also don't see much reason to think that it'll be below-average when it comes to durability for a fairly lightweight, touring-oriented shell.
Who's It For?
The Freethinker Futurelight Jacket & Pants seem best suited for someone who spends equal time inside and outside of the resort — or who's looking for a dedicated touring kit — and who appreciates a more generous "freeride" fit. The Freethinker kit is very breathable for a hardshell but it doesn't feel quite burly enough to stand up to prolonged abuse in the resort. But if you're looking for one kit that you can wear in just about every scenario (inbounds & backcountry), I think the Freethinker is worth consideration.
And if you're looking for a dedicated touring kit and don't need the lightest option (especially if you don't love the often very slim fits of touring kits) I think the Freethinker would work well.
Bottom Line
The North Face is making a lot f noise with their new Futurelight technology and their Freethinker Jacket & Pants seem to exemplify the principles upon which that the technology was built — excellent breathability and all-round versatility. We're excited to put more time in this kit to see just how much weather it can block and how it holds up over time, but so far we've been pretty impressed by the Freethinker.