Ski: 2022-2023 Folsom Cash 93, 185 cm
Test Location: Crested Butte Mountain Resort, CO
Days Skied: 8
Available Lengths: 170, 175, 180, 185, 190 cm (custom available)
Blister's Measured Tip-to-Tail Length (straight-tape pull): 183.5 cm
Blister's Measured Weight per Ski: 1952 & 1964 grams
Stated Dimensions: 131-93-120 mm
Blister's Measured Dimensions: 128-92-118 mm
Stated Sidecut Radius (185 cm): 19 meters
Measured Tip & Tail Splay (ski decambered): 65 mm / 18 mm
Measured Traditional Camber Underfoot: 5 mm
Core Materials: poplar / bamboo + carbon & fiberglass laminate (custom available)
Base: sintered
Factory Recommended Mount Point: -8.75 cm from center; 83 cm from tail
Boots / Bindings: Tecnica Mach1 MV 130, Lange RS 130, Atomic Hawx Ultra 130 / Marker Griffon

Intro
This season Folsom added a brand-new shape to their lineup of custom skis. The Cash 93 extends their Cash collection to a narrower platform, bringing the wider Cash skis' versatile all-mountain designs to a silhouette that's a bit more tuned toward firm-snow performance.
We got a few reviewers on the Cash 93 this season, so let's get into what this new ski brings to the table.
What Folsom says about the Cash 93
"The Newest Addition To The Cash Family
Tapered tip paired with full-length sidecut through the tail yields a user friendly turn initiation with power through the exit of the turn
93mm waist width makes for a great resort daily driver for the recreational skier
Also pairs well with our UltraLITE construction for a long-approach touring ski
Shorter turning radius across all lengths keeps the Cash playful and reactive"
Construction
The particular Cash 93s we're discussing here were built with Folsom's lighter "Resort" construction, which includes a poplar / bamboo wood core, 90% fiberglass / 10% carbon laminate, and a sintered base.
Alternatively, you could get a Cash 93 (or any Folsom ski, for that matter), with a range of material combinations, including heavier or lighter wood cores and composite combinations, depending on your priorities.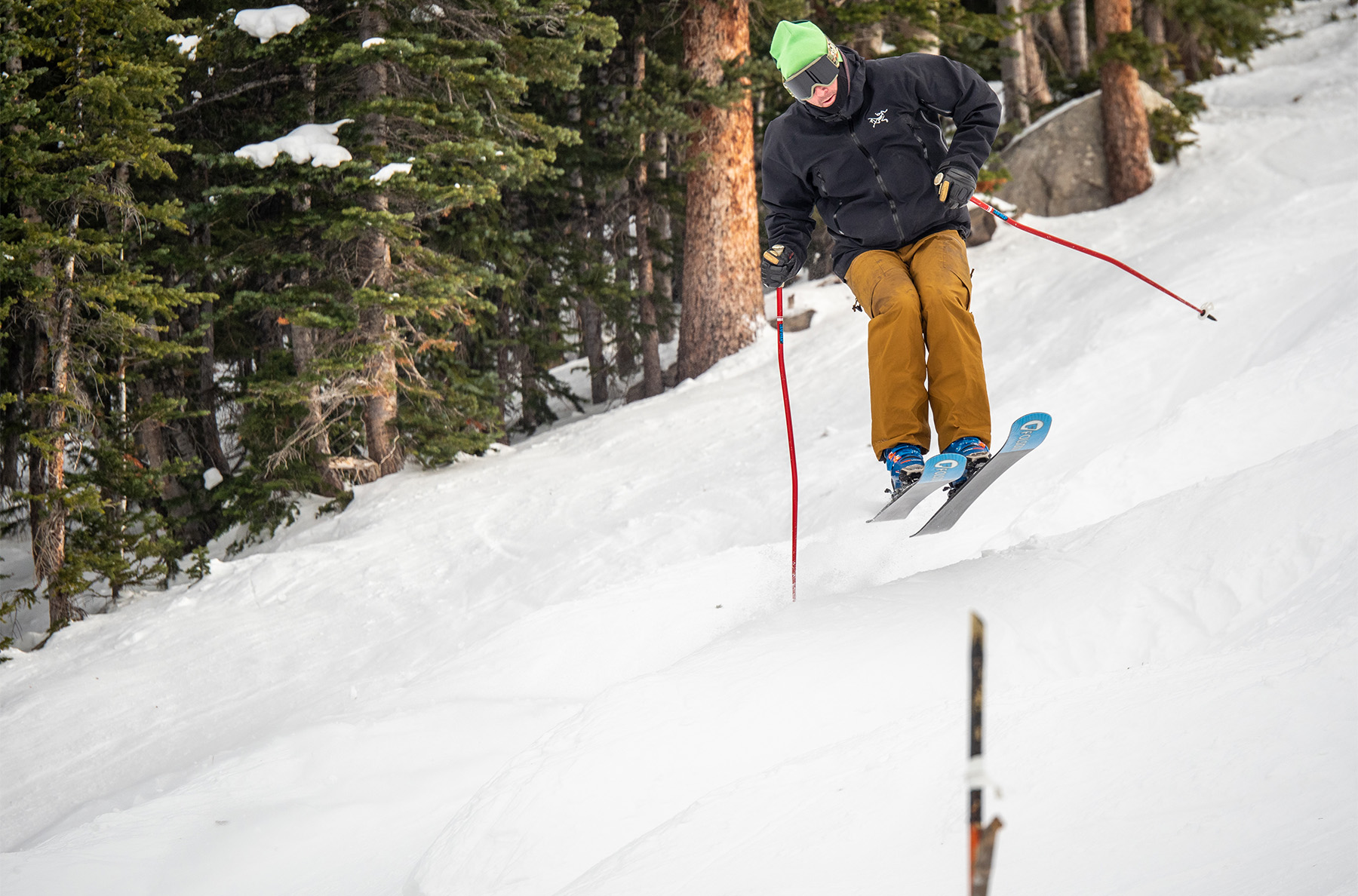 Shape / Rocker Profile
For a 93mm-wide ski, the Cash 93 has a bit more tip and tail taper than average, with this being more notable at the tip than the tail. You can get the Cash 93 with a variety of rocker profiles, but with the "directional rocker" profile we tested, it has a fairly deep tip rocker line, a shallower, lower-slung tail rocker line, and a good bit of camber underfoot.
Flex Pattern
Here's how we'd characterize the flex pattern of the 185 cm Cash 93:
Tips: 6-6.5
Shovels: 7-8
In Front of Toe Piece: 8.5-10
Underfoot: 10
Behind the Heel Piece: 9.5-9
Tails: 9-8
The Cash 93 we tested was built with a middle-of-the-road flex pattern (Folsom will customize a given ski's flex pattern, depending on the end user). But for this pair, the Cash 93's flex pattern feels pretty accessible overall, with fairly soft shovels, a strong midsection, and a back half that's a bit stiffer than the front.
Sidecut Radius
The Cash 93 has a stated sidecut radius of 16 meters for the 170, 175, and 180 cm lengths, and 19 meters for the 185 cm and 190 cm lengths.
Mount Point
At around -9 cm from true center, the Cash 93's recommended mount point is pretty standard for this class of narrower, directional all-mountain skis.
Weight
The 185 cm Cash 93 we tested weighs about 1955 grams per ski, which is right around the middle of the pack when it comes to weight for this class of skis. That said, it's important to reiterate that you can have Folsom build a Cash 93 that is significantly lighter or a bit heavier, depending on your preferences.
For reference, here are some of our measured weights (per ski in grams) for a few notable skis. As always, keep in mind the length and width differences of each ski listed to keep things more apples-to-apples.
1780 & 1800 Line Blade Optic 92, 182 cm (22/23)
1781 & 1795 Atomic Maverick 100 Ti, 180 cm (21/22–22/23)
1801 & 1839 Salomon Stance 90, 176 cm (20/21–22/23)
1807 & 1840 Atomic Bent 100, 188 cm (18/19–22/23)
1808 & 1823 Shaggy's Ahmeek 95, 180 cm (21/22–22/23)
1810 & 1828 Armada Declivity 92 Ti, 180 cm (20/21–22/23)
1824 & 1835 Black Crows Serpo, 180.1 cm (21/22–22/23)
1849 & 1887 DPS Pagoda 90 RP, 184 cm (20/21–22/23)
1863 & 1894 Blizzard Rustler 9, 180 cm (18/19–22/23)
1883 & 1906 Season Aero, 180 cm (20/21–21/22)
1900 & 1908 Atomic Maverick 95 Ti, 180 cm (21/22–22/23)
1915 & 1937 K2 Mindbender 89Ti, 182 cm (22/23)
1925 & 1934 Black Crows Camox, 186.5 cm (19/20–22/23)
1933 & 1943 Norse Enduro, 188 cm (20/21–22/23)
1936 & 2013 Salomon Stance 96, 182 cm (20/21–22/23)
1937 & 1945 Fischer Ranger 94 FR, 184 cm (19/20–21/22)
1952 & 1964 Folsom Cash 93, 185 cm (22/23–23/24)
1976 & 2028 Parlor Cardinal Pro, 182 cm (19/20–21/22)
1985 & 2006 Parlor Cardinal 100, 185 cm (16/17–21/22)
1998 & 2044 4FRNT MSP 99, 181 cm (17/18–22/23)
1999 & 2060 Line Blade, 181 cm (20/21–22/23)
2008 & 2015 Folsom Spar 88, 182 cm (19/20–23/24)
2010 & 2023 Moment Commander 98, 182 cm (20/21–22/23)
2024 & 2112 Dynastar M-Free 99, 185 cm (21/22–22/23)
2043 & 2089 Volkl M6 Mantra, 177 cm (21/22–22/23)
2053 & 2059 J Skis Fastforward, 181 cm (22/23)
2054 & 2063 Salomon QST 98, 189 cm (21/22–22/23)
2077 & 2096 Line Blade Optic 96, 184 cm (22/23)
2128 & 2186 J Skis Masterblaster, 181 cm (21/22)
2165 & 2186 Wagner Summit 97, 182 cm (21/22–22/23)
2178 & 2195 Volkl M6 Mantra, 184 cm (21/22–22/23)
2218 & 2244 Volkl Mantra 102, 184 cm (19/20–21/22)
2230 & 2290 Line Blade Optic 104, 185 cm (22/23)
2256 & 2284 Nordica Enforcer 94, 186 cm (20/21–22/23)
2281 & 2284 Blizzard Bonafide 97, 177 cm (20/21–21/22)
Now, onto on-snow performance:
FULL REVIEW
Luke Koppa (5'8", 155 lbs / 173 cm, 70 kg): We had a few reviewers on the Cash 93 early this season, with most of our testing taking place on Crested Butte Mountain Resort's various groomers, newly opened bump runs, and some steeps.
Groomers
Luke: As we've discussed in the past, this class of ~90mm-wide all-mountain skis can often be divided into skis that are basically wider carving skis and others that behave like narrower versions of fatter all-mountian skis. The Cash 93 definitely falls into the latter category.
With its tapered and rockered tip, the Cash 93 isn't as quick to initiate turns nor as powerful when finishing them when compared to, say, the Blizzard Brahma 88 or Atomic Maverick 88 Ti. However, the Cash 93 is a lot more maneuverable than those skis, so if you prefer a ski that makes it easy to feather and skid turns when needed, the Cash 93 warrants a look.
Compared to wider, more off-piste-oriented all-mountain skis, the Cash 93 still gives you the benefit of quicker edge-to-edge transitions, and once you get accustomed to the more subdued initiation from its tips, it's still a strong carver. It just wouldn't be my first pick if the groomers you frequent tend to be very firm, scraped-off, and/or borderline icy. For those conditions, I'd look to something with a longer effective edge, like Folsom's Spar shapes. But for more average groomer conditions, the Cash 93 offers a predictable ride, and on softer groomers, it can be pushed quite hard at aggressive edge angles.
Charlie Schayer (6'3", 190 lbs / 190 cm, 86 kg): As Luke pointed out there are other skis with comparable waist widths that will outperform the Cash 93 on groomers but I found it to be a competent carver. I found the flex pattern of this ski to be on the softer side; the Cash 93 we tested is easy to bend while carving, especially when skiing perpendicular to the fall line. I enjoyed skiing the Cash 93 at moderate to faster speeds, where the easygoing nature of this ski was really enjoyable for making rhythmic turns on soft snow. The Cash 93 we tested is a ski that can be overwhelmed by a strong and technically proficient skier, but the Cash 93 is an effortless cruiser, and a stiffer flex pattern has the potential to improve its top-end performance.
Moguls, Trees, & Tight Terrain
Luke: This is where the Cash 93 really sets itself apart from most other skis around this width. While its tapered shape slightly hampers its on-piste precision, it's a benefit off piste, where the ski's swing weight feels notably lower than I would expect (given its actual weight), and the ski generally feels very nimble and maneuverable for its class.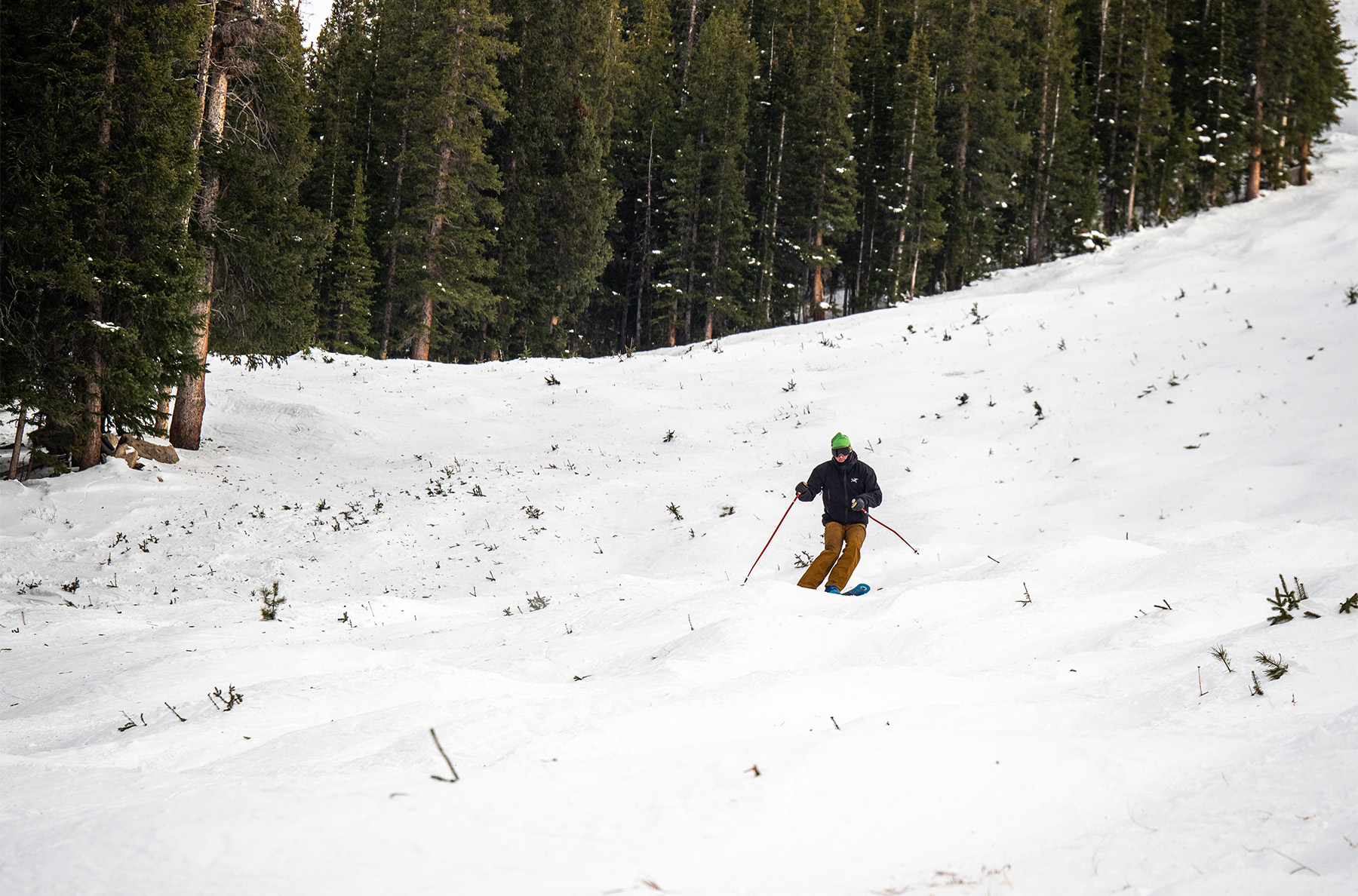 When we first got the Cash 93, it felt like it could use some detuning particularly around the contact points of the tips and tails, since it initially felt a little "hooky" when skiing firm, inconsistent off-piste snow. After a bit of detuning, this was mostly alleviated, though if we had the ski for longer, I likely would have detuned the tips and tails a bit more.
Regardless of that, I think the Cash 93 will be most appealing to those who are looking to spend a lot of time off piste on their ~93mm-wide all-mountain ski. It suits a dynamic, light-on-your-feet skiing style, thanks to its low swing weight, relatively loose ride (for this width class), and lively flex pattern, but it's also pretty easy to just make controlled, pivoted turns while keeping the ski on the snow. If your style is more of the latter than the former, I think it'd be worth considering Folsom's heavier maple / bamboo / poplar construction, which we tested on their Spar 88 and found to provide better suspension on very firm snow. For the Cash 93 we tested, with Folsom's lighter "resort" core, the ski still offered pretty good but not best-in-class suspension.
Charlie: The Cash 93 is in its element skiing off-piste, if I had to summarize this ski in a single phrase it would be "glade-specialist." Most of my time on the Cash 93 was early in our season and I was spending a lot of time skiing in the tight trees and steeper terrain of Crested Butte's East River zone. The Cash 93 has the right combination of rocker and liveliness to make the most of this kind of terrain. Methodical line choice with the occasional transitory turn is the name of the game here. On a couple of occasions as my pace quickened, I felt myself losing confidence on the Cash 93. I felt that the tail lacked the stiffness required to ski really aggressively. This ski is not a charger by any stretch of the imagination, but I found myself skiing very fluidly and efficiently on it in tight terrain.
Soft Snow
Luke: Unlike the rest of the season, our testing period with the Cash 93 was short on soft snow, but I did break it out for a day when a few inches of fresh had fallen. And as I expected, given its impressive off-piste performance, I thought the Cash 93 performed admirably, relative to its width. Its tapered, rockered shovels didn't feel hooky or get bogged down, and it continued to feel easy to release and pivot. Again, the Cash 93 is best suited to mostly firm conditions, but for the occasional ~6" / 15 cm storm day, it performs as well or better than most skis around the same width.
Chop & Crud
Luke: In more variable snow, the Cash 93's shape does slightly hamper its stability; it doesn't feel like some ultra-stable charger, and instead encourages a more conservative approach when conditions are challenging. I.e., making more frequent, slower turns, rather than laying down huge, high-speed turns. Again, a heavier build would help a bit here, but overall, the Cash 93's shape feels like it's designed to optimize maneuverability than precision and high-speed stability; Folsom's Spar and Primary shapes, with their longer effective edges, are better suited for the latter. Still, for its class, the Cash 93 handles crud and chop pretty well and doesn't feel particularly harsh, like some of the lighter skis in this class can.
Charlie: I echo Luke's comments here. The Cash 93 is a compliant ski for chop and crud as long as you're willing to follow an existing line. This is not the ski for charging the fall line and obliterating push-piles.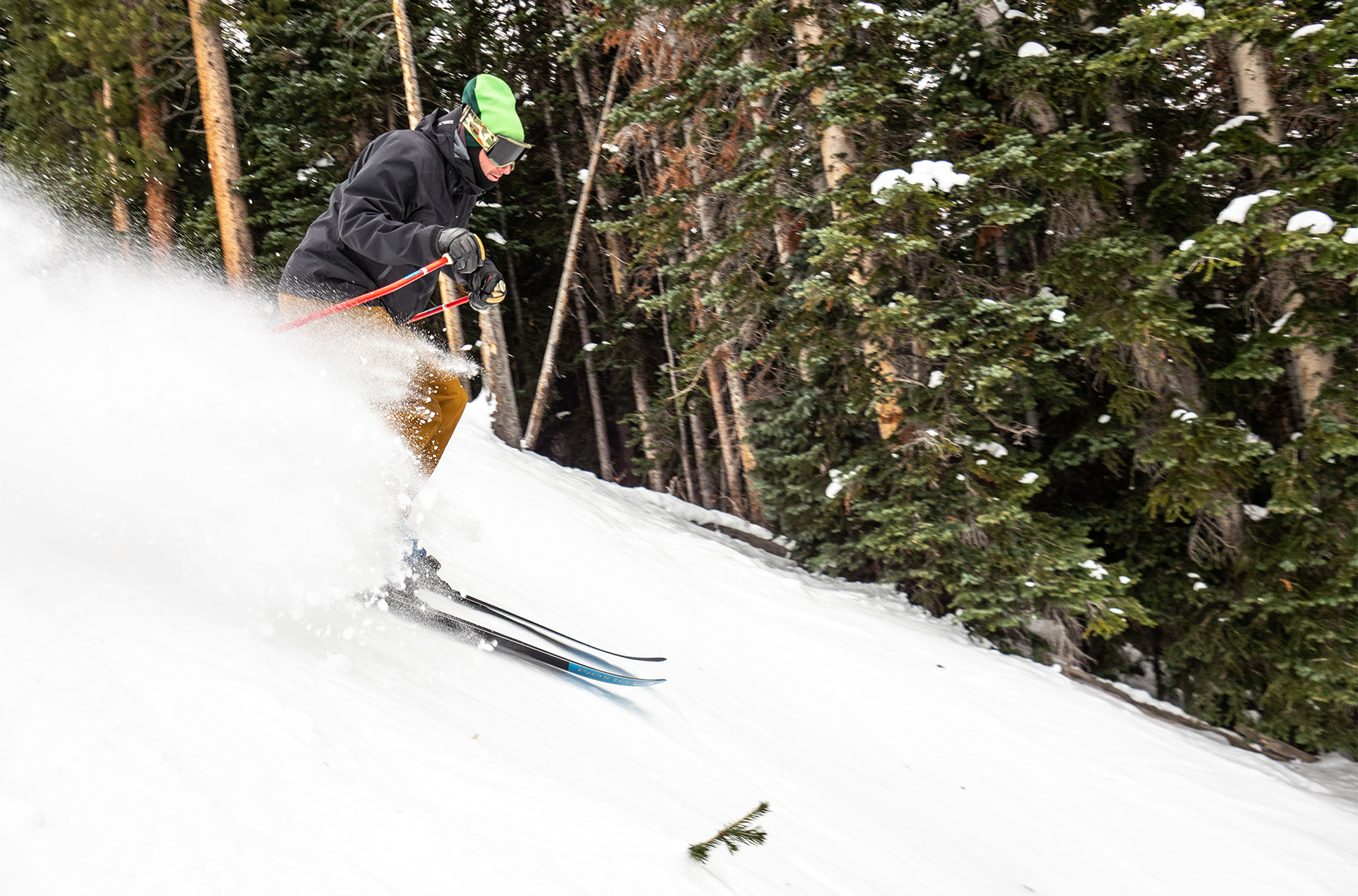 Who's It For?
Luke: As we've alluded to a few times now, I think the Cash 93 stands out for skiers who mostly ski firmer conditions and who want a ski that's quite maneuverable off piste. If you spend almost all your time on piste, I'd go with something more carving-specific — it'll be better in terms of turn initiation and edge hold on icy snow. And if you'll be skiing a lot of soft and/or deep snow, a wider platform is going to be more beneficial, with better flotation and stability in chop.
But for those who love to ski bumps, trees, and steeps on their <100mm-wide skis, the Cash 93 warrants close consideration. Its low swing weight, easily pivot-able ride, and still-impressive suspension makes it a great choice for piloting through all sorts of ungroomed terrain, even when it hasn't snowed in weeks.
And of course, you can customize the Cash 93 to suit your preferences. You can go heavier for a more planted, composed ride in rough snow, lighter for a more touring-friendly option, softer or stiffer, etc.
Charlie: Putting aside Folsom's customizable options. I think the Cash 93 is a model that will accommodate a very wide range of skiers. Its easygoing nature produces an inherent predictability that provides confidence in variable terrain. The Cash 93 would be an excellent choice for skiers who enjoy skiing glades but are limited to a location that lacks deep and consistent snowfall. Additionally, the Cash 93's propensity to ski across the fall line (as opposed to straight down) makes it a very good choice for a destination that lacks a lot of vertical drop.
The Cash 93 would be an excellent low-tide ski for many of the lower Rocky Mountain resorts (e.g., Steamboat, Deer Valley, Powderhorn). It also would make a lot of sense as an east coast touring ski. I see the Cash 93 as a ski that can enhance the experience of less-than-optimal skiing conditions.
Bottom Line
Folsom's latest shape brings the accessible, maneuverable ride of their wider Cash skis to a narrower silhouette that's more precise, nimble, and practical on firmer snow. In the class of narrower all-mountain skis, the Cash 93 stands out due to how agile and adaptable it feels off piste, while still outperforming most wider all-mountain skis when it comes to on-piste carving performance.
Deep Dive Comparisons
Become a Blister Member to check out our Deep Dive comparisons of the Cash 93 to see how it compares to the Folsom Spar 88, K2 Mindbender 89Ti, Volkl M6 Mantra, Blizzard Rustler 9, J Skis Fastforward, K2 Mindbender 99Ti, Fischer Ranger 90, Line Blade Optic 92, DPS Pagoda 90 RP, Black Crows Serpo, Armada Declivity 92 Ti, Atomic Maverick 95 Ti, Head Kore 93, Blizzard Brahma 88, & Nordica Enforcer 88.
Rocker Profile - Decambered
Tail Profile - Decambered