Intro
Here at Blister, we spend a good deal of time talking about weight. It's always a buzzword in the ski industry, with almost every brand bragging about how their new gear as lighter than their old gear. And as result of all this focus on weight, one of the more valuable things we do is provide an accurate measured weight of nearly everything we review. But, as our editor-in-chief likes to point out, lighter isn't always better, and plenty of great products (particularly skis) have been dumbed down into too-light, too-weak models.
But when it comes to backcountry skiing, the weight of your gear really matters — it plays a significant role in how far you can go, how long it takes you to do that, and how much fun you have on the way down. That said, there are several areas where you can choose to save weight (e.g., skis, boots, bindings, etc.). So should you be cutting weight in your skis and going with heavier boots? What about choosing an ultralight binding and a burlier ski? Or going with lightweight boots, a heavy binding, and moderately heavy ski?
There are a lot of ways to approach this, so here I'm breaking down how I personlly like to look at weight when it comes to ski gear, and how that intersects with the overall performance of my setup. This is my personal take on the topic, and others' (including our other reviewers') opinions differ. So consider this more of a conversation starter, rather than a conclusive statement on the topic. We'll soon be posting some of our other reviewers' thoughts on this, and let us know in the Comments section at the bottom how you think about this.
First: Get Clear on Your Priorities (i.e., "Know Thyself")
In his intro to the first ever Blister Buyer's Guide, Jonathan Ellsworth emphasized the concept of "knowing yourself." And the more gear advice I give, the more valuable this mantra becomes. If you're not honest with yourself about your priorities and preferences as a skier, the most expensive gear in the world won't save you / let you have any more fun, and our reviews will be much less useful to you.
So examine your preferences, think of products you've liked, and try to figure out why that was. Then think about gear choices that haven't meshed with your style, and try to determine why they let you down. Finally, lay out your objectives as a skier. What do you want the highlights of your ski season to be? Only once you have figured out who you are and what you value can you start to narrow down the ever-growing field of skis, boots, and bindings.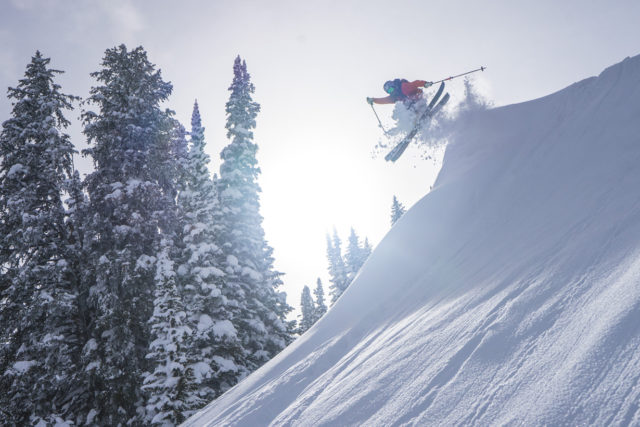 That said, here's how I personally prioritize weight on my backcountry setups, based on what I want to get out of them and how I ski. I've also included a few guiding principles I use when it comes to the weight-to-performance ratio for ski gear.
Skis
Skis generally sacrifice downhill performance as they get lighter, and it's a fairly linear relationship in most cases. There are a few exceptions, but generally, the lighter your skis are, the less fun you're going to have in difficult / variable snow, but the more fun you're going to have on the skin track.
In my experience, a heavier ski often makes a bigger difference in downhill performance than a heavier boot, so I prefer to save weight on my boots and use those weight savings to justify having slightly heavier skis. A great skier can get away with super light skis, but for many of us, those super light skis can get really challenging to ski if the snow is anything less than perfect.
Boots
Boots are a more complicated topic since the lighter AT boots (less than ~1200-1300 g per boot) generally have bigger ranges of motion and often have tech fittings that have been moved closer to the toe to offer a more optimized pivot point. Because of that, by jumping from a ~1500-g boot to, say, an 1100-g boot, you gain a lot of uphill performance. And from my experience with light boots like the Salomon S/Lab X-Alp, I'd say that you lose less downhill performance by dropping ~400 grams in your boots than you would by dropping that same 400 grams of weight in your skis (more on that below). But again, your mileage may vary.
Bindings
Bindings are the most complicated of all, and we won't dive into all of their intricacies here. Generally though, the heavier you go, the better downhill performance you get, and you often get more reliable release. For example, the fairly heavy Salomon / Atomic Shift offers TUV-certified release and feels like an alpine binding on the way down. On the other hand, very light touring bindings like the Marker Alpinist or Dynafit TLT Speed are not certified for consistent release and feel harsher and less powerful on the downhill.
That said, I've personally found that the difference in downhill performance between bindings is much more difficult to determine than it is to determine with boots or skis, particularly when the snow is soft and forgiving.
A Few Examples
This piece was prompted by some experimenting that I've been doing as I try to figure out what I want for my big-day ski-mountaineering setup. That presents a specific set of criteria, so if you're looking to get a touring setup for, say, skiing huge, deep lines in Alaska, your priorities will obviously be a bit different.
I've been skiing back-to-back inbounds and backcountry laps with three different ski and binding setups, and three different boots. Here's what I've been swapping between:
Skis / Bindings
Here are the skis and bindings, with the average weight per ski + average weight per binding:
Salomon MTN Explore 95 / Salomon MTN Binding: 1543 + 324 g = 1869 g total per foot
Atomic Bent Chetler 100 / Fritschi Vipec Evo 12: 1807 g + 515 g = 2322 g total per foot
Atomic Bent Chetler 120 / Atomic Shift MNC 13: 1710 g + 886 g = 2596 g total per foot
Boots
Here are the boots I've been playing around with, with the average weight per boot:
Salomon S/Lab X-Alp (size 26.5): 1104 g
Atomic Hawx Ultra XTD 120 (size 26.5): 1576 g
Atomic Hawx Ultra 130 w/ CAST Tech Toes (size 26.5): 1680 g
Some Takeaways from My Testing:
For me, the MTN Explore 95 is the most challenging to ski and the least stable, no matter the conditions or the boot. I skied it in 3 inches of fresh with the Hawx Ultra XTD 120 and felt like I'd forgotten how to ski. The ski felt similar when I was skiing it in the X-Alp.
The MTN Explore 95 is so light that I found myself having to ski it very centered, and make consistent, powerful turns to keep it tracking. When I tried to drive the MTN Explore 95 from a more forward stance I found that the tips were deflecting so much that I constantly felt like I was about to go over the bars. Despite being a very good ski on the downhill for its weight, the MTN Explore 95 was by far the limiting factor in my equation. But, it's also a dream to tour on.
The Bent Chetler 100 was a blast with either the XTD 120 or the X-Alp, and I don't notice that much of a difference in performance between those two boots with this ski. Sure, the XTD 120 has a little more ankle support, and is a bit more powerful, but it also fits me a touch better, so I think much of that comes from fit, not the weight difference.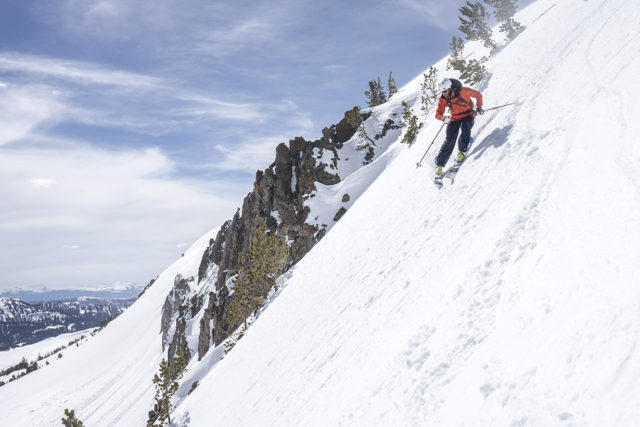 Some of my experience with these boots also might come down to skiing stance / style — I ski with more of a centered stance, so I don't end up flexing as deep into my boots as some folks do, and lower in the flex is where boots like the X-Alp tend to show their weakness / lack of support. Instead, I'm more aware of lateral stability and the first ~1/3 of a boot's forward flex. If you tend to drive the front of your skis really hard and flex deep into your boots, there's a good chance you'll have a different opinion here.
My most surprising takeaway from this testing was how much fun the Bent Chetler 100 and X-Alp combo was. I skied this combo inbounds on a firm day, and it only took a half a lap for me to feel very confident on it. The S/Lab can push the Bent Chetler 100 hard on edge in chop or on groomers, and the whole setup feels very composed and damp for its weight. I was spinning off cat tracks by my second lap on this combo — not what I expected to be doing in an 1100-g touring boot.
I've written a bunch about the Bent Chetler 120 / Shift combo, and I've been skiing it a lot with both the Hawx Ultra XTD 120 and the regular Hawx Ultra 130 with CAST tech-toe fittings. I don't notice that much of a difference between those two boots on this ski. The BC 120 is light enough that, with either boot, I find the limits of the ski before I find the limit of the boot. But the XTD is better on the up, so I'll continue to stick with that combination when using the BC 120.
Here's what those combinations look like based on total weight per foot:
MTN Explore 95 + MTN Binding + Salomon S/Lab X-Alp: 2973 g
MTN Explore 95 + MTN Binding + Atomic Hawx Ultra XTD 120: 3445 g
Atomic Bent Chetler 100 + Fritschi Vipec Evo + Atomic Hawx Ultra XTD 120: 3898 g
Atomic Bent Chetler 100 + Fritschi Vipec Evo + Salomon S/Lab X-Alp: 3426 g
Atomic Bent Chetler 120 + Atomic Shift + Atomic Hawx Ultra XTD 120: 4172 g
My biggest takeaway from those days of testing? Cut weight in your boots, not your skis! I was initially planning on skiing the MTN Explore 95 a bunch this year. Now, I'm not so sure. The Bent Chetler 100 is so much more damp and predictable in all conditions, and it's much easier to drive. Even with a powerful boot like the XTD 120 that I ski inbounds a fair amount, I found the MTN Explore 95 to be a handful. And even with the S/Lab, which some have dubbed "an ice climbing boot with tech fittings," the BC 100 still felt like a predictable and powerful ski — even in challenging conditions. When I'm staring into the gut of something consequential, I would personally want to be on the Bent Chetler 100, rather than the MTN Explore 95.
Another thing to consider is that the Bent Chetler 100 tires me out more on the climb than the MTN Explore 95. But I think the MTN Explore 95 takes the same amount of energy out of me, it just waits until the way down, since it requires more input to keep it tracking. I don't love that.
If I'm trying to figure out the equation of how much energy I have and whether an objective is attainable in a certain time window, I'd rather do the slightly more tiring part first (on the way up). It takes me a lot longer to ski consequential terrain on a lighter setup vs. a heavier one, and I'd prefer to spend a bit more time hauling up a heavier ski in relative safety on a skin track, rather than spend more time in a consequential line because my setup is challenging to ski. That's how I've been thinking about this setup, particularly because it's what I'd be using for technical lines.
Finally, the difference between the S/Lab X-Alp and the Hawx XTD 120 on the way up was much bigger than the difference between the MTN Explore 95 and the Bent Chetler 100. The X-Alp is not just lighter, it walks a lot better, and is much better when scrambling in technical terrain.
Applications
So, how would I apply this knowledge in practical situations?
My big-day setup this year is going to be the Atomic Bent Chetler 100 with the Fritschi Vipec Evo 12 and the Salomon S/Lab X-Alp. Honestly, I could even use it as a travel setup too, where it would serve some time inbounds. I think it skis as well as it goes uphill, and it goes uphill very well.
More broadly: Don't be afraid to put tech bindings on heavier, inbounds-oriented skis. It's a blast. Over the last few years, I've put tech bindings on the Revision Subtraction, K2 Shreditor 112, Sego Big Horn 106, and now, the Atomic Bent Chetler 100. Each one of these setups has skied much better than any lighter, touring-specific ski I've ever been on, and does so at a palatable weight penalty for me. It's no surprise that some of our favorite touring skis (e.g., 4FRNT Raven) are also pretty heavy compared to other touring skis. Don't be scared by a heavier touring ski — chances are, you'll feel more confident when it comes time to rip skins.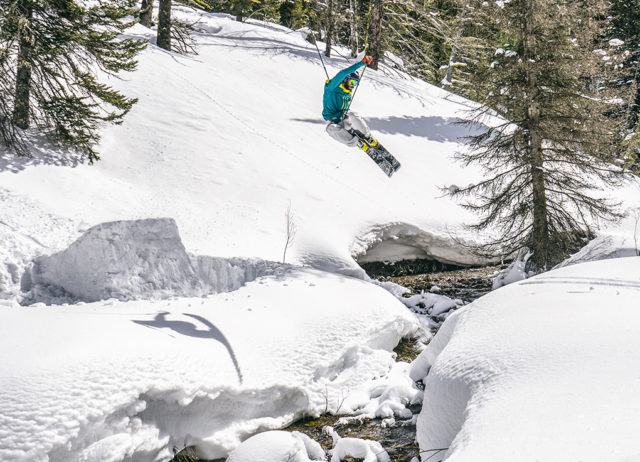 And to be clear, I'm not telling you to put tech bindings on your dedicated alpine setup — if you're not using a ski to walk uphill a lot, you'd be better off on a burlier binding like the Shift. But for touring, having a heavier ski with lighter bindings (and boots) can be a ton of fun.
But you don't need to go full hog and get the heaviest everything. Bindings like the Dynafit Radical 2.0 and Fritschi Vipec Evo ski really well, and they're plenty powerful to drive a heavier, inbounds-oriented ski. As a result, I don't personally feel the need to jump up to a frame binding or Shift for performance reasons, but rather for safety and durability reasons.
And I've also found that I personally don't need the gnarliest, burliest touring boot out there. In my experience, a slightly heavier ski with a slightly lighter boot rewards me a lot more on the downhill than a lighter ski and a heavier boot. So consider giving your ankles a break and checking out a lighter boot with a higher range of motion. You'll notice it on the up, and you might be surprised by how little you notice it on the down, particularly if you don't tend to drive your skis super hard.
Finally, and this is a little hypocritical, but don't get too caught up in the weight weenie game. You don't need to cut the handle off your toothbrush. Skiing is fun, whether you're doing it on a 2100-g ski or a 1200-g ski. Don't let a preoccupation with the weight of your gear take away from your experience.